Topic We Cover: Why Students Prefer Biotechnology?
1. What is Biotechnology?
2. Who is a Biotechnologist?
3. Requirement & Criteria are to Obtain Degree in Biotechnology
4. Career Options
Demand for Professionals
Increasing Market
Great Carrer and Job Prospects
5. Careers in Demand in Biotechnology
6. Top Recruits for Biotechnology Professionalist's
WHAT IS BIOTECHNOLOGY?
Biotechnology can be defined as an Interdisciplinary Field of Science which combines biology, physics, chemistry, mathematics, engineering and all distinct branches to discover and research about something new or improving the existing things to betterment of the society.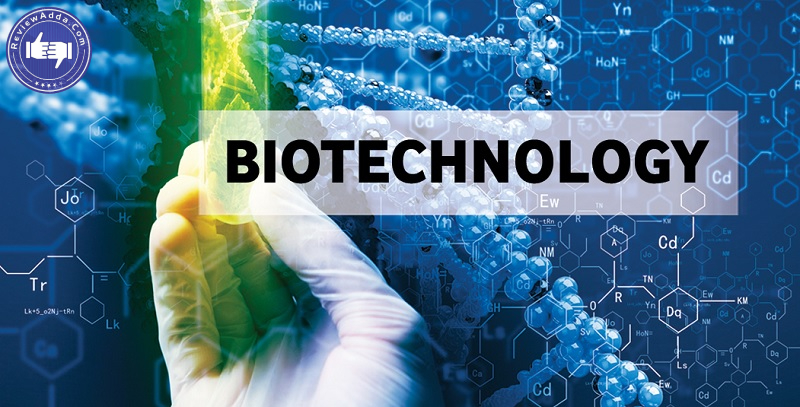 Biotechnology has incorporated various new fields such as genomics, recombinant gene techniques, applied immunology, and development of pharmaceutical therapies and diagnostic tests, molecular biology, embryology, chemical engineering, Nano-Tech etc. Bio-technology is both, an applied science and a basic science and is applied in fields like agriculture, healthcare, forencis, industrial processing and Environmental Management in various useful ways.
Biotechnology includes not just biology but various other fields of science are intermingled within it creating a tremendous numbers of job opportunities for its aspirants while giving birth to new fields. With the current situation of COVID-19 Pandemic in the World and the people searching for a solution; be it a cure or a vaccine, everyone's hope is upon the Bio-technologist around the world to find it.
It is one of the most popular field among the youngsters as it embarks them on exciting world of a modern science without restricting them to one particular field. A student of biotechnology can work as a geneticist, a micro-biologist, a chemical engineer or even in the field of micro-robotics. Graduates of this field can also take career paths in research labs, graduate training in biology and chemistry or can develop a Professional career in the health sciences.
WHO IS BIO-TECHNOLOGIST?
A person who works in private or government laboratories and oversees experiments to alter or manipulate living organism (single or system of organism) to create a new product is generally called a biotechnologist. However a biotechnologist can be employed in various industries like a biochemist or biophysicist working in pharmaceuticals, health-care, food, agriculture, robotics etc. A biotechnologist needs to be analytical and creative to work in this field.
REQUIREMENTS AND CRITERIA'S TO OBTAIN DEGREE IN BIOTECHNOLOGY
Students who studied Biology, Physics, Chemistry and Mathematics in their class 12 can opt for biotechnology as their undergraduate programme. Undergraduate Biotech Programme under B.Sc. is a 3 year course while under B.E. or B.Tech it is a 4 year course. The eligibility criteria may differ from college to college for getting admission to the Undergraduate Courses in Biotechnology. In some institutions it is 50% while in other institutions the requirement for admission is 55%. Also for some of the undergraduate courses in biotechnology aspirants need to sit in Common Engineering Entrance Exams such as:
The Joint Entrance Examination for IITs

All India Engineering Entrance exam
Get Updated Review ( Voice Based Alumni Feeback)
Also there are other Entrance Exams for Biotechnology courses which are conducted by engineering institutions which offer undergraduate programs in biotechnology. Students may opt for any of the entrance exams according to their preference of college and course. A student should keep in mind that if she/he attains a post graduate degree in biotechnology in addition to the undergraduate degree then it would definitely prove to be profitable and beneficial and will open an ever-expanding field of biotechnical applications.
For pursuing higher education in the Field of biotechnology, one can opt for masters in M.Sc., M.E. or M.Tech. Biotechnology is called as a blend of various disciplines and a student has to do specializations in numerous fields. Agriculture, Agriculture Development, Pharmacology,Animal husbandry, Dairy Technology, Environmental protection, Molecular Biology, Nutrition, Fishery Development, Genetics, Biochemistry, biophysics, Botany, Horticulture, Medicine, Microbiology, Tissue Culture and Zoology are some of the areas of research which are a part of this stream.
Also if a student wants, he/she can continue their research and development in the Field of Biotechnology by pursuing P.Hd. in Biotechnology and corresponding fields.
CAREER OPTIONS
With the exciting and fast paced development in modern science, career opportunities in biotechnology are as vast as the ocean. The amazing discoveries, innovation and applications create new fields of study every day. Biotechnologists are at the vanguard of many industries for continuing the research and development of new and aspiring products. One can work in food industry, pharmaceuticals, robotics, healthcare, genetics, bioinformatics, environmental sector etc.
Biotechnologist with bachelor level degree can work as research technician with researchers in various laboratories and help lead scientist with their experiments and data analysis. The master's degree holders can work as leading scientist on projects, a teacher or lecturer. The doctorate or candidates for Doctorate Programme can work as research scientist, lab directors or university professors.
Let's understand why students prefer Bio-technology these days and why it has become one of the favourite career options:
1. DEMAND FOR PROFESSIONALS
The Demand for Professionals from this field is increasing day by day. India is an agrarian economy and it requires such professionals who can improvise the agrarian practices and increase the agricultural output of India. Biotechnology students can fulfill this demand by increasing their production level with genetically modified seeds. There is a lot of demand for improved life sciences products and medicines. Research and development of various vaccines, medicines and tissue culture methods is also increasing day by day.
All these demands can be fulfilled by professionals who have graduated in biotechnology and are engaged with different organisations on various types of industrial research and development. Technical Colleges are also providing degrees in this course and trying the best to cater the growing demand of such professionals.
2. INCREASING MARKET
The Field of Biotechnology has been making tremendous progress and growth since last decade. And the trend is expected to remain similar in the coming years. Maximum earnings of this industry presently come from exports done. Although, for students of this field, who are doing research work, there is always an opportunity for them to go out in foreign countries and make career, but, still there are a large amount of students who wish to stay back in their country, India and carry on research. There is a huge potential for such professionals and students. According to various reports India is very soon going to become an international focal point for research and development in biotechnology.
Areas such as Agriculture Biotechnology, Animal Husbandry, Bioinformatics, Bio fertilizers and Dairy Development, Bio-resource development, Plant Biology, Marine Biotechnology, Microbiology, Generic research and Micro Robotics have seen growth in Biotechnology in India.
3. GREAT CAREER AND JOB PROSPECTS
Biotechnology as the name implies is the technology of biology and the scope of both technology and biology are both put together. On one hand it consists of Concepts of Biology which have been explored in depth and on the other hand the subject explores the influence and impact of technology. Biotechnology has a number of disciplines assimilated in it. And the demand for professionals and experts of biotechnology are increasing at a fast pace in some of the industries and sector. The following areas are such where the techniques of biotechnology are used widely:
Agriculture

Animal Husbandry

Environment Conservation

Genetic Engineering

Health Care

Medicine

Industrial Research and Development
Proliferate amount of opportunities exists for students of biotechnology. Those specialists in different sub-disciplines of this field can very easily get jobs in both the sectors i.e. public and private. And if a student has a Post Graduation Degree in Biotechnology then the chances of getting a reputed position in an organisation increases.
CAREERS IN DEMAND IN BIOTECHNOLOGY
There are a lot of in demand careers in the Field of Biotechnology and that's the reason that the students get attracted to the stream. Let's discuss about some of these careers:
Biomedical Engineer: The amalgamation of Biology and Engineering gave birth to Biomedical Engineering. This field's expertise lies in providing innovative solutions to problems relating to biology and medicine. They provide biomedical equipment, devices and medical software such as artificial organs, prosthetics, diagnostic equipments etc.
Biochemist: People who study the chemical compositions and Biological Processes of Living organisms such as heredity diseases, cellular growth, synthesis of organic chemicals etc. Conducting intricate research projects on isolation, analysis and synthesis of organic compounds, their research work also includes study of reaction of drugs, hormones, and nutrients on living beings and their biological processes.
Medical Scientist: Those people who conduct clinical research and try to improve the health of patient's by investigating diseases and tell about the methods of prevention from these diseases are known as medical scientists. These Medical Scientists also do the development and testing of medical devices. Analysis of different medical samples, investigation of the cause and treatment of toxicity, pathogens, and other chronic diseases all are done by these scientists. The medical scientists also help in standardizing drug potency, doses, and also in manufacturing and distributing the drugs and medical compounds.
Biological Technician: Biological Technicians work in laboratories collecting samples, carrying out tests etc. they also use advance lab equipment, medical robotics, automated machines and software to analyse the samples and collect experimental data.
Microbiologist: People who work and Study Micro-Organisms such as bacteria, viruses and immune system to create medical drugs and biomedical and industrial products are known as Microbiologists. A Microbiologist conducts various research and experiments to create diagnostic techniques from prevention from different infectious illnesses.
Process Development Scientist
Process Development Scientists are those people which are responsible to oversee the Manufacturing process in the laboratories of an organisation. They look for methods for enhancing quality and efficiency of the manufacturing procedure. They try to develop methods for increasing the production while keeping in mind the standards to be followed.
Bio-manufacturing specialists
Bio-manufacturing specialists are those specialists who use such tools and methods that make sure that the requirements of purity, safety, potency and quality throughout the manufacturing process have been adhered to. Bio-manufacturing is involved in the large scale production of proteins which are used for treatment and cure of human diseases.
Business Development Manager
Business Development Managers are those who provide market analysis report and competitive intelligence to aid biotechnology companies formulate and do execution of investment strategies.
Director of Product Strategy
Biotechnology Professionals which have business related roles and responsibility have to do the development and execution of a commercialization strategy of a new product of biotechnology and this strategy includes, launch, market development, marketing, sales, logistics, profitability, and quality.
TOP RECRUITS FOR BIOTECHNOLOGY PROFESSIONALIST'S
The following companies are the major names in the Biotechnological Industry in India which use biotechnological processes and techniques to develop new and innovative products and processes and for which they require biotechnology professionals. Such companies are:
Biocon

Serum Institute of India

Panacea Biotech

Mahyco Monsanto Biotech

Rasi Seeds

Novo Nordisk

Aventis

Indian Immunologicals

Venkateshwara Hatcheries

Ranbaxy

Dr. Reddy's Labs

Piramal Healthcare
Biotechnology is all about living cells and usage of the materials produced by these living cells for the purpose of environmental, diagnostics, pharmaceutical and agricultural industries. The essence of biotechnology is all about using the raw ingredients produced by life forms and producing maximum output to solve the society's problem. On one hand this branch of science fulfil the needs of industrial sector such as food industry, beverage industry, textile industry, medicines, etc. while on the other hand it also caters to the needs of agriculture, animal husbandry, nutrition, environmental conservation, etc.
Biotechnology is not just wearing white coats in a laboratory and inventing and developing drugs to improve the quality of life but it is vast and has a wide range of career opportunities from research and development, to sales and marketing, from quality control at a manufacturing unit to industrial sectors.
Biotechnology is progressing towards becoming the most important applied sciences of present times and that is one of the reasons for students to make career in this field. As Biotechnology is both technical and procedural which touches a vast array of disciplines, therefore, students show ample amount of interest towards it. It opens many Job Opportunities for Students who want a stable career in their life. Moreover a large number of qualified biotechnical professionals are being engaged by various industries for environment protection activities and also for safe disposal of harmful materials.