Topic We Cover: Chemistry Vs Chemical Engineering
1. Differences in a Nutshell
2. What is Chemistry?
3. What is Chemical Engineering?
4. Comparison between Chemistry vs Chemical Engineering
5. The admission process of Chemistry vs Chemical Engineering
BSc Chemistry
B.E. (Chemical Engineering)
6. Eligibility Criteria for Chemistry vs Chemical Engineering graduates
Chemistry
Chemical Engineering
7. Subjects to be studied
BSc Chemistry Syllabus
B.E. Chemical Engineering Syllabus
8. Type of Job profile and their description for Chemistry vs Chemical Engineering
Bachelor of Chemistry
Chemical Engineer
9. Employment sector of Chemistry vs Chemical Engineering
Chemistry graduates
Chemical engineers
10. Top Companies for Chemistry vs Chemical Engineering
11. Salary offered for Chemistry vs Chemical Engineering
12. Skills Required for Chemistry vs Chemical Engineering
13. How to Become a Chemist vs Chemical Engineer: Colleges and Courses
Chemist
Some colleges offering B.Sc. Chemistry
Chemical Engineer
Some colleges offering B.E./B.Tech in Chemical Engineering
14. Scope of Higher Studies in Chemistry vs Chemical Engineering
B.Sc. Chemistry
B.Tech Chemical Engineering
15. Job vs Higher Studies after B.Sc Chemistry
16. Job vs Higher Studies after Chemical Engineering
17. Summing Up
In Future graduation students often stumble upon this question: what's the difference between Chemistry and Chemical Engineering? The two disciplines are interconnected and often overlap, but the differences are relevant for both your studies and future career.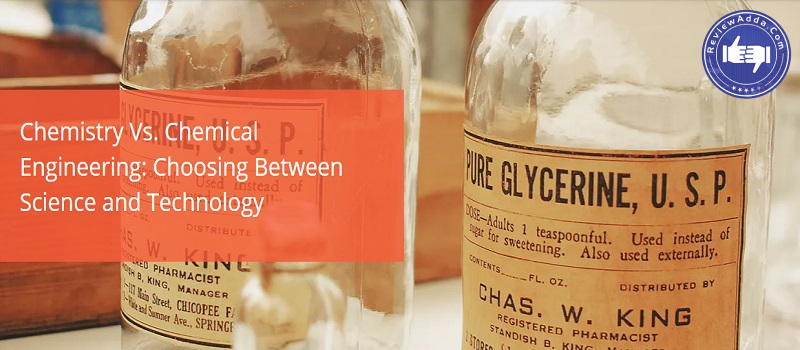 To sum up the main differences in a couple of sentences, we can say that chemists spend most of their time working with substances, doing thorough research, materials, and chemical reactions in a laboratory.
On the other hand, Chemical Engineers, take chemicals and materials and use them to design and create useful equipment and machines for various fields, like agriculture, medicine, product manufacturing, etc.
But you're a curious student, who won't be satisfied with simple explanations! That's why, in this article, we'll go more in-depth, explaining the differences and similarities between studying a Bachelor's in Chemistry and a Bachelor's in Chemical Engineering.
You'll also learn what to expect from future careers in the work of chemists and chemical engineers, in each of these two diverse and often overlapping fields.
Although there is an overlap between chemistry and chemical engineering, the courses you take, degrees, and jobs are quite different. Here's a look at what chemists and chemical engineers study and what they do.
Differences in a Nutshell
The huge difference between chemistry and Chemical Engineering has to do with scale and originality.
Chemists are more likely to develop novel materials and processes, while chemical engineers are more aptly to take these processes and materials and make them larger or more adept.
What is Chemistry?
At a microscopic scale, chemistry explores all the aspects of substances, molecules, the reactions between them. Doing research, chemists observe these chemical reactions and properties and learn how to use them to create new substances and materials.
Sure, you may take chemists as the mad scientists with test tube in their hand, who laugh crazily whenever they mix the two. But actually the genuine ones tend to spend a lot of time in laboratories, carefully examining and blending chemical elements, looking for ways to enhance the current knowledge and research processes, and working on new materials.
Chemists initially obtain bachelor degrees in science or arts, depending on the school. Many chemists pursue advanced degrees (masters or doctorate) in specialized areas.
Chemists take courses in all major branches of general physics, chemistry, math through calculus and possibly differential equations, and may take Courses in Computer Science or programming. Chemists commonly take "core" courses in the humanities, too.
Bachelor's degree chemists usually work in labs. They may perform sample analysis or contribute to R&D. Master's Degree Chemists do the same type of work, plus they may supervise research. Doctoral chemists direct and also do research or they may teach chemistry at the college or graduate level.
Most chemists pursue advanced degrees and may intern with a company before joining it. It's much more difficult to get a good chemistry position with a bachelor's degree than with the specialized training and experience accumulated during graduate study.
What is Chemical Engineering?
Chemical Engineering focuses on using raw chemicals and materials to manufacture, design, and test new products, machineries, devices, and systems which are used in various industries. These systems and devices make our life safer, easier, and improve our overall standard of living.
Chemical Engineering choose by students because it is a very broad field, allowing future graduates to specialise in any number of areas, such as fossil fuels, food production, consumer products, make-up, and so on.
Most chemical engineers have a Graduation Degree in Chemical Engineering. Master's degree are also popular, while doctorates are rare compared with chemistry majors. Chemical engineers take a test to become licensed engineers. After obtaining enough experience, they may continue to become professional engineers (P.E.)
Chemical engineers take most of the chemistry courses studied by chemists, plus engineering courses and additional math. The added math courses include linear algebra, differential equations, and statistics.
Common Engineering Courses are fluid dynamics, mass transfer, reactor design, thermodynamics, and process design. A fewer core courses may take by engineers, but commonly pick up economics, ethics, and business classes.
Chemical engineers work on R&D teams, process engineering at a plant, project engineering, or management. Similar jobs are performed at the entry and graduate level, although master's degree engineers often find themselves in management. Many start new companies.
Comparison between Chemistry vs Chemical Engineering
Admission process of Chemistry vs Chemical Engineering
BSc Chemistry
Some of the common Admission Processes of BSc Chemistry are mentioned below:
Merit-based: Generally, admission to this course is offered on the basis of merit. Colleges like Fergusson College, Hindu College, Mount Carmel College and more offer admission to this course on the fulfilment of cutt-offs published by them.
Entrance-based: Apart from merit based admission, there are few colleges that conduct their own entrances for admission like Christ University, Banaras Hindu University and more. One can also go for common entrance exams like NPAT.
Admission for Lateral Entry students: The course offers an admission with an option for lateral entry. The students can directly take admission in the third year of the course. In order to be eligible for admission, the students will have to complete their 1st and 2nd year of B.Sc. Chemistry from a recognized institute. Annamalai Univ. is one such univ. offering this kind of admission.
B.E. Chemical Engineering: Admission Process
Candidates are needed to have qualified their 12th exam with aggregate marks in the stream of science, along with securing higher marks in Chemistry, Maths, and Physics. For admission to the course different colleges conduct different entrance exams. Candidates are supposed to clear the entrance examinations conducted on state and national levels such as AIEEE and other equivalent examinations held by different institutions.
Colleges like Indian Institute of Technology hold their own entrance exam i.e. JEE, only after qualifying which applicants can seek admission to the course. Computing the marks secured in 10+2 final exams and the score obtained in entrance examination deems the grounds for admission to the course.
The list of entrance examination held across the country for seeking admission to the program are as follows:
AIEEE ( All India Engineering Entrance Examination)

JEE [Joint Entrance Examination] (for admission to IIT)

BITSAT (Birla Inst. of Tech. and Sc. Admission Test)

AIME [Associate Membership of Inst. of Engineers] (For working and diploma holders)

VITEEE [Vellore Inst. of Tech. Engg. Entrance Exam]

MU OET (Manipal University Online Entrance Test)
Eligibility Criteria for Chemistry vs Chemical Engineering graduates
Chemistry
The students must fulfil the following admission criteria to be fully eligible for BSc Chemistry:
He/ She must complete their 10+2 from a recognized board.

He/ She must be from a Science stream in 12

th

with Chemistry as one of the main subjects.
Chemical Engineering
The eligibility criteria for pursuing admission to the course are as follows:
Candidates should have qualified 10+2 in science stream, with having scored higher aggregate marks in physics, mathematics and chemistry (PCM) along with having cleared the entrance examination like AIEEE (All India Engineering Entrance Examination), etc. conducted by different colleges and Universities.

Candidates seeking

Admission to IIT

should have cleared JEE (Joint Entrance Examination) which is a prerequisite to seeking entrance for the course.

Candidates who hold a diploma in engineering, as well as those who are working and wish to avail for B.E, are required to pass the Associate Membership of the Institute of Engineers.
Subjects to be studied
BSc Chemistry Syllabus
BSc Chemistry includes a number of core subjects. Along with that, one will have to study a few elective subjects during the tenure of the course. A student must also know that lab practical form a main part of the course curriculum.
Below mentioned are the core BSc Chemistry subjects name:
Inorganic Chemistry

Physical Chemistry

Organic Chemistry
The common BSc Chemistry Syllabus followed during the course duration by most of the top universities is tabulated below:
| | |
| --- | --- |
| Atomic Structure | General Principles of Metallurgy |
| Periodicity of Elements | Bioinorganic Chemistry |
| Catalysis by Organometallic Compounds | Stereochemistry |
| Chemistry of Aliphatic and Aromatic Hydrocarbons | Chemistry of Halogenated Hydrocarbons |
| Carboxylic Acids and their Derivatives | Nucleic Acids, Amino Acids, Peptides, and Proteins, Carbohydrates, Dyes, and Polymers |
| Chemical Thermodynamic | electrical and Magnetic Properties of Atoms and Molecules |
| Solutions and Colligative Properties | Ionic and Phase Equilibria |
Some of the important elective papers include:
Application of Computer in Chemistry

Analytical methods in Chemistry

Molecular Modelling and Drug Design

Novel Inorganic Solids

Inorganic Materials of Industrial Importance

Industrial Chemicals and Environment

Instrumental Methods of Chemical Analysis

Polymer Chemistry

Research Methodology for Chemistry
Get Updated Review ( Voice Based Alumni Feeback)
B.E. Chemical Engineering Syllabus
The course syllabus is divided into theory, practice, and assignments. Practice includes lab work which is carried out every week in the college. The curriculum is divided into eight semesters held in a span of 6 months each.
Below mentioned is the syllabus followed by universities and colleges:
| | |
| --- | --- |
| Semester I | Semester II |
| Biochemical Engineering and Bioinformatics | Plastics Engineering |
| Corrosion Engineering | Nuclear Reprocessing |
| Nanotechnology | Industrial Gas |
| Metallurgy | Corrosion and Environmental Engineering |
| Process Design, Control and Development | Chemical Process Modelling |
| Thermodynamics | Biomedical Engineering |
| Paper Engineering | Study of Chemical Reactors |
| Textile Engineering | Electrochemistry |
| Semester III | Semester IV |
| Engineering Chemistry I | Engineering Chemistry II |
| Process Calculations | Mechanical Equipment Design |
| Applied Mathematics II | Applied Mathematics-IV |
| Chemical Engineering Thermodynamics I | Chemical Engineering Thermodynamics II |
| Fluid Flow Operations (FFO) | Solid-Fluid Mechanical Operations (SFMO) |
| Chemical Technology | Chemical Engineering Economics |
| Engg. Chem. I (Lab Practice) | Engg. II (Lab Practice) |
| Chemical Engg. Lab Practice | Chemical Engg. Lab III (SFMO) |
| Semester V | Semester VI |
| Business Communications & Ethics | Transport Phenomenon |
| Chemical Reaction Engg. – I (CRE I) | Chemical Reaction Engg. – II (CRE II) |
| Mass Transfer Operation (MTO) – I | Mass Transfer Operation (MTO) – II |
| Heat Transfer Operations (HTO) | Environmental Engineering |
| Electives: Pipping Engg. Advanced Material Sc. Instrumentation Colloids and Interfaces | Electives: Operational Research Computational Fluid Dynamics Biotechnology |
| Semester VII | Semester VIII |
| Process Engineering | Energy Stream Design |
| Process Equipment Design (PED) | Modelling, Simulation & optimization (MSO) |
| Process Dynamics and Control (PDC) | Project Engineering & Entrepreneurship Management |
| Electives: Corrosion Engineering Petroleum Technology Industrial Organization and Management | Electives: Total Quality Management Polymer Technology Advanced Process Control Advanced Separation Technology |
| Projects/ Seminar | Project/Seminar/Lab Practice |
Type of Job profile and their description for Chemistry vs Chemical Engineering
Bachelor of Chemistry:
| | |
| --- | --- |
| Job Roles | Description |
| Chemist | A scientist who research and studies the fundamental properties and composition of chemicals and the way they interact. They work in and lab and research environment probing questions and with the help of experiments testing Hypothesis. |
| Geneticist | The scientist who studies genes and use the information to make discoveries and development in the field of medicine and agriculture. |
| Clinical Research Specialist | The one who organize, plan, and coordinate clinical research projects. To combat health issues the projects may involve Drug development. |
| Radiologist | A Radiologist interprets and reads digital images obtained through cameras, imaging equipment, and machines. They help diagnose patient and consult a physician in course of treatment. |
| Researcher | Researcher is a scientist who conducts research in an organized and systematic manner to investigate and assemble information. |
| Lecturer | Many professionals start their career as a lecturer at universities. To impart knowledge and conduct research they get an opportunity and also lead a research group in universities. |
| Toxicologist | They are professionals who conducts a study to know the effects of chemicals on a human body, other living organisms, and environment. With an aim of maintaining the health of human and ecosystem they conduct research and monitor. |
| Biochemist | Biochemist Professional study the chemical composition and physical principle of the human being such as heredity, growth, cell development. |
| Cytologist | The one who study cells in terms of function, structure, and chemistry. |
Chemical Engineer
Chemical Engineers are required for diverse jobs. The following are some of the job profiles that chemical engineers can take up after obtaining the necessary skills.
Analytical Chemist: An analytical chemist is a scientist who studies and tests the chemical compositions and behaviours of varied substances.
Energy Manager: An energy manager monitors the usage of energy across the industry or organisation. He/ She also undertake energy audits.
Environmental Engineer: These engineers use the principles of biology, chemistry, soil science and engineering to develop solutions to environmental problems. They also involved in different initiatives to improve recycling, public health, waste disposal and water & air pollution control.
Manufacturing Engineer: the major responsibility of manufacturing engineer is to evaluate manufacturing processes by designing and conducting research programmes. They also apply their knowledge of various activities involved in the manufacturing process.
Materials Engineer: These engineers specialize in metals, ceramics or plastics. They also study the atomic structure of materials and develop composite materials.
Mining Engineer: Mining engineers play a vital role in extracting the underground resources such as minerals, oil, gas and metals.
Production Manager: The major responsibility of the production managers is to assess project and resource requirements. They also plan and organise production schedules.
Lecturer: Chemical Engineers can also become lectures in universities and colleges after attaining the necessary qualifications.
Employement sector of Chemistry vs Chemical Engineering
Chemistry graduates
Pharmaceutical Companies

Chemical Laboratories

Clinical Laboratories

Educational Institutes

Health Care Industry

Cosmetics and Perfume Industry
Potential industries where Chemical engineers can work
petroleum refineries

petrochemical industries

food processing units

cement factories

pharmaceutical industries

fertilizer factories

biotechnology sector
Top Companies for Chemistry vs Chemical Engineering
In Chemical, Petrochemical and Pharmaceutical Industry for Bachelor of Science [B.Sc] (Chemistry):
SRF Limited

Reliance Industries Limited

Gujarat Fluorochemicals

Deepak Nitrite Limited

Gharda Chemicals

Cipla

Glenmark Pharmaceuticals

Biocon

Tata Chemicals Ltd

India Glycols Ltd

UPL Ltd
Companies that hire chemical engineers are as follows:
Schlumberger Limited

Indian Oil Corporation

Reliance Industries Ltd.

Johnson Matthey

Essar Oil Limited

Oil and Natural Gas Corporation Limited

GlaxoSmithKline

Gujarat Alkalies & Chemicals Ltd

Deepak Fertilizers and Petrochemicals Corp. Ltd

Arofine Polymers Ltd
Salary offered for Chemistry vs Chemical Engineering
B.Sc Chemistry
Following are the list of Government Jobs and Average Salary available for B.Sc Chemistry candidates:
| | |
| --- | --- |
| Job Role | Average Starting Salary |
| Laboratory Assistant - Public Service Commission | Rs. 3.60 to 6.00 Lakhs per Annum |
| Lab Technician -Government Medical College | Rs. 3.60 to 6.00 Lakhs per Annum |
| Demonstrator ( Forensic Medicine)- Government Medical College | Rs. 3.60 to 6.00 Lakhs per Annum |
| Medical Data Entry Operator- Hospitals/Healthcare | Rs 2.18 to 3.60 lakhs per Annum |
| Institute of Nano Science and Technology- Junior Research Fellow | Rs. 6 Lakhs |
List of Government Jobs after Chemical Engineering & Average Salary
Following are the list of Jobs in government sectors and PSU's as well as Average Salary available for Chemical Engineering candidates:
| | |
| --- | --- |
| Job Roles | Starting Average Salary |
| BPCL- Chemical Engineers | Rs 3.60- 6.00 Lakhs per Annum |
| IOCL- Chemical Engineer | Rs 12 Laks per Annum |
| BARC- Engineer | Rs 6.00- 12 Lakhs per Annum |
| HPCL- Officer Fire and Safety/ Engineer | Rs 10 Lakhs |
| India Railways- Chemical & Metallurgical Assistant (CMA) | Rs.4.20 to 12 Lakhs per Annum |
Skills Required for Chemistry vs Chemical Engineering
To become a chemist, you should possess immense curiosity to dive into the vast pool of information, have the ability to explore and analyze things, as well as the ability to focus on detail. If you believe you possess the above-mentioned skills, then you can make a name for yourself as a chemist in the industry.
Chemical Engineers should possess problem-solving skills, numerical ability, analytical skills and inquisitiveness. If you have these in you, don't hesitate to pursue chemical engineering.
How to Become a Chemist vs Chemical Engineer: Colleges and Courses
Chemist
Complete 10+2 with Science stream, pursue Bachelors in Chemistry (B.Sc. Chemistry) and then you can further apply for Masters in Chemistry (M.Sc. Chemistry). After possessing these qualifications, you can bag the job of a chemist. However, for research positions, a PhD is preferred.
Some colleges offering B.Sc. Chemistry include:
Chemical Engineer
To become a chemical engineer, you need to complete your class 12th with the Science Stream (Physics, Chemistry, Mathematics) and then sit for entrance exams like JEE Main, JEE Advanced, BITSAT, VITEEE, etc. Following this, you can enrol into a B.E. / B.Tech in Chemical Engineering, which is a 4-year course that will make you eligible to work as a chemical engineer.
You can also do master's level courses after B.E/B.Tech course by clearing the GATE Exam (for M.Tech) or go abroad to pursue an MS in Chemical Engineering. A master's degree opens the door for various specializations, research fellowships, PhD and academic positions for students.
Some colleges offering B.E./B.Tech in Chemical Engineering are:
IIT (Various locations)

Delhi Technological University (Delhi)

Indian School of Mines, Dhanbad

Institute of Chemical Technology, Mumbai

M.S. Ramaiah Institute of Technology, Bangalore

Birla Institute of Technology & Science, Pilani

Assam Engineering College, Guwahati University

Vellore Engineering College, Vellore

Nirma Institute of Technology (Gujarat University)

Faculty of Engineering & Technology, Jadavpur University

Faculty of Engineering & Technology, Annamalai University

University Department of Chemical Technology

Univ. College of Science & Tech., Calcutta Univ.

Institute of Technology, Banaras Hindu University

College of Engineering, Andhra University, Visakhapatnam

University College of Technology, Osmania University
Scope of Higher Studies in Chemistry vs Chemical Engineering
B.Sc. Chemistry
A candidate can opt for Higher Education after B.Sc Chemistry for better job opportunities and scope. The entrance considered for admission in M.Sc and Integrated M.Sc courses in most of the institutes in India are IIT JAM and JEST:
Here is the list of popular M.Sc courses to opt after B.Sc Chemistry:
M.Sc Chemistry

M.Sc Biochemistry

M.Sc Applied Chemistry

M.Sc Organic Chemistry

M.Sc Inorganic Chemistry

M.Sc Industrial Chemistry

M.Sc Analytical Chemistry

Integrated M.Sc Chemistry
B.Tech Chemical Engineering
A candidate who is planning to pursue higher education after B.Tech Chemical Engineering can appear in the GATE entrance examinationand take admission in specialised M.Tech course. A good score in GATE will help to get admission in reputed institutes in India like IIT, NIT etc.
Those who wish to study in abroad universities can appear in GRE and English Language Tests like TOEFL/ IELTS and get admission in MS degree programme. Some of the popular courses to opt after B.Tech Chemical Engineering are ads follows:
M.Tech in Chemical Engineering

M.Tech in Biochemical Engineering

M.Tech in Petroleum engineering

M.Tech Material Science

M.Tech in Polymer Technology

M.Tech in Rubber Technology

M.Tech in Production Management
Job vs Higher Studies after B.Sc Chemistry
If you are confused about going for higher education or job after B.Sc Chemistry then checks the following table to the pros and cons of choosing higher education or jobs after B.Sc Chemistry:
Higher Education after B.Sc Chemistry

Jobs after B.Sc Chemistry

Pros

Most of the research centres and institute considers candidates with a masters degree after B.Sc for recruitment.

Candidate can gain skills and knowledge of the specialised course in a masters degree.

Candidates can opt for a career as a professor/ teacher with a masters degree.

Higher education is a good option for students who want to go for research work in future.

A job after B.Sc chemistry adds work experience at an early stage.

Many companies/ firms consider some years of work experience along with a masters degree. A candidate can opt for a job for experience after B.Sc degree and go for higher education whenever they wish.

Job after B.Sc Chemistry is a good option for candidates who want to independent and fund for their higher education.

Cons

Candidates will have to fund for higher education.

Most institutes accept admission on the basis of entrance test. The candidates may have to face the educational gap after graduation

Payscale of B.Sc Chemistry candidates may be less.

Candidates must have extraordinary skills to clear entrance and interviews for a job as the competition for a B.Sc graduate to get a job is high.
Job vs Higher Studies after Chemical Engineering
One who is confused about whether to for higher education or do a job after Chemical Engineering can check the pros and cons of Job and Higher Studies after Chemical Engineering here:
Higher Education after Chemical Engineering

Jobs after Chemical Engineering

Following are the advantages of higher education after Chemical Engineering




Candidates can complete their higher education from reputed institutes in India and universities abroad after Chemical Engineering. It includes IIT, NIT, IISER etc.

Candidate can gain expertise in a specialised course while pursuing a masters course.

Candidates can become a professor/ teacher in a reputed institute/ university.

A candidate who wants to pursue a carer as a researcher can pursue higher education after Chemical Engineering

Following are the advantages of choosing a job after Chemical Engineering:




It gives candidates an industrial work experience at an early stage.

Early job experience help candidates grow at the workplace with relevant work experience at an early stage.

There is always a vacancy for Chemical Engineering graduates in government sectors, PSU, manufacturing industries, mining, petroleum etc.

Payscale of Chemical Engineering graduates and it can be improvised with an add on experience.

Following are the limitations of higher education after B.Sc Chemistry:




Candidates will have to fund for higher education.

Most institutes accept admission on the basis of entrance test. The candidates may have to face the educational gap after graduation

There are only a few limitations of a job after Chemical Engineering which are as follows:




Chemical Engineers usually works in a potentially hazardous working environment.

The job role for a Chemical Engineer is challenging and requires patience and a lot of hard work.
Summing Up
Someone rightly said that handwork is the key to success and your inquisitive mind combined with hard work can help you reach the soaring skies. The solution to the puzzles of chemistry lies in your mind and if you are driven enough to discover new things, create alternative procedures, experiment with reactions, then the field of chemistry awaits you!