Topic We Cover: Mahindra Ecole Centrale [TS, Hyderabad]
1. Overview
2. Programme Highlights
3. Infrastructure Facilities at Mahindra École Centrale, [MEC] Hyderabad
Campus
Library
Smart Classrooms
Laboratories
Hostel Facilities
4. Courses offered by Mahindra Ecole Centrale
B.Tech. (Bachelor of Technology)
5. Mahindra Ècole Centrale Hyderabad Admission 2020
6. How To Apply For Mahindra Ecole Centrale Hyderabad
7. Mahindra Ecole Centrale Hyderabad Scholarships
Mahindra Ecole Centrale [TS, Hyderabad]
Mahindra École Centrale MEC Hyderabad was established in 2014 on collaboration with École Centrale Paris (now CentraleSupélec) and JNTU Hyderabad. MEC falls under Mahindra Educational Institutions which is wholly owned subsidiary of Mahindra Group's IT venture, Tech Mahindra. In France, École Centrale Paris is one of the oldest and most influential Engineering Institutions now known as Centrale Supélec with a heritage that goes back to nearly 200 years.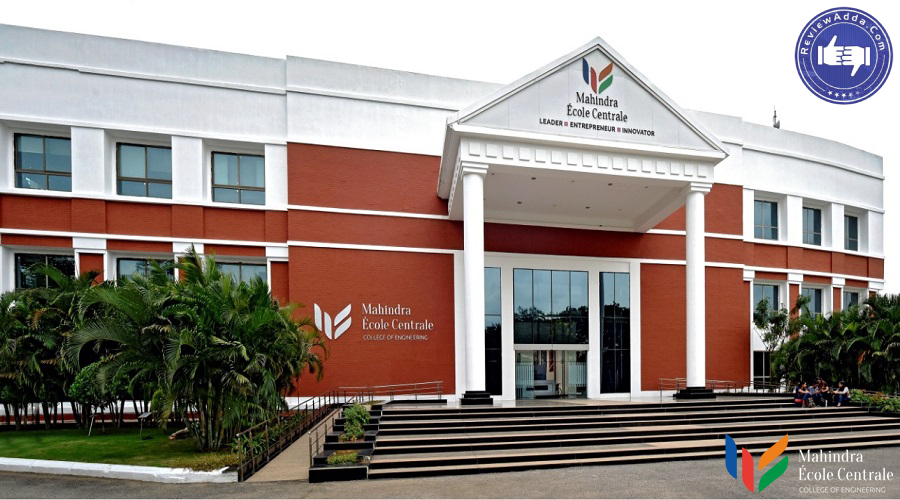 This prestigious college of engineering name Mahindra École Centrale (MEC) is known to be an international technology school that marks the venture of the USD 20.7 billion Mahindra Group into the higher education sector.
The 4 year duration Degree Certification of MEC (B.Tech) is deliberate by JNTUH. At MEC, the contemporary, industry-aligned program is designed to shape not just engineers, but technocrats with the ability to master the complexity of multinational organizations. Development, Research, and Industry apprenticeships are key aspects of learning at Mahindra École Centrale.
Mahindra Ecole Centrale offers a full-time B.Tech Degree in the disciplines of computer science engineering, civil engineering, mechanical engineering and electrical and electronics engineering. In addition to this, this institution is popular for its lucrative research programs. The institution has eight academic faculties, including the Faculty of Mathematics, Faculty of Physics and Faculty of Humanities and Social Sciences. The courses offered by this institution are globally relevant. The annual academic fee of this institute for domestic students is INR 4,50,000, and the annual tuition fees for PIO/NRI students is $9,000.
MEC's global pedigree, industry focus, unique pedagogical model, world-class faculty and outstanding facilities are designed to set the College's Engineering Graduates apart from even the most reputed Indian engineering institutions.
Programme Highlights:
With a focus on the natural, creative and engineering sciences Mahindra Ecole Centrale runs a truly international program
The environment of unique cultural immersion for students, faculty, and staff
International Exchange Program with mandatory internships
With close links to industry MEC offered a research-driven program
Inter-disciplinary approach with a blend of Humanities, Social
Sciences, Management and Philosophy.
Infrastructure Facilities at Mahindra École Centrale, [MEC] Hyderabad:
Campus:
Library:
The library of Mahindra École Centrale is stocked with thousands of books and e-book catalogue
The library has an E-library section along with a computer lab
The students get free access to the lab which has internet access as well for research and studies
It also has an Open Reading Section which includes several newspapers, magazines and international periodicals
Smart Classrooms:
The classrooms of the institute are well-equipped with high-end technologies and multi-media
The classrooms have facilities like smart boards, PPTs, audio-visuals, interactive modules etc
The Institute also has connected classrooms
Laboratories:
Hostel Facilities:
The Institute offers separate hostels for boys and girls and the hostels are mandatory
The hostels are non-AC, double sharing with shared washrooms
Mess facility is also available for the hostel residents
Sports Facilities:
The Institute has sports facilities for sports like football, cricket, lawn tennis, basketball, badminton, volleyball etc
It also has facilities for indoor games
Courses offered by Mahindra Ecole Centrale
B.Tech. (Bachelor of Technology)
Available Courses
| | | | | |
| --- | --- | --- | --- | --- |
| Course Name | Duration | Mode | Intake | Fees(Annual) |
| B.Tech in Computer Science & Engineering (CSE) | 4 Years | Regular | 60 | 4 Lacs |
| B.Tech in Electrical & Electronics Engineering (EEE) | 4 Years | Regular | 60 | 4 Lacs |
| B.Tech in Mechanical Engineering (ME) | 4 Years | Regular | | 4 Lacs |
| B.Tech in Civil Engineering (CE) | 4 Years | Regular | 60 | 4 Lacs |
Mahindra Ècole Centrale Hyderabad Admission 2020
Located at Bahadurpally, Hyderabad, Mahindra Ecole Centrale is a prestigious Private Engineering College. It is affiliated to JNTU and was established in the year 2013. As of 2019, MEC has witnessed successful completion of two batches.
Admission for B.tech Program is done based on All India Rank alloted to the candidates. This is assigned on the basis of marks scored in JEE Mains.
Interested candidates must participate through counselling organised by Joint Seat Allocation authority (JOSSa), using their All India Rank. Counselling will be conducted with each phase of seat allocation based on the choices filled by the candidate.
Upon allotted with preferred choice, candidate has to report at Mahindra École Centrale Hyderabad for complete payment of admission fee and confirm the seat acceptance. If not allotted, candidate can further participate in the next rounds of counselling.
CSE branch is the most preferred branch out of Mechanical, Electrical, Civil and EEE in MEC Hyderabad. This is because of two reasons;
Mahindra Ecole Centrale is located next to Tech Mahindra. This opens up opportunities and exposure towards effective learning for CSE students.
The JEE Main Cut Off marks for acceptance into CSE branch has increased from 120 to 129.
With an increase in highest offered salary, from 30 LPA to 45 LPA, CSE at Mahindra École Centrale, Hyderabad is preferred more than other local colleges in Hyderabad.
Maintaining a female to male students' ratio of 1:4 and Student to faculty ratio as 15:1, MEC Hyderabad stands prominent as gender diverse and academically nourished environment.
Application fee: INR 1000/- (for Indian students) / USD $50/- (for PIO/NRI students)
Application submission deadline: July, 2020
Get Updated Review ( Voice Based Alumni Feeback)
Mahindra Ecole Centrale Hyderabad Admission Highlights 2020
Name of the institute

Mahindra Ecole Centrale, Hyderabad

Institute type

Private

Courses offered

B.Tech

Basic Admission Criteria

Entrance test

Application Mode

Online

Application form month

April-May

Basic Eligibility

Completed 10+2 level of education with minimum aggregate of 60% marks

Name of the entrance

JEE Main, SAT

Entrance mode

Online

Interview

No

Seats

240

Cut off

JEE Main: 130+ marks
SAT: 1800+ score

Course fee:

INR 18,80,000/- (Indian Candidates)
USD $37600/- (NRI/PIO Candidates)

Placement Statistics

Highest package: INR 45 LPA
Average package: INR 7.5 LPA
Mahindra Ecole Centrale Hyderabad B.Tech Admission 2020
Mahindra Ecole Centrale Hyderabad offers four years full time Bachelor of Technology program in four disciplines of engineering namely,
Mechanical Engineering
Computer Science Engineering
Civil Engineering
Electrical & Electronics Engineering
Mahindra Ècole Centrale offers an interdisciplinary education system in partnership with Ècole Centrale, Paris
The basic eligibility criteria for B.Tech Admission in Mahindra Ecole Centrale is completion of 10+2 level of education with a minimum aggregate of 60% marks. Candidate must have qualified JEE Main 2020 exam and be eligible to attend JEE Advanced.
Candidate in the final year and waiting for the results if the qualifying examination can also apply.
For NRI/PIO candidates, a valid SAT Subject Score (Physics, Chemistry and Maths) is eligible with minimum of 1800 score
Mahindra Ecole Centrale Hyderabad B.Tech Selection Criteria
Candidates have to register for counselling at the official JoSSA 2020 website, for seat allocation, document verification and final admission letter.
Considering the 12th exam scores and JEE Main Marks, a merit list shall be made category-wise, containing All India Ranks (AIR) of candidate
The Tie breaking policy of B.Tech Course is if two applicants have secured same marks, then
Candidate with higher no. of positive marks will be awarded higher rank.
If that criterion also be unsuccessful to break the tie, then the candidate with scoring higher marks in Maths will be assigned a higher rank.
If this unable to break the tie, higher rank will be assigned to the candidate who has obtained higher marks in Physics. .
According to the rank alloted, candidates may fill-in their choice of branches of Mahindra Ecole Centrale, in decreasing order of their preference.
Applicants are firmly supported to lock as many options of their interest as possible. Once locked, the choices CANNOT be modified.
JoSAA will conduct seven rounds of seat allocation for academic programs.
Once allotted for your desired branch, Candidates must pay the seat acceptance fee and get the documents verified at the reporting center for provisional seat acceptance.
If candidate don't get the desired option, then he/she can go for either one of three choices:
Freeze-continue with the option that is alloted to you.
Slide-accept the option but you want a better field in the same college.
Float-accept the alloted seat you are looking for better field as well as college.
Documents to be taken to reporting centre:
Academic details(10th and 12th certificates and mark sheet)
Admit Card
Score card
Seat allotment letter
Category certificates, if applicable
It is mandatory for candidates to choose six cities / towns from a selected zone at the time of online registration, for their reporting centre.
For PIO/NRI candidates, the counseling session will be arranged through video conference.
How To Apply For Mahindra Ecole Centrale Hyderabad?
Documents required
Scanned passport size photograph
Valid contact number and email ID.
Steps to apply offline
Register at the official admission website.
Enter the required details including a contact number and Email ID.
After submitting, a verification link EMail would be sent to candidate's registered email ID.
Click on the link and create a password.
Once the password is created, login with contact number/ Email ID and password to start filling the application form.
Enter the personal, academic details as inquired.
Upload the scanned passport sized photograph.
Pay the application fee.
After successful payment of fee/uploading of fee payment details, submit the completed form and print the Acknowledgement copy for future reference.
Fee payment
Pay the application fee of INR 1000/- by Indian students or $50 for PIO/NRI in cash at any bank.
Candidate must upload the Acknowledgement receipt of cash given from the bank on the Application Portal.
OR
Create a demand draft of INR 1000/- by Indian students or $50 for PIO/NRIs from any bank in favor of "Mahindra École Centrale", payable at Hyderabad, India.
Candidates must enter all the details of the DD at the Application Portal.
OR
Candidate can also pay the application fee online via Net Banking/Credit Card mode available while filling out the registration form.
Both DD and original copy of acknowledgement receipt has to be sent to Mahindra École Centrale at the following Address;
The Admissions Office,
Tech Mahindra Technology Center,
Survey No: 62/1A, Bahadurpally,
Jeedimetla,Hyderabad - 500043
Telangana, INDIA
Candidate should mention their Name, Application No. & Mobile Number on a separate paper as well on the reverse side of the D.D/Acknowledgement receipt.
Mahindra Ecole Centrale Hyderabad Scholarships
Mahindra Ecole Centrale Hyderabad provides scholarships for meritorious students based on their rank in JEE Main and Academic performance throughout the B,Tech career.
Top 12 JEE Main Rank holders, in each branch, (11 domestic + 1 NRI/PIO) are provided with a scholarship amount of INR 1,00,000/-
Top 5 students belonging from North East India with highest marks in each year, across the branches will receive a scholarship amount of INR 1,00,000/-. Candidate must have CGPA more than 7 with no backlogs and valid residential proof with them.
Top 20 female candidates scoring highest marks each year will also be given a scholarship of INR 1,00,000/-. Such female candidate must have a CGPA of 7 or more without any backlogs.
Placements and Companies visited at Mahindra École Centrale, [MEC] Hyderabad
Mahindra École Centrale Placements: Mahindra École Centrale has an impressive placement record. The students of the institute get numerous opportunities for placements and internships from top companies and global brands. The students are trained and groomed according to the current industry trends. From 2014 to 2018 about 35 recruiters have come to the campus and 90% of the students have been selected for placements and internships.
Mahindra École Centrale Placement Highlights:
| | |
| --- | --- |
| Highest Salary Package | 30 LPA |
| Average Salary Package | 7.5 LPA |
Mahindra École Centrale Internship Providers:
Companies:
| | | |
| --- | --- | --- |
| Power Test Asia | Hemair Systems | Accenture |
| R&B | HPCL | AIESEC |
| Ramco Cements | Hetero Drugs | AMD |
| RCI | InfoCrunch Analytics | Anewa Engineering |
| Rites | IOCL | AP CRDA |
| Shapoorji Pallonji | ISRO | Ashok Leyland |
| SGD | ITC | Asia Engineering |
| Simpsons | JSW Steel | Atos |
| SR Prefabs | Juniper Networks | Atlas Copco Secoroc India |
| Seal Consulting | Kalyani Techno | Bajaj Auto |
| TATA Projects | Kirby | BHEL |
| Tata Steel | L&T | Bombardier |
| TCS | Lanco | CAIR |
| Tech Mahindra | Lanson Toyota | Caterpillar |
| T-Hub | Lemon Bridge Research | Citymandi.com |
| TITA (Telangana IT Association) | MAGNA International | Ctrl – S |
| Vallourec | Mahindra & Mahindra | Daikin |
| VICAT | Mahindra Research Valley | DAS |
| Virtusa Polaris | Maritimus | Deep Red Ink |
| Vizag Steel | Marvel Semi-Conductors | DRDL |
| Volvo | Mercedes-Benz-Silver Star | Eaton |
| VTPS | My Home | Esko |
| Yamaha | Navbharath Ventures | Gangothri Bio Fertilizer |
| Yash Technologies | Nibble Matrix | Grundfos |
| YITSOL | ODF | GMR |
| El Forge | Oracle | First Show Digital |
| Fiat | ORVITO | Zut |
Universities:
| | | |
| --- | --- | --- |
| Georgia Tech. | CentraleSupélec | Elseware Paris |
| Institute of Electronics and Telecommunications of Rennes | London School of Economics | MSS-MAT Lab, CentraleSupélec |
| Nanyang Technological University | National Sun Yat-sen University | Pace University |
| Sondra Laboratories France | - | - |
Indian Institutes:
Mahindra École Centrale Placement Companies:
| | | |
| --- | --- | --- |
| Mahindra Rise | Gap Inc. | Microsoft |
| Smartron | LG Soft India | Mahindra Comviva |
| Esko | Hexagon | Shapoorji Pallonji |
| Sterlite Tech | ZS | Raheja Developers |
| Byju's | L&T Construction | Media.net |
| Tech Mahindra | Forum 8 | Synopsys |
| Voltas Limited | - | - |