Topic We Cover: How to prepare for MCI FMGE Exam
1. Why MCI FMGE Exam screening test is required
2. 7 Tips for FMGE Preparation
3. Brain Enriching Strategies
4. FMGE Syllabus 2018
5. How to prepare for MCI FMGE Exam
6. How to Prepare for MCI FMGE Exam in 5 Months
7. Recommended Books for how to prepare for MCI FMGE Exam
8. Few tips to remember for how to prepare for MCI FMGE Exam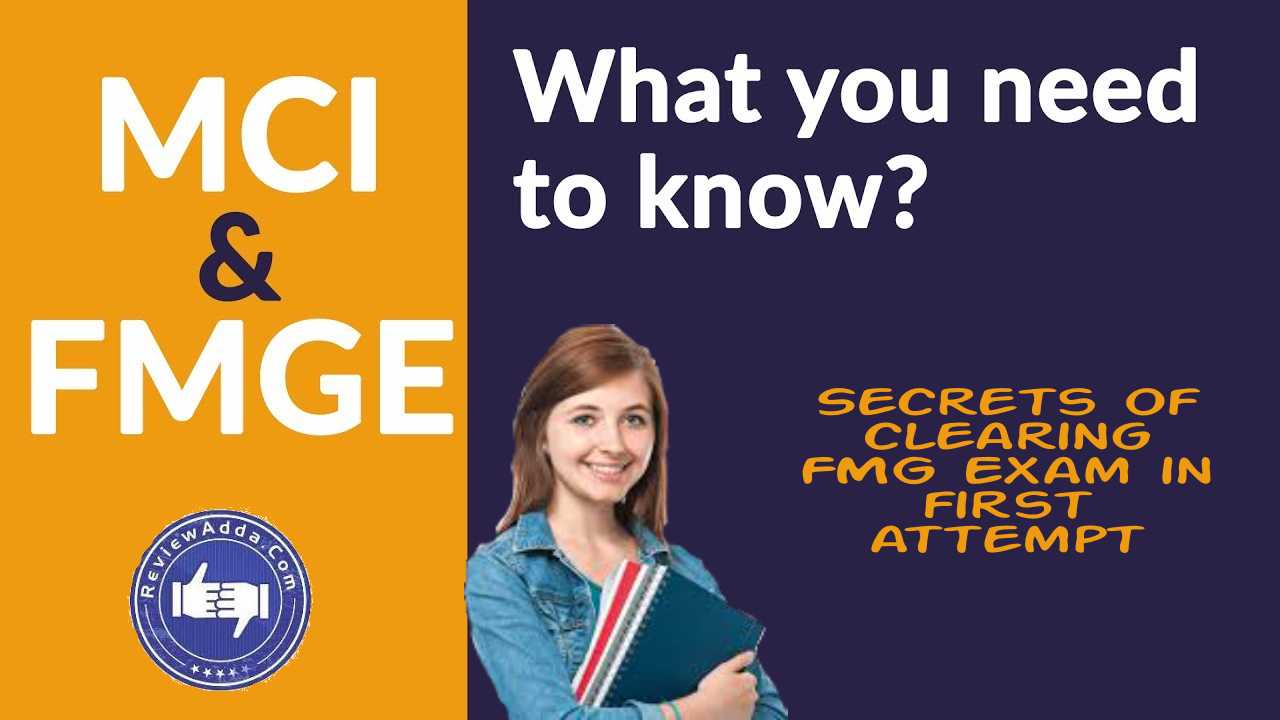 Every medical student who have completed their Medical Degree From Abroad need to clear one more exam if he/she want to continue their medical practice in India and for this they need to give the Foreign Medical Graduates Examination (MCI FMGE) which is organized by the National Board of Examinations (NBE), India. But now the question raise infront of medical students is how to prepare for MCI FMGE Exam.
Why MCI FMGE Exam screening test is required?
Before going through how to prepare for MCI FMGE Exam, you should know about Why MCI FMGE Exam is mandatory?
Every year thousands of students go abroad for their medical education and but as per the study only 16% of them who have appeared for the FMGE screening test have passed. Actually, in Indian medical colleges there is availability of about 67000 and the annual fees of the colleges is also very high due to which so many aspiring medical candidates take admission in the Colleges and Universities of Abroad.
But, if a medical student who have completed their medical degree from foreign land and now want to continue their practice in India then, they need to take the MCI FMGE screening test which is held twice in a year in June & December and a candidate has maximum of 3 attempts to pass this exam.
Have a look to the graph for number of candidates appeared for the FMGE exam every year since 2012-13 to 2016-17 and the pass percentage in FMGE over the years.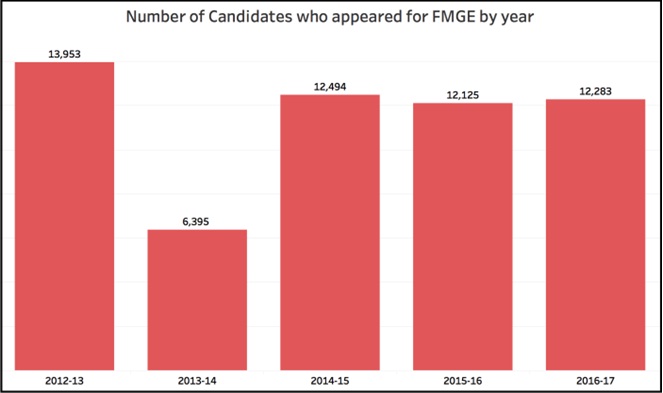 Here are few tips to understand you about how to prepare for MCI FMGE Exam, Hope! These tips will help to in improving the passing percentage of the medical students in FMGE Exam.
7 Tips for FMGE Preparation
Over the years, the level of complexity in the FMGE exam has gone up considerably. Now-a-days, candidates taken this exam as a 'post-graduate' level.
Despite securing top-notch medical education abroad, a candidate must prepare with an increased level of intensity since there is no room for blunders at this stage.
In this article, we will throw light on seven major tips which are must follow tips by aspirants for how to prepare for MCI FMGE Exam.
Master the Syllabus
Candidates must cover the entire syllabus. Avoid preparation of any particular subject and distribute equal emphasis to all subjects.For 'how to prepare for MCI FMGE Exam' you need to understand that don't follow short cut study methods like focusing on only certain subjects and omitting the others since you cannot afford to take such a risk at this stage.
A focused and dedicated preparation will yield results for you for how to prepare for MCI FMGE Exam .
Take Notes
To understand better how to prepare for MCI FMGE Exam, you must develop the habit of taking notes since they will serve as a quick reference guide. When exam preparation reaches its peak, one does not get enough time to go through the entire topic.
Taking notes will also facilitate faster and better retention.
Work on Weaker Areas
Most of the aspirants concentrate only on the strong areas and leave the tough and uninteresting topics for the last.
This greatly impacts your overall performance in the exam. Identify the weaker areas and devote ample amount of time studying them.
Just remember that you cannot afford to leave topics since every mark counts in the end.
Be Consistent with Your Revision
For how to prepare for MCI FMGE Exam, revising the topics at regular intervals ensures that information is retained at the time of the exam.
Since a high volume of information is processed, you must revise the main topics once or twice.
Frame your study schedule in such a way that you have enough time for completing at least two rounds of revision.
Attempt Maximum Number of MCQs
No matter how well-prepared you are, high speed and accuracy are the key drivers of success in FMGE. You must attempt a variety of MCQs on different topics. This will help you identify your weak and strong areas.
This will help you work on your weaker areas and improve your speed and accuracy side by side.
Attempting a higher number of MCQs will increase your chances of scoring high in the exam, this is one of the best way for how to prepare for MCI FMGE Exam.
Attempt Mock Tests
For how to prepare for MCI FMGE Exam mock Tests are a great way to evaluate where you stand in terms of preparation. Attempting mock tests with a stipulated time period will help you identify the areas where improvement is required.
Checking your performance after attempting the mock test will provide a real-time feedback as to how to improve your test taking under time constraints.
Refrain from Using 'Too Many' Study Resources
You must not refer to a large number of study resources since this will leave you confused.
Refer to good quality books and do not change your study material based on someone' feedback.
Remember, the thing which really counts is the way you utilize your limited study resources to your advantage.
Remember, a focused and dedicated preparation in a consistent manner is sure to yield results. Stay optimistic and confident.
Strategies To Enrich Your Brain For how to prepare for MCI FMGE Exam
Nothing seems more difficult than being the master of your mind especially in time, when it comes to examination. Year's long hard work goes in vain, when you are unable to recall the stuff you have been struggling to remember since long.
There are manifold ways to memorize and recall the same at time required but it demands a chunk of backbreaking work with a methodical and logical approach.
Let's have a look to the brain enriching strategies which will help the aspirants in fulfilling their aspirations for how to prepare for MCI FMGE Exam.
Brain Enriching Strategies :
Be focused :
For how to prepare for MCI FMGE Exam, you have a clear idea in your mind as to why you are studying and what are you studying? Focus on your target to clear the examination.
Organization :
We all know the fact that remembering or recalling a story is far simpler than a monotonous paragraph, thus organize the fact given in such a way that it gives it more or less like a tale structure in which each step is related to other, so that one just need to remember the general idea of the information provided and rest can be memorized by organizing the data from general to specific or complex to simpler.
Moreover, it's not mandatory to remember each and every data given; one can filter the important information and memorize the required.
Prepare time table :
Divide the entire important topics you wish to cover within the available time by preparing a time table for how to prepare for MCI FMGE Exam. Stick to the time table, if some topics are left out, allot few days at the end to cover such topics. Time for daily and complete revision should also be available.
Build correlations :
Correlating the facts or the information or one subject with another or new subject with the old one is an easy- breezy way to improve memory as well as grasp the information for longer duration as by correlating the information a candidate will already get a basic idea of the subject or the topic and the extra information will just be an add on to the existing one.
Be fully charged up :
It has been proved scientifically that an individual remember 90% of what he does, 75% of what he visualize and 20% what is audible to him, thus we can memorize maximum by doing.
One must be fully charged up while he is involved in learning process with least environmental disturbance and all the required material within reach to avoid time wastage. Make a proper sitting arrangement and involve your whole body while learning, studying while standing is an effective way if one can opt for. While learning if your whole body is involved, memorizing the information given becomes easier.
Avoid stress :
As we all know that studying medicine is not a bed of roses, it need a lot of commitment and backbreaking work, but to win the battle, the key is to be relaxed. Relaxation, it's a state of mind when you are completely alert and free from any distraction. To relax one must sleep adequately, eat nutritious diet, and should involve in mild exercises such as yoga or meditation daily and thi will also a solution of how to prepare for MCI FMGE Exam.
Use visual aids :
As already discussed, human brain will remember 75% of what is visualized, thus to remember the information accurately and for longer duration use of images, figures, and flowcharts are worthwhile, especially in subjects like anatomy and physiology. These images will immediately flash in your mind, as you will encounter the related question.
Be audible to yourself and repetition :
To master the subject and avoid forgetfulness, make it a point that whenever you are studying you are able to hear yourself as using more than one sense improves understanding as well as grasping. To fix the information into your brain repletion at regular interval is necessary for how to prepare for MCI FMGE Exam.
Jotting down :
Time is precious, the secret of success in FMGE, is to make maximum use of the hours available, inculcate the practice of writing down whatever is important and useful, it will not only save the time the next time you revise, but will even improve retention and this will help you in how to prepare for MCI FMGE Exam.
Silence is the key :
As discussed earlier, calm and quiet surroundings is manifold to study effectively, improve understanding, and increase retention. Thus, an aspirant who wish break through the obstacles must study in an environment free from external disturbances.
Improve your efficiency :
Never ever think you are done with the information given, be inquisitive, search for new/complete information about the topic, as medical stream is vast like an ocean and the information you have been provided is equal to the spoonful. This will not only improve your knowledge but will even enhance your skill and accuracy and gives you the solution of how to prepare for MCI FMGE Exam.
Same day revision :
Inculcate the practice of revising the same day, as the studies have shown revision within 24 hour will improve the chance of memorizing the information over 70%.
Study during peak energy time :
As discussed earlier, one tends to study more efficiently and retain maximum information if he is fully charged up that is when he has maximum energy level. Self analyzation is the way to schedule your daily routine, find the time of the day your mind is completely fresh and allot that time to study the most difficult subjects.
Study Interval :
Studying with short breaks in between is an effective and an efficient strategy to retain the information, once you feel the brain is saturated, take a small interval , relax and then get back to work, this will not only enhance the sitting but will even improve the retention. Every individual has different capacity some can study continuously for 2 hours, while other may need a break after every half an hour.
Be optimistic :
how to prepare for MCI FMGE Exam, believe in yourself, believe in your capabilities, how much harder the task is recite to yourself "I can do it", this will give a positive energy to work and make the task how much harder is it, achievable. Never let the negative thought over cloud you, negativity lower down your energy level and make you futile.
Sieve and study :
Always study what is required, studying unwanted material is mere waste of time, filter the topic to study with the help of previous year question papers and mock tests or take guidance from anyone who has cracked FMGE. Schedule the subjects/topics according to the vitality and weightage.
Combine memory techniques :
Using one or more senses, taking short breaks, thinking positively and studying with relaxed mind are few memory enhancing techniques, which when used in combination induces synergistic effect and help you in how to prepare for MCI FMGE Exam.
Brainstorming :
Brainstorming is a way to enforce the brain to think and resolve the problem. Thus, before you start with the given information brainstorm yourself with the information you already have, as most of the topics in medicine are interrelated, this will not only help in better understanding of the subject but will even ensure retention.
Maintain the information :
In medicine, there is a vast ocean of information, thus it tend to fade away as you move ahead, to avoid this try to write or speak or discuss the information. Review the noted information regularly to ensure long term retention for how to prepare for MCI FMGE Exam.
Encourage yourself :
If you are unable to remember anything, do not underestimate yourself, brainstorm and try to remember with the help of related topics and soon you will be able to recall, compliment yourself this will boost your confidence.
For every individual who are involve in how to prepare for MCI FMGE Exam, the memorizing techniques differ, thus one has to observe which technique suits him the best and memorize with the help of that technique.
FMGE Syllabus 2018
Before preparing for the MCI FMGE Exam, an aspirant must be aware about the complete FMGE syllabus because through syllabus you will understand better how to prepare for MCI FMGE exam. It is advisable to candidates to follow the prescribed syllabus of FMGE exam mentioned below.
How to prepare for MCI FMGE Exam - Pre And Para Clinical Subjects: 100 Marks
Anatomy
General & Regional Anatomy
Elements of Anatomy
Histology
Human Genetics
Embryology
Surface, Radiological, Sectional, and Applied Anatomy
Physiology
Nerve and Muscle
Body fluids – Blood
General Physiology
Cardiovascular System
Kidney
Gastrointestinal Tract
Respiratory System
Skin and Body temperature
Endocrine Glands
Reproduction
Special Senses
Central Nervous Systems
Get Updated Review ( Voice Based Alumni Feeback)
Biochemistry
Cell and Sub-cellular structures
Lipids
Handerson-Haselbach equation, Hydrogen Ion concentration Acid, Buffers, Bases
Carbohydrates
Isotopes and their Application
Peptides, Amino Acids, and Proteins
Enzymes
Biological Oxidation
Nuclear Acids
Vitamins
Minerals
Digestion and Absorption from GI Tract
Carbohydrate and Intermediary Metabolism
Lipid Metabolism
Protein and Amino Acid Metabolism
Purine and Primidine Metabolism
Nutrition and Energy Metabolism
Biochemical Genetics and Protein Biosynthesis
Tissue Biochemistry
Liver Functions
Pathology
Cell injury
Immunopathology
Inflammation and Repair
Infectious diseases
Circulatory disturbances
Growth disturbances and Neoplasia
Nutritional and other disorders
Respiratory and Hepato-Biliary Pathology
Genetic disorder
Haematology
Cardiovascular Pathology
Pathology of Kidney and urinary Tract
Lymphoreticular System / Spleen
Diseases of the Breast
Reproductive System (male & female)
Musculoskeletal System
Endocrine pathology
Dermato-Pathology
Neuropathology
Ocular Pathology
Microbiology
General Microbiology
Bacteriology
Immunology
General Virology
Mycology
Systemic Virology
Parasitology
Clinical / Applied Microbiology
Pharmacology
Autonomic Nervous System
General Pharmacology
Cardio-vascular System
Diuretics
Autocoids and related drugs
Drugs affecting blood and blood formation
Respiratory System
Gastro-intestinal System
Central Nervous System
Endocrine pharmacology
Psychopharmacology
Drugs in Anaesthetic practice
Toxicology
Chemotherapy
Clinical Pharmacology and Rational drug use
Forensic Medicine
Definitions
Courts of India
Court procedures
Death
Identification
Medico-legal reports including dying declaration and Medical Certifications
Changes after death
Inquest by police, magistrate and coroner
Medico-legal autopsies
Examination of mutilated human remains
Mechanical injuries and wounds
Examination of an injury case
Death due to malnutrition, neglect battered babies
Injuries due to physical agents & their medico legal importance
Asphyxial death
Dowry death
Infanticide
Virginity, sexual offences, sexual perversions
Pregnancy and delivery
Legitimacy
Biological fluids
Forensic Psychiatry
Seminal stains
Medical Jurisprudence
Toxicology
How to prepare for MCI FMGE Exam - Clinical Subjects: 200 Marks
General Surgery
Wounds
Hemorrhage and shock
Skin tumours, burns, skin grafting
Nutrition, Fluid, electrolyte and Acid balance
Arterial and Venous diseases
Specific and non-specific injections
Lymphatic and Lymph nodes
Infections of Hand and Foot
Sinuses, Ulcers, Tumors, Fistulae and Cysts
Umbilical granuloma, fistula, adenoma
Kidneys and Ureters
Diseases of bursae, muscle, fascia, and tendons
Hernia
Abdominal Wall
Tongue,Teeth, Gums, Mouth, Salivary glands, Face, Neck
Brain, Nerves
Thyroid Glands, Thyroglossal Tract and Endocrines
Sympathetic System
Breast
Cranio-Cerebral injuries
Genito-Urinary System
Urinary Bladder
Penis, Testis and Scrotum
Prostrate
Urethra
Vasectomy and Recanalisation
Oesophagus, Stomach and Duodenum
Cardiothoracis System
Spleen, Liver, Gall Bladder and bile ducts
Pancreas
Peritoneum
Intestines, intestinal obstruction
Rectum and Anal Canal
Appendix
Anesthesia
Methods of oxygen therapy. Physiology of Respiration O2/CO2 transport.
Anaesthetic agents, stages of Anaesthesia
Anatomy of upper airway
Pre-operative evaluation/pre-medication
Muscle Relaxants
IPPV, Endotracheal Intubations
Mechanism and Principles of balanced Anaesthesia, administration of general anaesthetics,
Spinal/Epidural Anesthesia
Local Anesthesia
Use of simple ventilators, Cardiopulmonary resuscitation basic
Monitoring
Blood Transfusion and Fluid Electoral Balance
ICU, role of anaesthesiologist in ICU
Shock
Poisoning
Anaesthesiologist in chronic relief and acute.
Orthopedics
Traumatology
Injuries of bones and joints ? Injuries of Lower Extremity
Injuries of the Spine ? Vascular Injuries
Cold Orthopedics
Bone and Joint Tuberculosis
Neuro-Muscular Disorder
Regional Conditions
Physical Medicine and Rehabilitation
Radio- Diagnosis
Respiratory System
Gastrointestinal & Cardiovascular System
Obstetrics & Gynaecology
Central Nervous System
Excretory System
Skeletal System
Radiotherapy
Principles of Chemotherapy and Radiotherapy
Prevention and Early diagnosis of Cancer
Common radiation reactions and management
Principles of Nuclear medicine
Radio-isotopes in diagnosis and therapy
Radiotherapy and chemotherapy in commonly seen cancers
Paediatrics
Vital statistics
Growth & Development
Neonatology
Nutrition
Infections
Central Nervous System
Genetics
Pediatric Emergencies
Gastrenterology
Endocrinology
Nephrology
Respiratory System
Medicine
Common symptoms of disease
Infections
Clinical Methods in the practice of Medicine
Gartro-Intestinal Tract
Nutrition/Exposure to Physical & Chemical Agents
Haematology
Urinary system and Nephrology connected to Tissue Disorders
Cardio-Vascular and Respiratory System
Emergency Medicine
Endocrine and Neurological System
Geriatrics
Tuberculosis and Respiratory Diseases
Psychiatry
History aspects and diagnosis & treatment of mental illness
Conduction of Mental Status Examination
Behavioral Sciences
Mania and depression
Different psychoses Clinical features, diagnosis and management of :
Anxiety disorders and hysteria
Schizophrenia
Dementia
Alcoholism
Psychiatric emergencies
Drug Abuse
Clinical features, diagnosis and management of psychiatric disorders of childhood and adolescence
Personality disorder
Dermatology and Sexually Transmitted Diseases
Lichen Planus
Dermatological therapy
Diseases caused by Nutritional and Environmental Factors
Leprosy
Melanocytes, pigment metabolism and other disorders of Pigmentation
Infective and Allergic Disorders
Vesiculobullous Diseases
Psorasis
Dermatitis and Eczema
Alopecia and Hirsutism
Structure and functions of Sebaceous glands and Disease
STD
Ophthalmology
Pharmacology, Anatomy, Elementary Optics, Physiology, Pathology, Diseases of the Eye
Sclera
Cornea
Conjunctiva
Uveal Tract
Glaucoma
Vitreous
Lens
Intra-Occular Tumors
Retina
Optic Nerve
Squint
Refractive Errors
Orbit
Lacrimal System
Lids
Community Ophthalmology
Injuries
Ophthalmic Surgery
Miscellaneous
Otorhinolaryngology
Diseases of Nose and Para Nasal sinuses
Diseases of Nasopharynx
Diseases of the Ear
Diseases of Trachea
Oesophagus
Community Medicine
Environment and Health
Health Education
Evaluation of Public Health and Concepts of Health
Occupational Health
Fundamentals of Biostatistics
Nutrition and Dietetics
Medical Sociology and Community Mental Health
Demography
Epidemiology of Specific Diseases
Basic Epidemiology
Communicable and Non-Communicable Diseases
Health Planning and Management including Disaster Management
School Health
Reproductive and Child Health
International Health
Urban Health
Health System in India
How to Prepare for MCI FMGE Exam in 5 Months
Nothing is impossible, if planned strategically. When we have time we might not utilize it properly and thus, regret at the end for the waste. Same is true when we talk about the competitive examinations. Why the competitive exams are considered difficult though the syllabus is same for a topper as well as for a failure? Where the difference comes is the effective utilization of the time.
Let's have a look on few assumptions for how to prepare for MCI FMGE exam on how much time you should give to each subject while studying, you might give more or less time to a subject depending on your strength and weakness in that particular subject.
Sample study plan for how to prepare for MCI FMGE Exam:
Subject

Days

Total Days

Anatomy

10 days

26 Days

Physiology

6 days

Biochemistry

6 days

Revision

4 days
Subject

Days

Total Days

Pathology

9 days

34 Days

Pharmacology

10 days

Microbiology

7 days

Forensic Medicine

3 days

Revision

5 days
Subject

Days

Total Days

Ophthalmology

4 days

23 Days

ENT

4 days

SPM

12 days

Catch up

3 days
Subject

Days

Total Days

Medicine

18 days

33 Days

Psychiatry

3 days

Dermatology

3 days

Pediatrics

4 days

Catch up

5 days
Subject

Days

Total Days

Surgery

10 days

36 Days

Ortho

3 days

Anesthesia

3 days

Radiology

3 days

Gynecology

6 days

Obstetrics

6 days

Catch up

5 days
Recommended Books for how to prepare for MCI FMGE Exam
A. Pre-Clinical Subjects
S.NO.

Subject

Recommended Books

1.

Microbiology & Forensics

Jain/Chaurasia or Arora

Book by Dr. Vikas

2.

Physiology & Pathology

Review of Pathology by 'Dr. Govind Garg & Dr. Sparsh Gupta'

3.

Pharmacology

Review of Pharmacology by 'Dr. Govind Garg & Dr. Sparsh Gupta'

4.

Biochemistry

Satyanarayan

5.

Anatomy

ACROSS Book
B. Clinical Subjects
S. No.

Subject Name

Recommended Books

1.

Medicine

Mudit Khanna MCQ Internal medicine

2.

Surgery

Amit Tripathi and Ashish Gupta

Rachna Chaurasia / Arora

3.

PSM

Review for PSM by 'Vivek Jain'

4.

Ophthalmology

'Dr. Ruchi Rai' for Ophthalmology

5.

Obstetrics & Gynaecology

Review Book by 'Dr. Sakshi Arora"

Review Book by Harmeet Goyal

6.

Paediatrics

Jitendra Talekar

Notes by 'Dr. Marwah
Short Subjects
| | | |
| --- | --- | --- |
| S. No. | Subject Name | Recommended Books |
| 1. | Skin | ACROSS Book |
| 2. | Anesthesia | ACROSS Book |
| 3. | Radiology | PROAFS |
| 4. | Orthopedics | PROAFS |
Plan ahead: Divide the entire available time into the preparation and revision time.
Do not study everything: Planned work is better than hard work, thus, filter the important topics among the less or non important ones.
Attempt practice test: Practice test will give you an overview of the most important topics and help you filter the syllabus, thus, saves time and energy.
Revision day: Among the seven days of the week, keep one day for revision.
Make notes: While studying, keep a note of important topics in the form of flyers, highlights and mnemonics etc. for quick review during revision and final preparation.
Don't refer too much study material: Do not confuse yourself by referring more text books, study the ones you have already prepared from but study each topic properly.