Topic We Cover: Role of Admission Counsellor
1. What is Admission Counselor
2. Job Description of Admission Counselor
3. College Admissions Counselors
4. High School Admissions Counselors
5. Certification for the admission counselor
Requirements for Certification
Licensing Exam
6. 10 Helpful Tips College Admission Counselors Give to Students
You may face hindrances in your school or collegiate career in respect to your academics and you required counselling for that. For counselling session you need to contact with the Admission Counselor or career advisor who help you to achieve your goals.
Admission Counselor helps you in assisting with your queries about curriculum, professors, and also including questions like if engineering or medical or any other professional course is appropriate or not.
What is Admission Counselor?
Admission counselor helps you to understand about the relevant and more knowledge about the education, school or college, faculty, admission procedure, and many other related things.
Admission counselors typically possess a master's degree and may need a state license to work in a public high school or in a reputed college. If you're thinking about ignite your career as an admission counselor, the all you will need is strong communication skills, organization and interpersonal skills. Here we can provide you details which will help you to learn more about requirements and career information for admission counselor.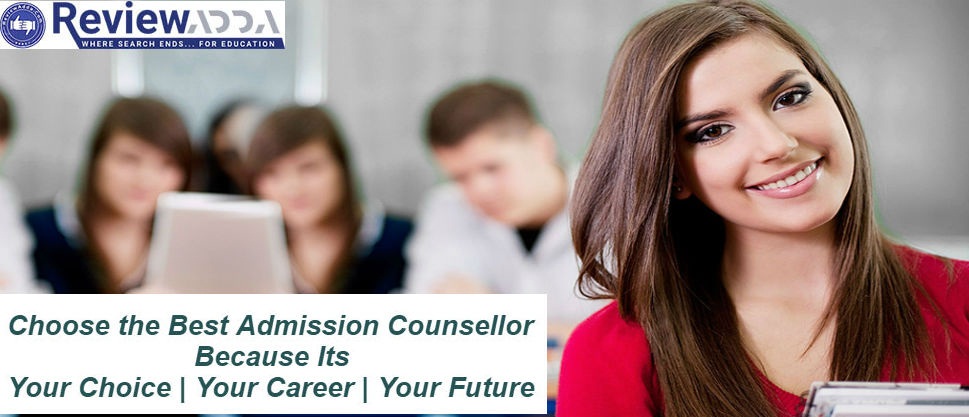 Essential Information
Admission counselors usually work at recognized reputed colleges or universities to recruit students, assist them with paperwork done at the time of admission, and establish outreach programs to promote their school/college. Some schools hired admission counselors to assist their outgoing seniors with the college application process.
| | |
| --- | --- |
| Qualification required for Admission counselor | Master's degree |
| Other Requirements | A State licensure to work in public schools, organization, communication, and interpersonal skills |
| Projected Job Growth (2014-2024)* | 8% for school and admission counselors |
| Average Salary (till 2015) | $53,660 for educational, guidance, school, and vocational counsellors |
Job Description of Admission Counselor
Admission counselor has a variety of responsibilities whether they belong to high school and college level, they have to engaged with the application process. At the college level, admission counselors often work to enhance the visibility of the school/college throughout the community and to entice potential applicants. Admission counselors help students at every level of academics from high school level to college and to professional course choices.
Job Duties of Admission Counselor
When working with high school students, admission counselors are expected to have a wide range of knowledge regarding specific educational, vocational and certificate programs that may interest students after graduation. They should have a keen understanding of various college applications, and they should be able to assist students in obtaining the necessary documentation needed for the application process.
Admission counselor support students one on one in their application process, selection of courses, and meeting application deadlines. Admission counselors also help in promoting the recruitment events for their school to potential students and their parents. They also provide them information about financial aid, scholarships, programs and majors. Admission Counselors also need to meet with alumni and create networking systems to find promising potential applicants.
Employment and Salary Information
According to the report announced by The U.S. Bureau of Labor Statistics (BLS), the employment opportunities for school and career counselors, including admission counselors, are expected to increase by 8% between 2014 and 2024. This is an average growth rate for all occupations in the U.S. The BLS also reports that in May 2015, education, guidance, school and vocational counselors earned a median annual salary of $53,660.
How admission counselor works?
The working of Admission counselors is depends on factors that fit between student, institution, and course. The working can be generally divided in two categories:
College Admission Counselor
High School Admission Counselor.
College Admissions Counselors
College Admission Counselor is often assigned to a particular school within a college, like the medical or business school. This helps cut down on recruitment quotas. Admission Counselors are the officer to become a walking encyclopedia of knowledge about the particular tranche of the college they represent. For example: A potential student who can't stand math and had a high verbal SAT score probably wouldn't fit in at the engineering school.
An admission counselor also should keep their eye on the school's financial aid status. They advise students and their parents on financial aid and managing the large amount of paperwork associated with financial aid requests. Admission Counselor also has expertise in Scholarship programs. Admission Counselor also play an instrumental role in creating policy that will help get the right students into the right school at their college. A better fit between a student and a program course generally leads to a higher graduation rate. This, in turn, leads to a better public image for the school, as most people intuitively associate high graduation rates with a good school.
High School Admissions Counselors
The high school admissions counselor plays a vital role to help a student transition from high school student to college grad by uncovering the student's interests and applying them to a good college program. Admission counselor serve a pivotal role at a pivotal time in a student's life.
High school admission counselors are expected to know the ins and outs of applying for financial aid and scholarships. They're meant to steer their young clients toward a school that fits them best. They should know what kinds of classes will best transfer from high school to the student's chosen college track. They must also speak frankly with their students, they must be aware about the admissions rates and requirements at various universities to guide students to the right school, even if it's not the one they long to attend. And they, too, have a tremendous amount of pressure on their schedules.
Admissions counselors are also known as guidance counselors because they also handle behavioral problems among their students. Admission counselor may serve as a sounding board for students with personal issues at home, or questions about risky behavior.
As per the study of 2008 of the California Community Colleges board concluded that students are better off getting college information directly from the schools themselves.
Get Updated Review ( Voice Based Alumni Feeback)
How Admission Counselors help for admission?
The duty of the experienced and professional Admission Counselors is to give you honest, accurate, and individualized attention throughout the college search and application process.
A Good Admission Counselor Should:
Have experience in admissions either on the high school or college side.
Regular in visiting college to stay up-to-date and attend conferences.
Clearly state the depth and breadth of their services in writing.
Take every student equally in terms of talent and uniqueness.
Be a part of one or more educational organizations. (IECA, NACAC, and/or HECA)
Take time to get to know the student individually.
Communicate effectively with student in a timely manner.
A Good Admission Counselor Will:
Assist in crafting the college list. All parties involved should come up with ideas and contribute to a list.
Help to select enrichment programs which will help to enhance a student's life.
Provide advice regarding curriculum and extracurricular activities of high school and college.
Help in brainstorming application, drafting a resume, and scholarship essays.
A Good Counselor Will Not:
Make admission guarantees at any college.
Write the essay for the student.
Choose a major for the student.
Write the counselor recommendation.
Admission counselor is just like a mentor or a guide to help you throughout the college application process.
Online certificate programs in admissions counseling
Admission Counselors required certification to continue their career as a professional admission counselor in universities and colleges. Graduate certificate in admission counselor online programs are designed for high school counselors.
General Certificate
General certificate is for Enrollment specialists; whether in public or private college counseling, work directly with a student population. The main work of admission counselor is to advise students on application process, keep track for degree completion, organizing orientation activities, and managing student data. Entrance requirements for admission counselor include:
An undergraduate or master's degree from an accredited academic institution
GPA of at least 3.0
Proof of career experience in education, human resources, or training and development
Resume or curriculum vitae
Certification for the admission counselor
Mostly colleges and universities hire professional counselors to fulfill their position for the role of engaging with the admissions of the student, academic planning and career decision-making. These professionals are work similarly like a traditional rehabilitation and mental health counselors, must adhere to certain national and state certifications and licenses to practice as a counselor.
Requirements for Certification
For earning both national and state certification in counselling a professional should possess a master's degree in a counseling area, accredited by the Council for Accreditation of Counseling and Related Educational Programs (CACREP. To earn a certification without attended a CACREP counselling program, a professional may need to complete up to 3,000 hours of supervised counseling experience prior to being allowed to take the national or state licensing exam. Counseling certification requirements may vary state by state, most important it require a passing score on the NCE and a minimum of 2,000 hours of supervised counseling experience in addition to a master's in counseling to earn state licensure or national certification.
Licensing Exam
Instead of state-run licensing exam, many state use the National Counselor Exam for licensure.
Here we list down 7 core traits of winning admission counselors
1) Construct affinity – They try to counsel and not try to sell
She asks probing questions e.g. What do you like to do in your spare time? What are your interests? Is MBA the right thing to do at this point of time?
Students generally have their answers deep down in their minds. An advisor just needs to ask the right questions & help them introspect about their choices.
2) Formulating a process – They are as disciplined & organized like a corporate sales rep
Who are the top 10 follow-ups for the day? Who were those 18 students who were coming to the institute for walk-ins and tour? What are my pending calls to the parents for the day? Such questions are faced by admission counselors almost daily. The winning ones know how to handle these things effectively. Many popular CRM tools & Task Management may come in handy. The question is are you in control of your day or is your day controlling you !!
3) Templates for marketing communication – They have the right answers to all questions related to the course & institute
Students & Parents ask a lot of questions on placements, courses, fees, hostel etc. A communication in the form of verbal, e-mail, SMS, chat is what they face on a regular basis. It takes a lot of time & is a repeatable act. Templates work beautifully & save a lot of time. This time hen can be utilized in talking to more students & parents.
4) Understanding of entire admission process – They help students & parents navigate through the entire admission funnel
Their jobs do not end once students make soft commitment for enrolments. They help make the right connections with finance, accommodations, scholarships, books etc. This helps forge a long lasting impact in the minds of the students about the institutes.
5) Constant review of the admission funnel – They are in complete control of the admission funnel
The skilled ones go through the entire admission cycle & course correct as required.
6) Excellent communication skills – They can talk in a language the student would understand and feel at ease
Like in Karnataka, Kannada admission counselor, are available, in Maharashtra Marathi admission counselor, in a B-School at times fluency in English is a must.
Winning Admission counselor have a tactics to builds a strong rapport with the students & parent
7) Always a smile & great people skills – They make the ward & parent feel at ease & comfortable everyday
Good admission counselors always carry a smile even after a 15 sessions in an entire day. As they well-understand that the students are apprehensive & parents need guidance. They never let the toll of work affect their relationship with their prospects.
A winning organization is as good as its winning employees. An "Admission Counselor" is mandatory now for any expanding educational enterprise.
10 Helpful Tips College Admission Counselors Give to Students
Admission counselors are those who know each and everything about surviving and thriving in college. They are priceless for students as they provides various services to them like mock interviews, academic advising, transitional help, career searching, and more. They provide primary information and advice about the college life.
Here we come with a list of 10 advices by college admission counselors.
Get Organized
Admission Counselors suggests that keep track or maintain a calendar or planner for all the upcoming meetings, deadlines, events, due dates, and any other important things to make things more organized and structured. The meaning of the get organized is something different it is to keep update your resumes, write down job/internship details like start-date and job responsibilities, save exceptional essays or other work samples, and keep a log of professional contacts you've made — you never know when all that will come in handy.
Don't Procrastinate
Regularly do your assignments to lower down the level of the stress. Admission Counselors suggest that developing a schedule for working on projects or assignments. Dedicate your time for class work in every day or every other day.
Go. To. Class.
Go to your class regularly after all you're at college for a reason. Not attending even one day of class can left a huge impact on your understanding of the material, so it's always best to make the effort and go. There's also a growing trend of professor's adding "attendance points" on your grade, so repetitive skipping can hurt you in more ways than one.
Network
Admission Counselors suggests that not only build a good network or relationship with classmates or friends but also forge good relationships with professors, co-workers, bosses, academic advisors, and other mentors; down the road you may need their help.
Study Well
Study regularly instead of studying a week ago from the exam as it will be more tiring and stressful. To make study less miserable practice daily study and in a right way. So that your level of stress will be lower and your brain can start up again fresh and relaxed, thus retaining the information better.
Take Advantage of Resources
Take advantages of resources available in the campus like libraries, Computer labs, scholarships, writing centers, student health centers, academic advisors, social awareness groups, and tutors just to name a few suggested by admission counselor.
Meet Your Professors
Admission counselor also advice to know your professors, asking them for help, take advice from them, as it can make your class and study more comfortable and enjoyable.
Apply for Financial Aid
admission counselor say that apply for FAFSA to reduce the amount of students loan and apply for scholarship to get rid off your parents from this burden of fees.
Cultivate Experiences
College is the place where you find out unlimited entertainment and memories like unique events, activities, social groups, and opportunities that are just ripe for the picking. On the other end, if we see the entertainment side of the university they can host things like campus-wide games, concerts, festivals, and movie marathons.
All these things are important as few employers' shortlist students on the basis of their activities or achievements, so it's important to maintain impressive resume items and connections. Counselors also recommend students to do Part-time jobs and relevant internships for fair career start.
Take Care of Yourself
When you going to the college it will be more stressful during the initial days due to big changes like moving away from home, demanding course loads, being in charge of your own schedule, projects stacking up, friend drama, finance problems, and dreaded finals— to overcome from these situations try to avoid tensions and take care of yourself which is important for good grades.
If you take this advice of admission counselor to heart, and learn more and more from your Admission counselor, you'll be in for smoother sailing and a more rewarding college experience.