Topic We Cover: What if you do not get placed
1. What not to do right now
Sliding into depression
Avoiding introspection
Mismanaging expectations
2. What you should do
Do what you love instead of trying to love what you do
Work on your interview strategy
Evaluate your options
3. The Options
An MBA (or PGDM)
A postgraduate degree in your own field
Government Jobs
Go for a short term course
Startup
Pursue your passion
What to do if I don't get selected in campus placement?
How to get job through off-campus recruitment?
How to get a job in campus placement?
Questions such as these populate the internet. In a developing country such as India, we are always keen to praise the ones who made it in life. We marvel every decision they ever made, every quote they ever said and every step they ever took.
Amidst great institutions and their achievements and successes, there are often a few who fall behind.
Fields such as engineering and management are often deemed professions where placements, especially campus recruitments, are never a problem. In fact, many private colleges and universities in India are built upon the very demand for placements after engineering and management.
Mridula Iyer, a Career Counselor based in Chennai tries to explain the changed psyche of our current generation. 'The youth years are often painted with a stroke of risk and rebellion. Instead of tying down their futures to particular fields, youngsters are more inclined to take risks in order to find their true calling. Unfortunately, we have instead created an environment wherein students are being forced to make hard choices before they are even allowed to think twice. Then, when we are made aware of the dwindling employability numbers amongst core technical sectors such as engineering, medicine and management, we choose to blame the students. This hypocrisy will become the undoing of our education system'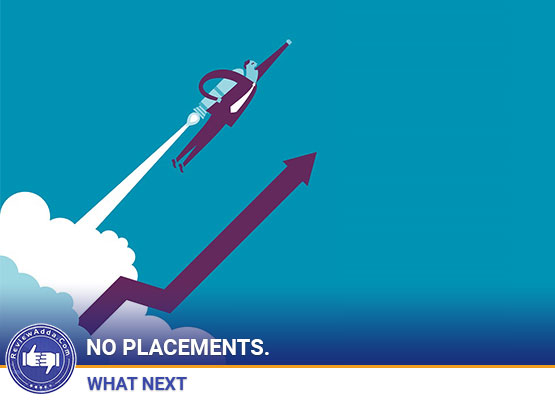 Even after missing out on a job during campus placement, there are a plethora of options open to students
Mridula's assessment of the problem is spot on. As the country's job growth slowly stagnates amidst the advent of new technologies such as automation and artificial intelligence, the number of educated professionals left in the doldrums of unemployment is slowly increasing.
In such a volatile economic climate coupled with the systemic futility of our education system, predicting a bright future for India's disenchanted youth has become a dicey proposition.
If you amongst those who are feeling the burn of the scorched Indian jobs market, keep reading. This will give you some idea about where you stand.
What not to do right now
If you have not been placed yet, there a few strict 'no's' you should adhere to.
1. Sliding into depression
'When you stare into the abyss, the abyss stares back' –
Beyond the misunderstood nihilism of Nietzsche is hidden a very intricate concept of survival and victory. Slipping into the pit of depression is akin to abandoning an ongoing battle. And like all quintessential battles, this battle determines the track your life takes.
Though it might seem life has reached a dead end, placements are not the end of the world. Even though it may seem hard to fathom, but there is a life which much higher stakes after campus placements. Giving into depression after falling so early is a classic emotional and psychological error.
The Nietzsche quote state earlier explains a similar point. If you do drown into self-loathing and depression, it will consume you confidence like a shark overwhelming its prey.
Never stare into the abyss, for the abyss will consume you when the time comes.
2. Avoiding introspection
Know where you exactly stand. This essentially translates to understanding how you reached the point you're at and what your options are.
It is crucial to conduct a certain level of introspection to understand why you couldn't get placed. This part of the process will essentially give you a clear idea about where you have been going wrong.
3. Mismanaging expectations
A key reason behind the perceived disappointment is the high expectations they have going into placement season. How does one caution their own expectations? As it happens, it isn't as difficult as it seems.
For instance, the core manufacturing industry has been witnessing a widespread freeze in hiring in the last few years. Many mechanical engineers have consequently begun taking up computer programming based courses in C, C++, JAVA, HTML and Python.
This is a good example of managing expectations. Rather than trying to beat the odds to get a core sector job, mechanical engineers are better suited to adapting and getting a job in the next best industry.
What you should do
If you are amongst the ones who missed on campus placements, this must be the question of the hour. What are your options and what should you do next?
A lot depends on what type of situation you are in. Some simple suggestions have been mentioned below.
1. Do what you love instead of trying to love what you do
Your profession shouldn't be an accidental choice. It should represent your skill set and personality in the best way possible. Now imagine them working at a desk job at TCS. Does it feel like justice to you?
Get Updated Review ( Voice Based Alumni Feeback)
If you've failed to get recruited during campus placements, part of the reason behind the failure could be that you are simply not meant for this profession. If this is your rock bottom, it is much better to start doing what you always wanted to.
Ram Seth, a content writer based in Delhi faced a similar prospect nearly 4 years back. 'I took up engineering like all my friends. My parents and I were told by the college authorities during the initial orientation about the 100% placement guarantee. If any 18-year old is told he'll be a salaried employee at a top IT conglomerate in four years, he wouldn't twice before taking admission'
The lash of reality came three years later, when Ram's turn came to appear for placements. Companies came and companies left, but his name failed to come up for even one company. 'I was brow-beaten initially. Even mass recruiters such as TCS, Cognizant and Wipro didn't show any interest in my profile. I lost all interest in college studies. I didn't pay the fees for the last semester and dropped out'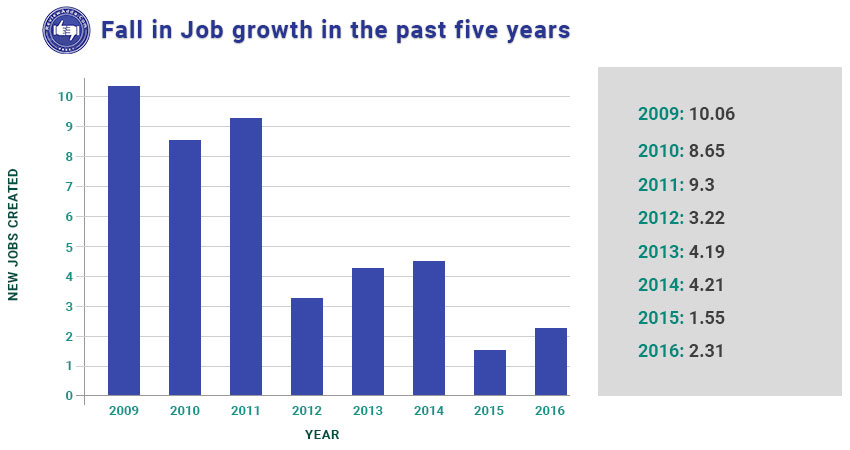 Fall in job growth is an alarming issue currently haunting the Indian economy
After dropping out just months before completing his B.Tech, Ram had to face the anguish of his parents and the ridicule of his extended family. 'My relatives used to use my example to explain to their children what not to do in life. There were times when I thought about leaving everything behind and simply running away. In India, it doesn't take a lot of time for things to go from bad to worse'
Stuck neck-deep in problems, Ram decided to pursue a career in writing. 'I was at my lowest ebb, and having nothing to lose, I decided to take up writing. I had always been an excellent writer, but academic pursuits had rendered all my hobbies indefinite'
Two years later, Ram has already touched great heights in the content writing genre. He is warning more than double of what his engineering college friends are currently earning, and he no longer has to listen to his relatives gabble!
'I know this sounds clichéd, but always trying working in a field where you are comfortable. The moment I became a content writer, I took control of my life as this was something I could easily understand and execute. I never felt like that while studying engineering'
2. Work on your interview strategy
If the case mentioned before doesn't apply to you and the degree you're pursuing is the line of profession you wish to get into, you need to change your approach to recruitment.
Many students miss the entire point of the selection process. Besides being well-versed with aptitude-based questions is one part, but knowing the nuances of facing an interviewer is an entirely different prospect.
Try to analyze the interviews you have already given and what went wrong in them. While there is no point crying over spilt milk, there is certainly a need to analyze and eliminate whatever went wrong in the first place.
Do not be apprehensive of asking your friends for help. Besides getting unbiased opinions from a neutral perspective, sharing your problems and limitations with friends only humanizes the whole process and brings the ominous tension down a notch.
3. Evaluate your options
Campus placements are not the end of the world. If you have indeed failed to get placed during campus recruitments, the best thing to do would be to analyze the full scope of options you have. In the bustle of college life, it is only natural to get lost and become desolate from the opportunities the world outside provides.
Aman Mehra, a MCA graduate was also left disappointed after failing to nail down a job during campus placements. 'I had previously done B.Sc, which practically didn't bring me a single job offer or interview. When I faced a similar fate during my final year in MCA, I was on the verge of losing my mind!'
His failure to get a job turned out to become a blessing in disguise. 'My father told me to apply for the SSC exam and apply for a post in the army. The prospect appealed to me immensely. In fact I was shocked the thought hadn't occurred to me after graduation itself'
Aman is now posted in the North-East. 'It isn't the corporate life most people my age dream of, but it's definitely one of the most fulfilling professions in the world. I have my father to thank for. Without his timely advice and endless patience, I don't know where I'd be'
The Options
Besides a change in approach as previously mentioned, you will also have to understand the full depth of each option at your disposal. Before diving into the various options, ask yourself the following questions:
Were you forced to pursue the course you are studying or was it a conscious decision?
Are you happy with your decision if the latter is true?
Do you prefer a government job or a private job?
Do you see yourself becoming an entrepreneur?
Are you open to studying more?
Answering these questions is necessary as you will be able to approach the following options with a much clear mind. Now, let us look at each option objectively.
1. An MBA (or PGDM)
Clichés are often ridiculed, but clichés are often true.
In the current jobs market, an MBA from the right institution can project your career onto a very strong trajectory. The times when job profiles were cordoned off strictly between different teams have seen their last days in India.
Companies tend to look for candidates who are much more rounded in both technical and management aspects of a job. It is for this very reason that many engineers choose to pursue MBA after completing their B.Tech.
Especially for students who made a mistake choosing B.Tech in the first place, MBA is a great option. Management as resource is instrumental to practically every field of business. Considering such a wide scope, it is no surprise that most engineers are choosing MBA over M.Tech.
However, do not make the mistake of choosing MBA from a money-related point of view or under the garb of peer pressure.
MBA entrance exams are no joke. It is a hard slog which requires umpteen proportions of hard work and dedication. Do not consider an MBA degree unless you're fully convinced.
2. A postgraduate degree in your own field (M.Tech, M.Sc, M.Com, MA and others)
If you feel happy with the choice you made during the time of admission in terms of course selection, a masters in the same course is a great idea. Besides MBA which has become the obvious melting pot for a variety of degree holders, postgraduate courses like M.Tech, M.Sc or MA are decent options as well.
Many students these do not even consider post-graduation in these aforementioned degrees due to a lack of financial incentive to do the same.
However, students who pursue these courses often manage to enter core sector jobs in their industry with a much better job profile than the one on offer during graduation.
3. Government Jobs
Most PSUs do not visit college campuses for recruitment. Instead, they hire aspirants based on their performance in central exams such as GATE or IES.
The problem with this option is its sheer difficulty. Only 1% of the general category students who get placed every year end up getting a job offer from a top PSU such as BHEL, BEL or NTPC. Thus, if academics are not up your street, avoid taking this route.
4. Go for a short term course
Many students these days are becoming more and more open to pursuing short term courses to become eligible to apply for a position in a certain type of industry. For instance, many BA graduates take up six-month long computer-based courses to become eligible for a job in the much hyped IT sector.
Government institutions such as CDAC allow graduates and diploma holders to take up postgraduate diplomas in subjects such as CS, IT and even management. CDAC also offers courses in skill-based services.
Many private institutions also offer short term courses in a number of specific courses such as App development in Android, iOS and Windows. Programming related courses to teach coding to anyone looking to take up a position in an IT company are also offered. A certificate of merit is usually provided at the end of the course.
5. Startup
Startups were practically an alien concept to the general mass of public until a few years back. The recent push by the government to encourage and implore an entrepreneurial spirit amongst young Indians has suddenly turned the tide.
A number of startups, a majority of them tech-based, have sprung across the country. Taking inspiration from fellow Indian startups such as Flipkart and Paytm, many young professionals are foregoing the sturdy security offered by a high-paying job to create something from the ground up.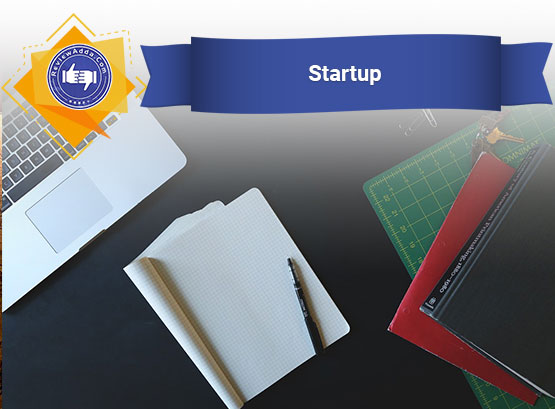 The startup culture pioneered in Silicon Valley is slowly taking shape in India
If you feel you have the minerals to build a company from scratch, starting your own business is not a bad idea. If your idea is strong enough and you have a cogent business plan, getting seed funding should become your next priority.
The spirit of entrepreneurship is as infectious as it is deceiving. Do not dive into the startup rush based on a hunch. Review your business idea and revenue model thoroughly before considering going for a startup.
The startup path is a long road paved with endless challenges and complications. You should pursue this path only if you have enough have passion to fulfill your vision for the company.
6. Pursue your passion

'It is only after we've have lost everything that we're free to do anything' – Chuck Palahniuk
Imagine a different version of yourself. Someone who is free from the restrictions of society and free to pursue any career according to his/her liking. What do you see that version doing?
The answer will tell you where your allegiance truly lies. After not getting a job during campus placements, many students delve into self-doubt and deep loathing. This is where most students go wrong. In the guise of every crisis lies an opportunity.
For the entirety of your life, each step in your life has been pre-determined. Your stream was decided, your college was decided, and if you got recruited during campus placements, your career would have been decided and sealed in stone as well. Not getting a placement has offset the balance of power into your hands. You have finally become the master of your life, something you never knew the value of.
You can pursue long lost dreams. Always wanted to write? You can become a writer. Love painting? You can become an artist. In a world where people get up every morning to fulfill obligations to earn money, you can wake up to do something choose specifically for yourself.
Is there any greater joy in life?