Topic We Cover: BCA Admissions 2018
1. The Fall of Giants? Student clamor for engineering slowly receding
2. BCA Course: Scope and Careers
3. BCA Course: Eligibility details
4. BCA Course: Admission Process
5. BCA Course: Admission through lateral entry
6. BCA Course: Availability in top colleges
7. B.Tech (CS/IT) vs BCA course: How do the two stack up?
Admission to Bachelor of Computer Applications or BCA is an undergraduate degree programme has gained popularity in India for being an inclusive course focusing on computer-based applications and IT-services.
Click here for Top engineering colleges in India
Click here for Top MBA colleges in India
Most people identify computer engineering and IT as being a field restricted only to science students looking to pursue engineering after schooling. BCA Admissions 2018 course cuts through this malaise to offer an application-based computer science course to students from all education backgrounds, except for a pre-requisite of having taken English as a subject during 10+2.
The trajectory of BCA Admissions 2018 has remarkably spiralled upwards in the past few years. The reason behind this rise are many, one of them being the decline in the popularity of engineering in the same space of time.
Consider the following graphic.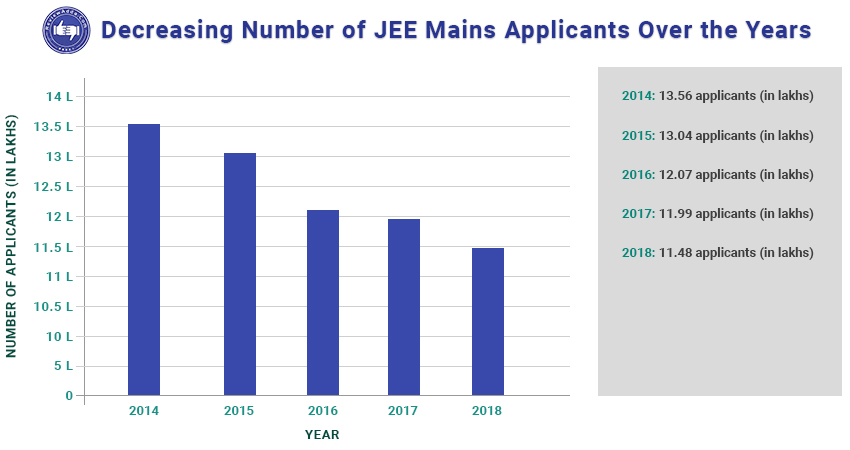 JEE Mains has seen a slow decline in the number of applicants over the past four years
The number of applicants registering for JEE Mains has surprisingly come down in the past five years. Many experts in the education sector often believed they wouldn't believe to see this day, but students are slowly retreating from mainstream fields of study such as engineering and medicine.
The Fall of Giants? Student clamor for engineering slowly receding
Has the 'sell-by' date for engineering arrived?
Experts in the education sector don't agree with this blunt assertion, but they do understand that it may not be an inevitable scenario anymore. Leave aside the IITs and NITs and we are still left with over 10,000 AICTE-approved engineering colleges in the country. What is the future of these engineering colleges?
Madhav Singh, a retired professor who used to teach Discrete Mathematics in one of India's best engineering colleges almost laughed when he read about the recent decline in JEE Mains applicants. He explains the reason behind his amusement. 'For years, private engineering colleges have grown like weeds across this country. They have increased tuition fees without hesitation every year without actually improving the quality of teaching or placements numbers. This decline reminds me of the Jews leaving Egypt led by Moses'
Is Prof Singh right in his assertion? Are students becoming more skeptical about entering the engineering muddle?
Manish Nanda, a Class 12 science student has explicitly told his parents that he will not writing any engineering entrance exam. 'My parents don't mind. While engineering ten years ago was a field which almost guaranteed employment, this is not the case anymore. I'm instead looking forward to pursue BCA course after my board exams are done. They are shorter in duration and cheaper than a B.Tech degree;
The rampant disillusionment with engineering is already sending alarm bells across various private engineering colleges in India. While many are already reporting growing number of vacant seats every year, others fear they might be next in line to face the same situation.
The IITs and NITs won't be affected', says Prof Singh. 'It is the private colleges who will soon face the prospect of riding the lightning. Not all private colleges, mind you. Some have done well to build a strong perception on par with the government colleges, but the others should prepare to perish'
If not engineering, where are the students going instead? 'Many places', says Manish. 'While most of my classmates are still going for JEE Mains, the number is considerably lower than I had imagined earlier. The others are going for courses they feel suit their skill set in the long term. While I choose BCA course, some are thinking about taking up law while others look towards management as a long term goal. There are also a few others are even applying for hotel management courses'
The growing discontent with engineering is likely to impact the education sector of India in general. Out of the current 10 lakh students who will be sitting for the exam this year, only 20-30% actually end up taking full-time engineering courses. If this current trend continues, engineering will cease to become the pulsating heart of the Indian education sector.
BCA Course: Scope and Careers
For those who are thinking about choosing BCA course as a major, it is vital to know and understand what the course exactly entails.
BCA course uses the concepts of computer science to build real-world applications. While BCA subjects do overlap with B.Tech (CS) in terms of learning a few traditional concepts such as programming and operating systems, the approach adopted by both these courses differs vastly.
Many students from commerce and humanities backgrounds take up BCA course to change the direction of their career and move towards the IT sector generally. This is where the BCA course acts as a highly valuable option. While most technical courses have a strict norm to allow only science background students to apply, BCA serves as an option to students from a variety of education backgrounds.
The scope of BCA jobs in terms of careers is slightly narrow as many companies choose to go for B.Tech graduates instead. This is not to suggest that BCA course is deprived of any kind of placements. However, most BCA graduates tend to opt for MCA or M.Sc (IT), which puts them on par if not higher than most B.Tech degree holders.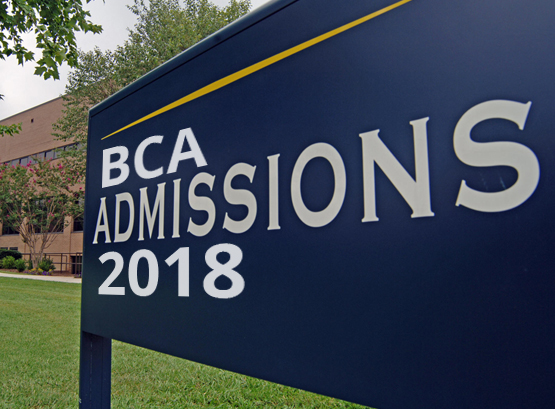 BCA admissions usually commence in the month of June after the declaration of qualifying exam (12th board) results
BCA graduates can also apply for an MBA, opening yet another vast avenue of fields. Due to a healthy level of technical knowledge, BCA and MBA is a very good option considering the current jobs market, provided the quality of both degrees is optimal.
Lastly, candidates who want to work immediately after graduation should probably avoid BCA. Since many industry head hunters consider BCA course as a stepping stone to an appropriate postgraduate degree, getting placed straight out of college is difficult.
Thus, students who are willing to commit atleast 5-6 years of their lives to studying are better suited for taking up BCA course.
BCA Course: Eligibility details
BCA course, known for its inclusivity, nevertheless follows certain eligibility criteria for admissions every year. While certain criteria may vary, the general BCA eligibility criteria are given below.
Pass in qualifying examination (10+2 board exam) from a recognized board
English should be one of the subjects during 10+2
A minimum aggregate score in qualifying exam (usually 50%)
The minimum aggregate score can vary according to the college or university. Some BCA colleges accept 45% while some demand 60% aggregate score in qualifying exam.
Get Updated Review ( Voice Based Alumni Feeback)
Candidates with no background in Mathematics or Computer Science at senior secondary level are also eligible to apply for BCA admissions. This includes candidates from commerce and humanities who wish to change their field of study.
BCA Course: Admission Process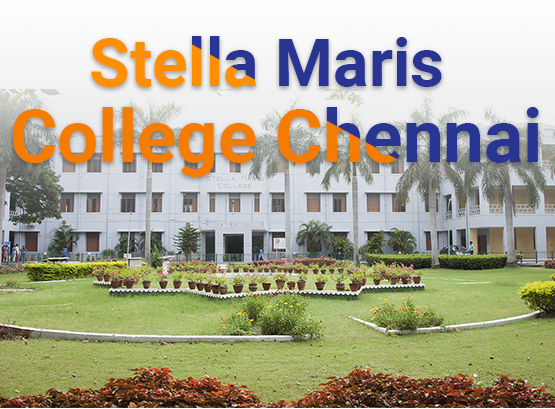 Stella Maris is amongst the top colleges in India for BCA course
Many colleges in India have been offering BCA course for quite some time now. While MCA remains more popular amongst candidates looking to take up technical fields, BCA course remains a popular choice amongst many students coming out of schooling.
Before discussing the BCA Admission process, it is imperative to point that the candidates wishing to take up BCA course should meet the aforementioned eligibility criteria. Failing to do so renders the admission process moot.
BCA Admissions are usually conducted through entrance exams conducted independently by different universities. Some of the more popular BCA entrance exams have been listed below.
IPU-CET BCA application forms are available on the official university website only. The IPU-CET exam takes place during May every year. The minimum aggregate score required from candidates in 12th board exams is 50%.
The exam itself is divided into four sections, namely:
English Language and Comprehension
Mathematics
Computer Awareness
Current Affairs (related to technology and science)
The IPU-CET BCA exam is 150 minutes long consisting of 150 questions across four sections. With a huge number of BCA colleges affiliated to IPU, this exam is a must for most BCA aspirants.
SET BCA is an entrance exam conducted by Symbiosis International University in the month of May every year. Besides BCA course, many other course entrance exams are also held around the same period.
SET 2018 application forms for will be available from February to April, which will be followed by the exam itself in May. The application fee is Rs. 1500/-
SET BCA applicants should have cleared the 12th board exam with a minimum aggregate score of 50%. The SET Exam consists of five papers – General, Law, Health Sciences, Design and Engineering. BCA course aspirants have to appear for the General paper. A candidate can apply for a maximum of two exams, provided they fall under two different time slots.
The SET General exam pattern has been tabled below:
Topic

Number of questions

Marks

General English

40

150

Quantitative

30

Reasoning Ability

30

Analytical and Logical

30

General Awareness

30
This year, the SET exam is on May 7 and the declaration of results is subsequently on May 20. Counseling for SET applicants will be held on June 5 and JEE Mains applicants on June 12.
The BVP-CET exam will be held from the last week of March this year. The various exams for the number of courses will go until May.
For BCA course aspirants, the exam will be held in the first week of June. The last date for filling the application form for BCA candidates will be in the third week of May. The merit list for the exam will be released in the end of June.
The exam will be three hours long consisting of 200 questions each carrying a mark. There is no negative marking for incorrect answers either. The exam is conducted in pen-paper based mode, while the application form is available in both online and offline mode. All questions will be objective in nature.
GSAT exam is conducted as an entrance exam to offer admission to students for the various undergraduate programmes at GITAM University.
GSAT applicants need to score atleast 50% in the qualifying board exam to be eligible for admissions. The GSAT application fee is Rs. 300/-
The key dates for this year's haven't been declared yet. Going by year-by-year data, GSAT should ideally be held during the first week of May. Conducted in offline mode, the GSAT consists of three sections containing objective type questions. The exam is market out of 60 and the medium of the GSAT exam is English.
GSAT exam pattern for BCA course consists of questions based on analytical ability only.
Rama University conducts an entrance exam, RUET, for admission to its undergraduate, postgraduate and doctoral programmes.
The RUET exam is slated to be held on April 8 this year for UG programmes. The application forms for RUET are expected to be made available from January 2018. Last date to submit the forms is expected to be in the last week of February
The minimum aggregate score in qualifying 12th board exam is 50% to apply for BCA course at Rama University. The RUET exam generally consists of three sections, namely General English, General Knowledge & Quantitative Ability, and Subject Ability.
RUET exam pattern has been tabled below:
| | | |
| --- | --- | --- |
| Section | Number of questions | Maximum marks |
| General English | 20 | 20 |
| Current Affairs and Quantitative Ability | 20 | 20 |
| Subject Knowledge (In this case, Computer Science) | 80 | 80 |
Each question carries one mark and there is no negative marking for wrong answers. As clear from the patter, RUET places great focus on subject knowledge above all else.
The exams mentioned are not the only BCA entrance exams in the country. Most other colleges offering top-draw BCA programmes such as Christ University and Loyola College undertake admission process through performance in qualifying 12th board exams.
BCA Course: Admission through lateral entry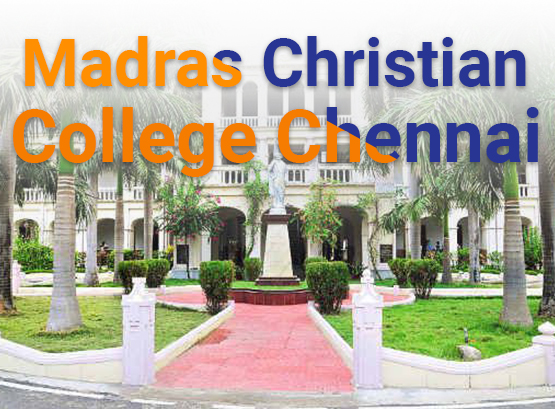 One of the oldest colleges in India, MCC also offers a very good BCA programme
Besides sitting for BCA entrance exams, some students also take up BCA course though lateral entry. Admission criteria for students applying through lateral entry for BCA course varies from college to college.
The general eligibility criteria for BCA course admission through lateral entry has been given below
Should have passed 10+2
Should have done a six month long computer course /Three year long diploma in IT after Class 10
BCA Course: Availability in top colleges
One noticeable aspect one would find while researching about the BCA course is its lack of availability in top colleges such as the IITs and NITs.
One key aspect to understand is that these colleges primarily deal with the engineering aspect of education. BCA course is fundamentally the use of engineering principles to create practical solutions. If the IITs do offer BCA, the whole purpose of the institution will become redundant.
This is the reason why many universities and science colleges initially started offering BCA courses.
B.Tech (CS/IT) vs BCA course: How do the two stack up?
It was coming to this at some point or another. Unlike years gone by when students used to take up engineering without any speck of hesitation, the scenario has changed drastically now.
Ten years ago, B.Tech was a good investment in terms of the benefits it would reap and its overall value in the market. Over time, the ubiquity of engineers surrounding the jobs market and the low level of employability of the overall engineering gene pool has depreciated the value B.Tech once possessed.
On the other hand, courses such as BCA and MCA have slowly gained traction due to their straightforward approach to IT solutions and computer applications. Compared to a B.Tech graduate, a BCA graduate is considered much more cutting edge in terms of specific work-relate knowledge.
So has B.Tech lost its battle with BCA? The perception wars would suggest otherwise.
While B.Tech has lost some of its sheen, there is still a much greater demand for engineering when compared to BCA. Due to a much greater scope and much wider job profile than a typical BCA graduate, B.Tech still edges out its nemesis. In terms of a standalone degree, B.Tech is much more valuable again. A BCA degree is typically viewed as a first step towards a job by recruiters. In other words, BCA graduates are expected to pursue further education to be valued as highly as B.Tech holders on paper.
DAV Chandigarh is amongst the best colleges in North India for BCA course
This is not to suggest that a BCA degree is in any way less than a B.Tech degree. Both courses fulfill their purpose in the larger scheme of things. However, recruiters usually tend to prefer BCA graduates who pursue post graduation.