Best Government Jobs After 12th for Female || Highlights

S.No.
Facts
Status
1.
Govt Job in SSC
Click
2.
Govt Job in the medical field
Click
3.
Police Department Job After 12th
Click
4.
12th Pass Govt Job In Banking for Female
Click
5.
Govt Jobs For 12th Pass Female in Railway
Click
6.
Govt Job for 12th Pass In Anganwadi for Women
Click
7.
Government Job as Air Hostess
Click
8.
Govt Job In Forest Department
Click
9.
CDS/ AFCAT [DEFENCE]
Click
10.
Government Job as a teacher
Click
11.
Bank/ LIC
Click
12.
Govt Job In Bharat Sanchar Nigam Limited
Click
13.
NET/ JRF/ CSIR (Assistant Professor/ Lecturer)
Click
14.
To sum up
Click
Modern India promises equal rights to women. To further help the cause of women empowerment females with minimum qualifications can apply for various Jobs in the Government Sector.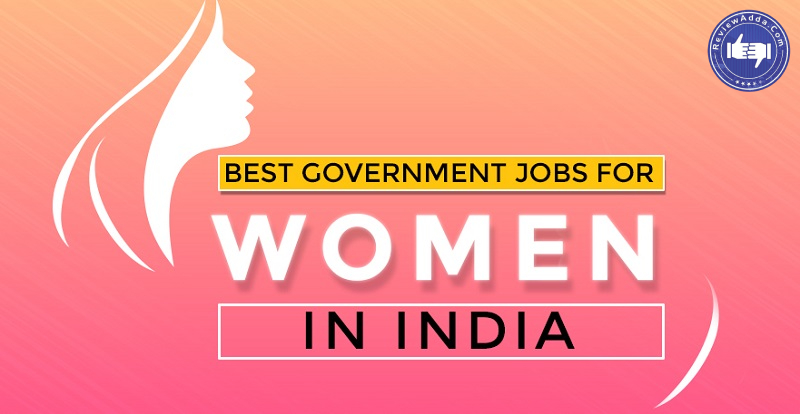 As determines by a survey after 12th, four out of ten female students prefer going for a job instead of pursuing further education. Good news for all females who are trying to get a government job is that many jobs do not require a Bachelor's Degree and are classified as per the applicants' interests not by age or qualification.
The tricky part, however, is to crack the Mandatory Entrance Exams that are a prerequisite for Central or State Govt jobs. With a lot of hard work and determination, you can crack the written exam and once you get a government job all of your hard work will pay off because you'll get a decent salary, regular pay, opportunity for promotions and most importantly job security.
Here are some Government Jobs for Girls after 12th to build a bright career:
Govt Job in SSC
Every year in order to fill different positions Staff Selection Commission (SSC) organizes a combined graduate level (CGL) exam under the central government across CBI, Income Tax, Excise, Custom, and more departments. The main perk about these jobs is the kind of stability at work they provide.
These exams are meant for 12th passed students. To get a job as a a Stenographer (in group C/D), Lower Division Clerk, or a Data Entry Operator a Stenographer (in group C/D) you need to crack this exam. You are expected to have good typing skills as well as fundamental knowledge of computers. Keep in mind that a lot of students appear for this exam so you require to prepare extra hard to crack this one. You can expect the salary package is somewhere between Rs. 18,000 to 30,000 per month.
Govt Job in the medical field
Medical Field – The different kind of jobs under this category is insane. Some of these examples could be like – staff nurse, ANM (Auxiliary Nurse Midwifery), medical officers, etc. Next important factor is the reservation. The government provides reservation for the female candidates. Currently, there are so many different recruitments are taking place under the Indian Health Mission and if you are someone belonging to this field, you should definitely give it a try. The competition is also less, as not all graduates can apply here, the people belonging to the medical field are only eligible to apply. The job quality is really good and thus recommended for the girl candidates to try for. The salary package is also quite well in comparison to other jobs.
If you had Chemistry, Physics, and Biology as the major subjects in 12th and have scored 50% marks, then you can make a Career as a Nursing Assistant. After finising mandatory training you'll have to begin with Rs. 4000 + allowances. The expected salary after training is between Rs. 10,000 to 20,000 per month. To land this job, you'll have to pass both the physical fitness test as well as the written exam.
Police Department Job After 12th
There are several positions under UPSC Jobs are available for women. Along with a good salary, these jobs also bring along with other Government Job Advantages. Also, numerous civil services jobs under UPSC like IFS, IAS, IPS are not just the most sought after but also the reputed and well-paid ones.
If you want to work in the police department you can enter the workforce after completing 12th. As per your educational qualification the initiating position can be of constable but post that you can pursue higher education and can be promoted to higher positions. To apply, make sure you are physically fit.
You can expect a salary of Rs. 15,000 to 20,000 per month. With yearly increments and timely promotions on the seniority basis. Every year UPSC carries out exams for different posts and after working as a constable for a few years you can apply for the same position in the CBI or CID.
12th Pass Govt Job In Banking for Female
In government banks 12th pass female candidates can also apply for Low Division Clerk Position. IBPS (i.e. Inst. of Banking Personnel Selection) organizes exams every year for the Clerk position. Applicants can apply to 18 different public sector banks through this exam. The selection includes a written test as well as a typewriting test. The pay scale is Rs. 5,200 to 20,200 plus Grade pay 1900.
Get Updated Review ( Voice Based Alumni Feeback)
Among females bank jobs are the most preferred ones. It offers a reputation, better leave benefits, good salary, fixed working hours, and more. Moreover, with recent transfer policies implemented by the government, it is easier for a woman to transfer closer to their families whenever they require it. Also, the sense of security and stability that comes with a bank job can be matched by nothing. With Government coming up with more all-women branches in PSU, the Scope of Employment and development is also enhancing.
Govt Jobs For 12th Pass Female in Railway
Railway jobs have gained a good reputation these days and females prefer railway jobs because it comes with a handsome salary and job security. You can apply for several posts if you are a 12th pass female. You can apply as a railway constable, ticket checker or a Lower Division Clerk in the railways. The expected salary package is between Rs. 20,000 to 25,000 per month, plus you'll also get other benefits like free medical facility and free railway traveling passes.
Indian Railways, handled by the central government has a plenty of opportunities for women. A job in Indian railways not just come with good salary but amazing perks like travel pass, residence, retirement benefits, economical healthcare access, and more. Besides bank jobs, in railways too transfer is accommodated depending on the situation. Indian railways also allow up to 2 years of leave in continuation with maternity leave, if applied for. Railway Recruitment Board (RRB) brings in numerous positions in the railways that are a appropriate fit for women.
Govt Job for 12th Pass In Anganwadi for Women
If you are a fresher who wants to start earning immediately after completing 12th you can apply for Anganwadi as Helper. As Anganwadi Helper, you will be responsible for assisting PHC staff and providing nutrition and health-related education to mothers. The expected salary package is between Rs. 9300 to Rs.20,000 per month.
Government Job as Air Hostess
Frankly speaking, this is not a Government Job as this is not under any government. But, the reason we have taken it here in our list is that if you are getting selected for the Air India, then it is almost like a government job because firstly, your job is permanent and secondly, you get a very good salary. The recruitment of air hostess, in Air India, takes place for around 7 to 8 times in a single year. The recruitment process of Air India for the post of air hostess is quite simple actually. You don't have to clear multiple levels of examination to be an air hostess. It is a single level recruitment process. The only phase that the candidates are required to clear is the interview phase. Although, the level of the interview is quite high and it is not possible for most of the candidates to clear that interview. The salary that you can expect out of this job is a really good amount. Initially, you will get an amount of Rs. 50,000/- to Rs. 60,000/- easily as your salary.
Govt Job In Forest Department
After completing 12th you can apply for a job in the Indian Forest Department. The forestry announces vacancies for the different post from time to time. However, you must be open to doing a lot of fieldwork as it is a part and parcel of a job in the forestry. The expected salary package is between Rs. 10,000 to 15,000 per month but if you clear the Indian Forest Service Exam you can easily go higher on the ladder.
Teaching Jobs For 12th Pass for Women
CDS/ AFCAT [DEFENCE]
CDS recruits the class – I officers and the AFCAT Examination is for the recruitment of the class – I officer for Airforce India. It is impossible to get any sort of reservation for the women candidates in these examinations, but still, these examinations and this job makes to our List of Top 11 Govt Jobs for Girls because these examinations are among the very few options available to the girl candidates to be a part of the defense services in India. These are 100% govt jobs and are permanent jobs as well. But the defense jobs are for a period of 15 years only. The salary that you can expect for a month would be somewhere around Rs. 75,000/- to Rs. 80,000/-.
Government Job as a teacher
Females often aspire to be a teacher and I don't know the reason behind it but I have heard most of my friends say so. Maybe because respect comes obviously with a teaching job and it also gives you ample time for your family. If you also aspire to be a teacher in any Government Institution you need to fill the Teachers Recruitment form. The minimum qualification for this post is 12th Pass or a Diploma in D.EI.Ed. The expected salary package is between Rs. 5200 to 20,000 per month.
A teaching job is always taken to be one of the reputed and best jobs for women. Every year the central government organizes the TET Exam to evaluate and employ candidates in govt. schools and colleges. Few states also organize state level exam for the same. One of the major advantages of a teaching job is vacation time when one can spend time with their family. For mothers the vacation time comes as a boon.
Bank/ LIC
All the public and Private Sector Banks in India recruits for many posts like – probationary officers, clerks, the officer for scale – I, II and III, etc. On the other hand, LIC, which the Life India Corporation, generally recruits for AAO and ADO posts. You can find one or the other bank recruiting in all the twelve months of the year. These are the jobs which the girls prefer for themselves and the society also favors this kind of jobs for women candidates as these are the static or the office level jobs. Most of the girls prefer a fixed time office work kind of job, where they are not supposed to go out for work often and these are the best jobs for such candidates. These will be no reservation in these kinds of jobs. Also, be ready for huge competition. As the eligibility criteria are the only graduation in most cases, the number of candidates applying for the examination are huge. As we all know that the number of public and private banks are quite enough, and almost all of them recruits per year, the total number of seats available are quite good. The salary offered is also very decent. The job quality under these jobs is also very good, and this is actually among the top reasons why most girls are attracted to these jobs.
Govt Job In Bharat Sanchar Nigam Limited
If you are ready to take the plunge in the workforce right after completing 12th then you can get an excellent start at BSNL. BSNL is the Government of India's largest telecom organization. They advertise multiple Job Opportunities to 12th Pass Female Student. You can apply for the post of a (DSA) Direct Selling Agent. However, the competition is high so you need to be well-prepared for both the written test as well as the interview. The expected salary package is between Rs. 16,000 to 25,000 per month and for the right candidate there's a lot of scope to grow.
NET/ JRF/ CSIR (Assistant Professor/ Lecturer)
If you have completed your post-graduation in any subject or in any stream, then you are eligible for these examinations. And if you qualify any of these examinations then you will get the scorecard and by the help of that scorecard, you can apply in the various universities for the post of assistant professors or lecturers. Most of the universities hire these candidates on a contract basis, but they will get permanent after some time. This time period will depend upon the university's rules and regulations. This is one another job that attracts women candidates quite a lot. Another reason for this job to be on our list is actually the fact that most of the universities also prefer women candidates as their faculty members and especially all women universities. If you want to reach even a higher level, then you can prepare for JRF and after qualifying the examination, you can also do Ph.D. in Your Stream.
To sum up
These are the few Best Government jobs for women in India. These government jobs not only pay well they also promise job security, stability, ample holidays. The selection process may be a bit tough due to a high number of applicants but once you get the job you'll reap the rewards for years to come.