Topic We Cover: Architecture Vs Interior Design
1.Interior design vs Architecture: Who is an architect?
2. Interior design vs Architecture: Who is an interior designer?
3. Interior design vs Architecture: What does an architect do?
4. Interior design vs Architecture: How to become an architect in India?
5. Bachelor of Architecture Admission
B. Arch Eligibility
B.Arch Entrance Exams
B. Arch Syllabus
6. Interior design vs Architecture: How to become an interior designer?
7. Subjects Taught in Interior Design Course
8. Why study B.Arch?
9. Why study Interior designing?
10. Interior design vs Architecture
Architect
B. Arch Job Sectors
B. Arch Jobs
Interior Designer
Interior Design Job Roles
Interior Design Salaries
Interior Designing Skills
11. Top 10 Architecture Colleges in India
12. Top Interior Design Colleges in India
13. Conclusion
Most of our lives are spent inside physical structures made of bricks, cement, and iron. Whether you call it your home, office or your favorite cafe, it is a part of ourselves. It sets our mood, absorbs our emotions and sometimes sings lullabies to make us sleep.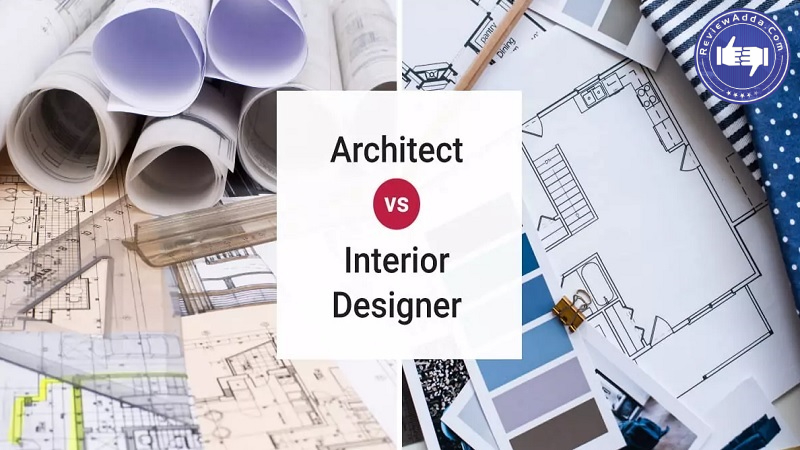 But these spaces didn't come out of the soil on its own. Someone made the plan, someone designed it. And there comes the names of architects and Interior Designers. Today, these two overlapping professions are of high demand among individuals who are creative and technical at the same time. Let's get to know them a little better.
Every building tells a story, a story embedded in its walls, a tale told by its originators. Such stories are crafted by the intricate work of both Architects and Interior Designers.
Such people work in sync with each other to make a building and it's indoor spaces functional, pleasant and appealing. They create spaces in our surroundings that impact our psychology and well-being.
Since there is some similarities between both Architects and Interior Designers work profile that involves designing, people often get confused between these coinciding professions. For example, the Structure of a Building designed by an Architect, while an Interior Designer designs what goes inside the building.
Hence, before ambling on to any of these professions you should know the differences between them. I'll take you through all of these differences one by one, and will also discuss how you can pursue a career in either of the two fields.
Interior design vs Architecture: Who is an architect?
From the house you live in the well-known sky-rocketing building, the walls will tell you the story of its master planner. The craftsman who planned, designed and reviewed the construction of those physical structures. And we call them architects.
As we all know, architecture as an academic field is the art and science behind designing, planning, and Construction of Physical Structures such as buildings or parks. The people who are academically qualified to practice this profession are called Architects. They hold the authority to practice architecture in a particular region or a territory and are well aware of the government rules that set construction parameters in a particular area.
An Architect is a person who designs, reviews, and oversees the construction of buildings. S/he creates a structure on a given space that is both functional and pleasing to the eye at the same time. All the details that are present on the exterior of a building are the work of an Architect.
They also plan the Basic Structure of the Building that includes the placement of rooms, kitchen, dining room, garden, and ensure that appropriate space is rewarded to them in accordance with the client's requirements.
According to the National Council of Architectural Registration Boards (NCARB), architects are 'Licensed professionals trained in the art and science of the design and construction of buildings and structures that primarily provide shelter'. He or she is in charge of planning, designing and reviewing construction projects.
Empty spaces built to perfection with a delicate balance between planning and execution is the work of an architect. They create new, colourful, interesting, creative spaces that light up our surroundings and don't let boredom set in.
Interior design vs Architecture: Who is an interior designer?
Now, let's talk about interior designing. A lot of things depend on how we perceive spaces. It can affect an individual's mood, health and ability to understand situations. As Physical Structures such as our offices or our homes are important in our lives, how we perceive those spaces are very important.
Interior designing is all about customizing those spaces. An interior designer is someone who does that in an aesthetically pleasing and financially manageable manner. They design the insides of buildings or houses in a way that creates a positive mood. While an architect designs the building, an interior designer customizes it for his or her clients.
After a building is constructed, the responsibility of accessorizing and furnishing the empty spaces within the building lies with the Interior Designer. As the name suggests, these people internally beautify the site and design the interiors of a place in accordance with the purpose they will be used for.
For instance, if they are given the project of a house, they decide which table or figurine are to be kept in which room, what color scheme should be followed in the house, which curtains would go well with the sofa, if any woodwork is required, where should the different furniture items be placed, which paintings would enhance the look of the house, what kind of accessories like hangings, clocks, vases, etc. are required to balance the room.
Hence, interior designers fill up the empty spaces within a building to make them complete.
So, as you can see, the work of Architects and Interior Designers is vastly different. Now, let's look at the specifics of their differences one-by-one.
Interior design vs Architecture: What does an architect do?
Architects are the master planners in any construction projects. They either work for a government/private organization or take up independent contracts. Their job role involves designing and constructing physical structures according to the client's needs, building usage, government policies, and environmental impact.
Interior design vs Architecture: What does an interior designer do?
While architects construct the building, interior designer decides how things are set inside that Physical structure according to the client's needs and demands. Even their responsibilities include discussing the plan, needs, and budget for the project.
They come up with designs that match the client's demands, advise them on factors such as space planning, layout, furnishing and color combination. They also estimate costs and work in tandon with contractors, architects, engineers, and plumbers to ensure quality.
Interior design vs Architecture: How to become an architect in India?
The most common route towards becoming an architect in India is by taking up a B.Arch Course. Successful completion of HSE in the science stream with mathematics and physics as compulsory subjects is the minimum requirement to apply for B. Arch courses. You should also pass those subjects with a minimum of 50 percent marks.
If you are someone with the above-mentioned qualification, you've got three different ways to go about it.
First one, clear National Aptitude Test in Architecture (NATA) and join B. Arch courses. NATA is a national level entrance test for those who are looking for BArch admissions and is conducted by the National Institute of Advanced Studies in Architecture (NIASA). A valid score in this test is mandatory for admissions in most reputed B. Arch colleges in the country. The test assesses an individual's skills in various areas such as drawing and observation skills, sense of proportion, aesthetic sensitivity and critical thinking.
Next route, JEE. JEE Mains has two papers. Paper one is for Btech while paper two is for B. Arch. If you're attempting to secure an admission in NIT's or the IIT's, attempt the second paper and score well to secure an admission.
To join one of those old IIT's including IIT Kharagpur and IIT Roorkee for Architecture Undergraduate Course, you've to take another route. Even this is through JEE, but you should attempt the first paper instead of the B. Arch paper. After securing a decent score in JEE mains, attempt JEE advanced and then appear for Architecture aptitude test (AAT) to secure your admission.
If this is not your route, many private institutions offer diploma courses in architecture. Though you will be graded below those who have done B. Arch, it still takes you towards your dream career.
Pursue 10+2

with science stream and math as a compulsory subject. Pass 10+2 with at least 50% marks.

Appear for NATA

(National Aptitude Test in Architecture)- NATA is an entrance examination, qualifying which makes you eligible to enrol in B.Arch. It tests the following skills: Drawing, Observation, Critical Thinking Ability, Aesthetic Sensitivity and Sense of Proportion.

Enrol in B.Arch

(Bachelor of Architecture) after clearing NATA. B.Arch is a 5-year course in Architecture.

Pursue M.Arch

on the postgraduate level if you wish to specialize further in the field. Courses of specialisation include Environmental Architecture, Landscape Architecture, Digital Architecture, etc.

Pursue a PhD program

(optional), where you can undertake research work in a specialized field, such as Transport Planning, Urban Design, Environmental Planning, Housing, Industrial Design, etc.
Bachelor of Archictecture Admission
Candidates can take admission in this course through NATA or any other architectural entrance exam.
B.Arch Admission Procedure step-wise is as follows:
Visit the official website of the institute or directly visit the admission office of the institute to avail the application forms.

Fill the application form carefully, upload the documents the college has asked for in the application form in the prescribed dimensions anf format.

Make the final payment of the registration fee(if any)

For future reference take the print out of the application form.

You need to give any Architectural Entrance Exam like NATA,

JEE Mains

, etc.

After this process, in the given entrance exam students who will get shortlisted will be called for the counselling process and based on their skills and availability of seats, suitable candidates will be given admission.
More or less this admission procedure is same in all the B.Arch Colleges.
B. Arch Eligibility
The course duration is 5 years and students must fulfill the following conditions to get admission into Bachelor of Architecture:
Students should have successfully passed Class XII or equivalent with min. 50% marks along with the mandatory subjects (PCM).

From a recognized university/ board/ institution students should have passed Class 10+ 3 year

Diploma Course in Any Stream

.

Must passed NATA (National Aptitude Test in Architecture) with the 80% marks conducted by Council of Architecture(CoA)
Some colleges take admission on the basis of other architectural entrance exams as well, so it is not mandatory to give NATA. But if you want to take admission in Best B.Arch Colleges in India you must prepare and give this exam.
B.Arch Entrance Exams
NATA 2020 is the main BArch entrance exam. More than 30,000 students appeared for the exam in 2019. The Council of Architecture conducted this national level exam for admission into various central, national and state-level architectural colleges across India. Apart from this, on the basis of JEE Mains score as well students can take B. Arch Admission.
National and state-level B. Arch Entrance Exams shown in this list:
NATA 2020:

As earlier stated, for BArch admission this is considered an official exam. It comprises of two parts: Part A and Part B. Part A consists of Drawing Test, and Part B is of PCM questions and Aptitude Test reside of Logical Reasoning.

JEE Mains 2020:

Mainy this exam is for engineering course admission, but it also provides admission to B. Arch and B. Planning.

GAT Exam 2020:

For admission into many UG and PG courses including B.Arch this exam is conducted by Gitam University.

AMUEEE 2020:

For engineering and B.Arch course this exam is conducted by Aligarh Muslim Univ.
Farther this, there are many other entrance exams like TNEA B.Arch Exam, TS B.Arch Exam, etc.
B. Arch Syllabus
The Syllabus of B.Arch is formulated in such a manner that students become proficient in the foundation courses, and improve their skills with the help of electives and practical training in the studio.
The major B.Arch subjects with respect to each semester. Have a look:
| | |
| --- | --- |
| Semester I | Semester II |
| Architectural Design I | Architectural Design II |
| Visual Arts and Basic Des. I | Visual Arts and Basic Des. II |
| Computer Applications I | Computer Applications II |
| Building Construction I | Building Construction II |
| Theory of Structures I | Theory of Structures II |
| Environmental Studies | Climate-responsive Design |
| Model making and Workshop | Surveying and Leveling |
| Human Settl. & Vernacular Arch. | History of Architecture I |
| Professional Communications I | Sociology and Culture |
| | Professional Communications II |
| Semester III | Semester IV |
| Architectural Design III | Architectural Design IV |
| Visual Arts and Basic Des. III | Visual Arts and Basic Des. IV |
| Computer Applications III | Computer Applications IV |
| Building and Construction III | Building and Construction IV |
| Theory of Structures III | Theory of Structures IV |
| Site Planning and Landscape Studies | Electrification, Lighting & Acoustics |
| Water, Waste and Sanitation | Solar Active and Passive Systems |
| History of Architecture II | History of Architecture III |
| Research Elective I | Art and Architectural Appreciation II |
| Art and Architectural Appreciation I | Research Elective II |
| Semester V | Semester VI |
| Architectural Design V | Architectural Design VI |
| Building Construction V | Building Construction VI |
| HVAC. Mech. Mobility & Fire Safety | Theory of Structure & Design II |
| Theory of Structures V | Green Systems Integration |
| Energy System & Renewables | Sustainable Urban Habitats |
| History of Architecture IV | Specifications & Contracts |
| Arch. Research- Elective III | Contemporary Architecture |
| Art and Architectural Appreciation III | Architectural Theories |
| Design Methodology II | Art & Architectural Appreciation IV |
| Arch. Research- Elective IV | |
| Semester VII | Semester VIII |
| Architectural Design VII | Practical Training |
| Working Drawings | |
| Project Management | |
| Architectural Appreciation IV | |
| Arch. Research Seminar | |
| Arch. Research- Elective V | |
| Arch. Research- Elective VI | |
| Semester IX | Semester X |
| Architectural Design IX | Architectural Design Thesis |
| Professional Practice | Thesis Design Research |
| Urban Design Studies | Professional Practice |
| Arch. Research Dissertation/ Art Thesis | |
| Arch. Research- Elective VII | |
| Arch. Research- Elective VIII | |
Interior design vs Architecture: How to become an interior designer?
There is no fixed route here. It's all about your talent. An HSE qualification in the science stream with a minimum of 55 percent mark is an eligibility criterion for Admissions to most reputed colleges that offer interior designing courses.
The most common route chosen by interior designing aspirants is to join B. Arch in any reputed institution. You will either get to specialize in interior designing or you can take an interior designing course after that. You can follow the same steps I mentioned above to secure an admission for B. Arch.
Another way to become an interior designer is by taking a bachelor's degree in Interior design. Reputed institutions like Manipal School of Architecture and Planning, Swami Vivekanand University and Arch School of Design and Business conduct this program. The courses can be of 3, 4 or 5 years depending on the institution you opt for. The admissions are mostly done based on your performance in +2 exams. Some Institutes may also conduct entrance exams.
Another program opted by those who wish to become an interior designer is the Bachelor of Design (B.Des) course. HSE is the minimum qualification to apply for this course. Most Reputed Institutions in the Country conduct national level aptitude tests for admissions to this program. Admissions to IITs for this program is done through Undergraduate Common Entrance Examination for Design (UCEED). For admissions to NIDs, qualifying through NID DAT is mandatory.
They are in charge of discussing the project with the client, formulating, designing and presenting possible plans, linking with other service providers, performing duties of a manager to ensure timely delivery of the project, constantly monitoring its progress, solving problems that come up during the construction stage, etc.
Get Updated Review ( Voice Based Alumni Feeback)
Subjects Taught in Interior Design Course
Candidates can go through the subjects taught as part of interior designing course below:
BSc in Interior Designing Course Curriculum

Arts and Graphics

Drawing Techniques

Model Making Workshop

History of Interior Design

Environmental Studies

Basic Design Principles

English Language Usage Essentials

Materials and Construction Techniques

Introduction to Communication Skills

Building Services

Interior Design Styling (Residential and Commercial Spaces)

Fire Safety and Security Systems

BDes in Interior Designing Course Curriculum

Fundamentals of Structure

Theory of Design

Communication skills

Fundamentals of Design-

Introduction to Computers

Research Strategies & Design Process

Analytical Drawing

History of Crafts & Interior Design

Anthropometry and Ergonomics

Technical Drawing and Computer applications

Interior Construction

Building Services

Interior Architecture Design Course Curriculum

Principles of Interior Design

Design Process

Interior Design Environments

Residential Interior Design

Archl. Illustration, Drawing & Photography

CAD

History of Interior Design

Research Methodology

Lighting Design Fundamentals

Interior Design for Commercial & Institutional Spaces

Retail Display & Design

Building Materials & Construction Methods

CAD & 3-D Visualisations

Furniture Design & Spaces

Diploma in Interior Designing Course Curriculum

Design Elements and Process

Colour and Visualisation

Flat rendering and layouts

Auto CAD

Presentation and Communication skills

Space Layout and Design

Décor and Planning

Material Sourcing and Costing
Why study B.Arch?
The only certified course is Bachelor of Architecture that one has to successfully pass to practice as a certified architect in India.
The

Course Duration of B.Arch

is of 5 years, which equips students with skills that are needed to work in a challenging and creative work environment.

You get to undergo practical training and research work in this course, which helps students to live the real work of architecture professionals out there.

With sustainable resources and modernization, for professionals there will be a high demand who has the skills of a good architect for the better city and urban planning in different cities of India and the economy of the country will substantially increase in the construction and infrastructure sector.

Nowadays, in many government sectors there is more involvement of architecture experts like archeology, housing, city planning, etc. Graduates can easily get a govt job in any of these sectors, and earn as per the government pay scale.

After getting an ample amount of experience, you can earn more than INR 10 LPA in private sectors, employed in big companies and firms such as L&T, Birla, TATA, Shapoorji Pallonji, GMR Group, etc.
Why study Interior designing?
Promising opportunities

Creativity, imagination, and innovation

Engaging and challenging projects

Making a difference and positive change

Potential for entrepreneurship

Huge enriching exposure

Diverse sectors and industries
Interior design vs Architecture: Scope
Architect
It's hard to imagine a world where buildings don't exist. And as long as buildings get constructed, architects will be needed. In today's developing world, architects have plenty of opportunities. From urban planning to independent projects, there are plenty of jobs. Architects find jobs in architect firms, consultancies, etc.
They also hired in govt. organizations such as Central and State Public Work Departments, Archaeological Department, Department Of Railways, City Development Authorities, Housing and Urban Development Corporation, Housing Development Corporations, Ministry of Defense, Municipalities, National Building Organization, National Institutes of Urban Affairs and Housing, Public Works Department, State Housing Boards, etc.
B. Arch Job Sectors
Job sectors where B. Arch Graduates can find credible jobs are present in both private sectors and government sectors as follows.
They can be employed as an Project Manager, Urban Planner, Junior Architect, Urban Designer, etc. in private architecture firms and companies.
Top Private Architectural Firms in India are:
Architect Firms in India

Hafeez Contractor

Lotus Design Studio

Matharoo Associates

Morphogenesis

Sanjay Puri Architects

Vastu Shilpa Foundation

Creative Design Group

Shilpa Architects

Oscar & Ponni Architects

Kembhavi Architecture Foundation

Somaya & Kalappa Consultants

C.P. Kukreja Associates

Abraham John Architects

A New Dimension

PiVisions

Architecture RED
It is a dream of every architecture aspirant to work in one of these companies. Anywhere between INR 3-8 LPA you can earn in big firms in a variety of roles which we have discussed in the next section.
Top Govt. Sector in India to work as an Architect:
Government Sectors

Public Works Department

National Building Organization

National Institute of Urban Affairs

Hindustan Prefab Limited

Archaeological Department

Hindustan Aeronautics Limited

Urban Development Corporation

City Development Corporation

State Housing Boards

Departments of Railways

Ministry of Defense

Public Service Commission
B. Arch Jobs
Some B. Arch jobs in common are:
Design Architect

Landscape Architect

Urban Planner

Project Manager

Construction Contractor

Art Director

Urban Designer

,

and many more.
Farther this, you can also work as Land Developer, Civil Engg., and Structural Engg. in various architecture companies and firms.
The common jobs and the salary associated with that job post given below:
| | | | |
| --- | --- | --- | --- |
| Job Position | Lowest Salary (in LPA) | Average Salary (in LPA) | Highest Salary (in LPA) |
| Design Architect | 2.47 | 3.76 | 18 |
| Landscape Architect | 3.56 | 3.93 | 8.05 |
| Architectural Designer | 2.93 | 4.05 | 30 |
| Project Assistant | 3.18 | 4.09 | 8 |
| Construction Contractor | 3 | 4.5 | 6 |
| Urban Planner | 3.51 | 5.1 | 10 |
| Project Manager | 5 | 9.68 | 36 |
| City Planner | 2.9 | 10.17 | 15 |
| Technical Architect | 4.79 | 18.13 | 24.01 |
Interior Designer
A decade ago, Interior Designing was not an in-demand career. Not many people did really care much about hiring a professional to decide the paint to choose for the insides of their homes or where to keep the chairs. But this has changed today. As living spaces are becoming smaller, personalizing those spaces has become an important part of our lives. As the course equips you with creative and technical skills, interior designers can start their career as Interior and spatial designer, Exhibition designer, Production designer in theatre/TV/film, Visual merchandiser, Architectural technologist, Estates manager, Furniture designer, Product designer, Stylist, Textile designer, etc.
For Interior Design Services the scope of work is quite large. Reputed and experienced and interior designers can charge big sums from clients since the work they provide is very high quality and incorporates all the latest trends and fads in this fast-moving industry.
For interior designers the scope covers projects in areas such as commercial, residential, hospitality, and other industries.
In India the interior designing business scope is quite high since the construction industry looks poised for high development. In addition, for competent interior design professionals the Indian economy is growing fast and this is bringing with a huge demand.
In Delhi, Bangalore, Mumbai and Pune the scope for interior designing is especially high.
To keep growing and to attract creative and business oriented professionals the scope of interior design in the future looks set. Most high-profile clients need interior designers to have good academic backgrounds and to also have practical experience with design. Given this fact, for potential interior designers it is essential to take up the right course and to gain valuable experience in the field. As a potential change in career path many candidates enrolled in engg. courses.
After civil engineering, as well as other

Engineering Streams

there is definitely scope of interior designing if candidates work hard and obtain a good qualification in interior designing and relevant work experience.

It is essential to opt the right course from the right inst. to ensure that one has a benefit in becoming successful in this competitive field. This is especially important given the fact that the industry has become competitive.
Interior Design Job Roles
Interior design is a sophisticated field and on different fronts based designers can work on their area of interest. Here are five popular interior design job roles:
| | |
| --- | --- |
| ROLE | MAJOR RESPONSIBILITIES |
| Residential Interior Design | understands client needs, Styles homes, color theory, and space management, and emerging trends to comfort and create unique designs |
| Commercial Interior Design | Works on designing retail stores, workspaces, hotels, etc. to provide smooth functioning of tasks and add visual aesthetic |
| Exhibition Design | Works on floor management, exhibition layouts and venue decor; modular stand designs, understands custom build designs, and museum designs |
| Lighting Design | Works with luminaries, shades and light fittings to create lighting effects and ensure adequate lighting |
| Kitchen Design | Conceptualizes, Designs and executes kitchen interiors |
Interior Design Salaries
Salary packages can vary depending upon the organization, skillset & experience of the candidate.
| | | |
| --- | --- | --- |
| JOB ROLE | AVERAGE ANNUAL SALARY (0-3 YEARS OF EXPERIENCE) | SALARY RANGE (LPA) |
| Interior Designer | 469k | 228k-790k |
Interior Designing Skills
To build an interior design career here are the important skills required.
Core Skills:
| | |
| --- | --- |
| SKILL | DETAILS |
| Awareness of space | Utilization and understanding spaces while planning ambiance, interiors, and room function. |
| Technical Knowledge | To digitally create designs for clients, designers must be hands-on with software like Vectorworks, Autodesk Revit, 3D Max, Archicad, AutoCAD, Sketch Up, 3D Homeplanner, and Chief Architect. |
| Budgeting | Designers must be able to forecast expenditure, make budgets, identify hidden costs, negotiate and be good at bookkeeping for efficient use of money. |
| Time Management | Designers must know how to manage calendars, delegate, and manage time to get work done before deadlines. |
| Dynamic Creativity | An interior designer understands artistic styles, colors, fabrics, and emerging trends and must be creative. |
Soft Skills:
As a major part of job of an interior designer is to communicate ideas so they must have an excellent communication skills.

They should be good at problem-solving for effective process management, prioritization of tasks and troubleshooting.

They must be critical thinkers and proactive who can solve problems at the earliest.

They must be organized to be able to finish projects on time and in the assigned budget.
Top 10 Architecture Colleges in India
Indian Institute Of Technology, Kharagpur

Sir J. J. College Of Architecture, Mumbai

Birla Institute Of Technology, Mesra

Chandigarh College Of Architecture, Chandigarh

Jamia Milia Islamia University

National Institute Of Technology, Tiruchirapalli

Center for Environmental Planning and Tech. Univ., Ahmedabad
Top Interior Design Colleges in India
CEPT University, Gujarat

Arch Academy of Design, Jaipur

JJ School of Arts

College of Architecture, Nashik

Exterior Interiors Pvt Ltd, Kolkata

Vogue Institute of Fashion Technology

Sai School of Interior Design
Conclusion
Many people find it difficult to differentiate Architecture and interior designing. Though both careers overlap on various domains, they are entirely different professions. A career in building and construction is not only enjoyable, but it will always pay well. In the future, more skilled labor is needed in the building and construction industry, and this will include architects and Interior Designers. The best career between the two should be what you feel comfortable with. Like mentioned earlier, the design process is the same, and there is a gray area so you can be one or the other at different times.
An architect is someone who plans and monitors the construction of a building while an interior designer is someone who designs the interiors of that building. This article intends to shed light on a few major differences between these two professions. I hope the illustrated analysis have powered up your insights and have widened your perspectives.