Topic We Cover: University of Delhi vs University of Mumbai
1. UNIVERSITY OF DELHI
2. UNIVERSITY OF MUMBAI
3. COURSES OFFERED BY THE UNIVERSITY
Courses offered by University of Delhi
Delhi University Post Graduate Courses
Undergraduate Course in Delhi University
Courses Offered by University of Mumbai
Some of the undergraduate courses offered by University
Some of the Postgraduate Courses
4. CAMPUS
DELHI UNIVERSITY
MUMBAI UNIVERSITY
5. PLACEMENTS
Finally, the board results of all over India are out and, students, you must be feeling relaxed as the pressure you were carrying since last few months is now over. But yet another thought that is going to assault you is the selection of University! Every student aspires to do graduation from a renowned University. University of Delhi and the University of Mumbai are such well-known Universities that attract students from all over India and also from foreign countries. Choosing amongst both the Universities is a tedious job as they both enjoy almost equal status and reputation among students.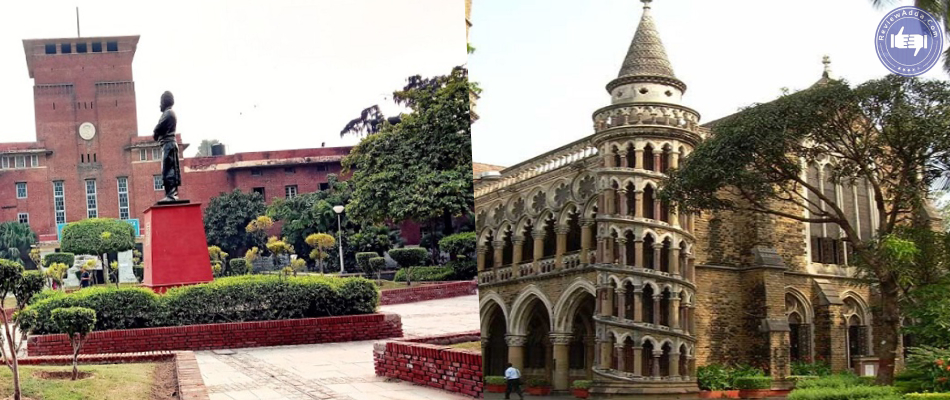 University of Delhi Vs. University of Mumbai, is a thoughtful decision. From decades, University of Delhi and University of Mumbai have been working hard and giving the best of education to the students according to their capabilities and capacities and have built up the prestigious image that they have today. Both the Universities have been awarded as best Universities from time to time. Through this article, we will discuss about both Universities, the courses, the colleges affiliated to them and other pros and cons of both the Universities.
UNIVERSITY OF DELHI
The University of Delhi or Delhi University as it is also called is one of the premier universities of India. It was founded in the year 1922 under the Act of the Central Legislative Assembly as a unitary, teaching and Residential University. The President of India and Vice- President are the Visitor and Chancellor respectively of the University. The Chief Justice of the Supreme Court of India is the Pro-Chancellor of Delhi University.
Since its existence, the University of Delhi is committed towards building of the nation and providing the highest education. It is acclaimed for its diverse academic programmes, various co-curricular activities, experienced faculty and state-of art-infrastructure. The university works according to its motto which is "Nishtha Dhriti Satyam" (Dedication, Steadfastness and Truth).
The University established itself with just three colleges and 750 students and now it has grown to such heights that it is among the Largest Universities of India. It comprises of around 16 faculties, 80 academic departments, 80 colleges and around seven lakh students. The University has around 15 libraries apart from those libraries which are present in the colleges.
The University is very famous and it attracts students and faculties from India and abroad both. Its five departments, which are Chemistry, Geology, Sociology, Zoology and History, have been given the status of the Centres of Advanced Studies. The number of students is increasing every year and, therefore, to accommodate all the students the university is expanding its territories. As for now, the University of Delhi has two campuses in Delhi namely, North Campus and South Campus.
UNIVERSITY OF MUMBAI
Apart from the revolt of 1857 another thing that became history in this year was the establishment of University of Mumbai (formerly University of Bombay). The University of Mumbai was formed under "Wood's Education Dispatch" and its foundation was laid by Dr. John Wilson in accordance with the standards of the Universities of Britain at that time. It was one of the first Universities of India and has been accorded five-star standing by NAAC, National Assessment and Accreditation Council. The University has given the best education to the students of Mumbai city and country.
It also has 60 University Departments and Institutions and around 760 colleges are affiliated to the University.
The University is known for providing excellence in education; it also excels in sports activities, cultural and other curricular activities. It has various international collaborations and the university also provides various Professional Courses. The university also sends around 20 teachers abroad for academic activities every year. Through its dedication to provide distinguished and best education to its Students, University of Mumbai has reached a milestone over past decades that it attracts students from all over India and abroad.
The above was a brief description of both the Universities. But if, the question is University of Delhi vs. University of Mumbai, then there are other parameters that the students shall consider while selecting the University. Let's have a detailed analysis of all these factors.
COURSES OFFERED BY THE UNIVERSITY
When a student makes a choice of University one thing that is important to be evaluated is whether the University offers the course of his choice or not? What is the feedback of the senior students and passed out students about the way that specific course is taught in the University? Is the feedback about the course positive? Is the procedure well enough to impart you the best knowledge in that stream etc. are some questions which should be kept in mind while selecting the university.
Courses offered by University of Delhi
Delhi University receives lakhs of application of students for admission into various courses every year. The University offers various post graduate courses, undergraduate courses and diploma courses to its students. Some of the courses are as follows:
Delhi University Post Graduate Courses:
LLM
M.A in Arabic, Bengali, Applied Psychology, Economics, German, Hindi, Linguistics, Philosophy, Political Science, Punjabi, Social Work, Sociology, Tamil, Urdu, Instrumental music, Buddhist Studies, Comparative Indian Literature, Geography and in many more fields.
MBA (IB), MBA (HRD)
MCA
M.Com
M.SC. in Environmental Studies, Mathematics, Statistics, Anthropology, Bio- Chemistry, Bio-medical Sciences, Botany, Chemistry, Computer Science, Electronics, Fabric & Apparel Science, Genetics, Geology, Microbiology, Zoology, etc.
M.Tech in Microwave Electronics, Nanoscience & Nanotechnology, Nuclear Science & Technology, etc.
Master of Library & Information Science
Master of Education
Master of Physical Education
Master of Mathematics Education
Get Updated Review ( Voice Based Alumni Feeback)
Undergraduate Course in Delhi University
B.A. (Hons) Applied Psychology, Arabic, Business Economics, English, Geography, German, History, Hindi, Journalism, Psychology, Spanish, Sociology, Urdu, Hindi Journalism and Mass Communication
B.A in Functional Hindi and Vocational Studies
B.Ed in Home Science and Special Education
B. L.I.S. B.P.Ed.
B.Sc.(Genl) Mathematical Science
B.Sc. (Hons.) in Instrumentation, Anthropology, Bio- Chemistry, Biomedical Science, Chemistry, Computer Science, Botany, Electronics, Mathematics, Microbiology, Physics, Polymer Science, Statistics, Zoology, Biological Sciences, etc.
B.Sc. (MT) Radiography
B.Sc. (PEHES)
Bachelor of Business Studies
B.Com.
Bachelor of Elementary Education
Bachelor of Financial & Investment Analysis
BFA Fine Arts
There are many other undergraduate courses which are offered by the university. The admissions to these courses are based on merit. Delhi University also offers some courses the admission to which are based on Entrance Examinations conducted by it. List of some such courses are:
A. (Hons) Business Economics
Bachelor of Management Studies
Bachelor of Business Administration (Financial Investment Analysis)
Tech. (Information Technology and Mathematical Innovations)
A. Hons (Humanities & Social Sciences)
Sc. in Physical Education, Health Education & Sports
A. in Hindustani Music- Vocal/Instrumental
Courses Offered by University of Mumbai
Mumbai University offers courses to its students in varied streams such as Business & Management Studies, Engineering, Accounting & Commerce, Banking & Finance, Science, Humanities & Social Sciences, IT & Software, Mass Communication & Media, Medicine & Health Sciences, Law, Hospitality & Travel, Architecture, Teaching, Arts, Beauty & Fitness and Designing. A list of few such undergraduate and postgraduate courses is as follows:
Some of the undergraduate courses offered by University are:
E/B.Tech
Sc
Com
A
Arch
M.M
BBA
Ed
Pharma
L.S. LL.B
BFA
Voc
BBA LLB.
BPT
BCA
BSW (Bachelor of Social Work)
Lib.I.SC
Com (Hons.)
Some of the Postgraduate Courses are as:
MBA/PGDM
Executive MBA/PGDM
MMS
Sc.
Com
A.
MCA
E/M.Tech
Ed
MBBS
Arch.
LLM
MSW
Ed.
CAMPUS
DELHI UNIVERSITY
The University of Delhi is a host to around 80 colleges and 16 faculties which are spread in North Campus and South Campus of the University.
The three colleges which were present during the foundation of the University are located in the North Campus. North Campus comprises of around 12 colleges affiliated to Delhi University and various Faculties such as Faculty of Arts, Science, Law and Management. The following are the colleges situated in North Campus:
Kirori Mal College
Daulat Ram College
Hansraj College
Hindu College
Lady Irwin College
Miranda House
Indraprastha College for Women
SGTB Khalsa College
Ramjas College
Stephen's College
Shri Ram College of Commerce
Satyawati College
The North campus also has other centres and institutions of Delhi such as Cluster Innovation Centre, Delhi School of Economics, Delhi School of Journalism and Ambedkar Center for Biomedical Reseach (ACBR).
South campus of the University was a result of expansion which was required due to excessive burden on the university. The South campus started in the year 1973 and then in 1984, it moved to its current location on Benito Jaurez Marg. The faculties located here are Faculty of Arts, inter-disciplinary, Applied Science. Some of the colleges located in the south campus are:
Lady Shri Ram College
Aryabhatta College
Atma Ram Sanatan Dharma College
College of Vocational Studies
Jesus and Mary College
Sri Aurobindo College
Delhi College of Arts and Commerce
Sri Venkateswara College
Shivaji College
Rajdhani College
The University is also spreading its legs to Eastern part of Delhi and the East Campus is being built up with University College of Medical Sciences at its center. Zakir Husain Delhi College is the oldest college in Delhi with 300 years of its existence and is situated in the central part of Delhi.
MUMBAI UNIVERSITY
Mumbai University has altogether three campuses which are spread over Mumbai namely, Kalina Campus, Thane Sub Campus and Fort Campus. Being one of the Largest Universities in India it has around 749 colleges affiliated to it.
The Kalina campus is in sub-urban Mumbai and spread over the vast area of 230 acres. Various departments such as the department of sciences, technology, commerce and humanities are located in this campus. The campus also includes Examination House which is famously known as Jyotirao Phule Bhavan, National Centre for Nanosciences and Nanotechnology, Department of Biophysics, Jawaharlal Nehru Library, MAST – the campus radio station, Department of Extra Mural Studies, Western Regional Instrumentation center, Centre for African Studies and Eurasian Studies. There is also a beautiful rose garden where many varieties of roses are grown.
Thane Campus came into existence in year the 2014 and is spread in an area of 6 acres. It is a modernised two-storey building and the School of Law, University of Mumbai is situated here. Various other administrative offices are also present in this campus.
The Fort campus was established in 1857 with the establishment of Mumbai University. The administrative division is located in this campus and covers an area of 13 acres. Two postgraduate centres, 354 colleges affiliated to the university, 36 departments and Rajabai Clock Tower all are located here in the Fort campus.
List of few Colleges affiliated to University of Mumbai are:
Asmita College of Arts & Commerce for Women
Atomic Energy Junior College
B N bandodhkar College of Science
Dr B M N College of Home Science
Hinduja College of Commerce
SIES College of Arts, Science, and Commerce
Sydenham College
Hassaram Rijhumal College of Commerce and Economics
C. Patil College of Engineering
Bharati Vidyapeeth College of Engineering
Conceicao Rodrigues Institute of Technology
Bhabha Atomic Research Centre
Government Polytechnic Mumbai
Narsee Monjeee Institute of Management and Higher Studies
P. Jain Institute of Management and Research
Government Law College
Sir J.J Institute of Applied Art
Mahatma Gandhi Mission Dental College
School of Broadcasting and Communication
JD Institute of Fashion Technology
PLACEMENTS
Both the Universities whether it is Delhi University or Mumbai University have placement cells and have a good reputation of placement opportunities. Campus placements are conducted by both the universities every year and a good pay scale is offered to students of both the Universities. Companies from all the sectors and field like fashion, IT, manufacturing, etc. come for recruiting the students of these universities as they hold a respectable value in the society.
The students who pass out from well known colleges of these Universities get a better pay scale in comparison to those who pass out from less known colleges. So, although the colleges are affiliated to these universities but still because of their individual ranking the salary package does matter. So College, University and course all the three play a relevant role and their selection should be done after proper understanding.
The University of Delhi Vs. The University of Mumbai, both of them have been working continuously since past decades to build up the value and ranking that they posses today. When the comparison is done between both the Universities, it becomes really tough to choose. Both of them are best in providing quality education to students, with modern and updated facilities and infrastructure at college campus. Both the universities look after the placements of students and secure them with job options in good companies. The faculties of both the universities are highly experienced and best in their respective fields.
So, electing to take admission into the University of Delhi or the University of Mumbai rests on the choice of students. There are various factors which students consider while making decision like the college of their choice, course, the location they reside, or the place from where students want to do their education, faculty, location of the college, infrastructure, etc.
Hence, considering all the parameters and the factors of both the universities the selection should be made by the students.