In the life of every student, a question at some or the other point is: Where should I study? 'Study Abroad vs Study in India'. But, did you know? India has become the second-largest country to send students internationally. According to the statistics of 2019 released by the Indian Ministry of External Affairs is 753,000 Indian students were studying in universities abroad which were only 66,736 a decade ago.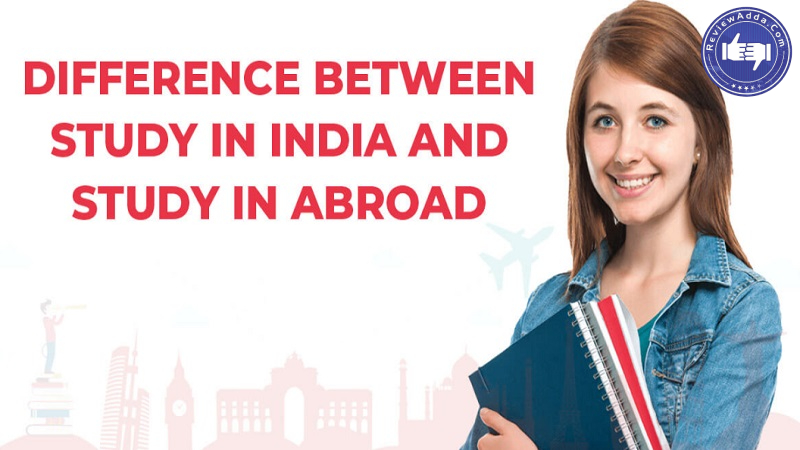 So, before directly jump to the topic 'Study Abroad vs Study in India', have a glimpse of some facts and figures about Why Indian students prefer studying abroad?
One of the primary reasons is the Indian Education System is greatly different than the education systems abroad, be it Europe or North America. Our education system is implanted in respect for learning but is more rigid and structured instead of this, education abroad is focused on discovering new knowledge, and exploring various forms of learning. Apart from this, there are some important factors for Indian students when selecting a university abroad.
Tuition Fees - 47%
Career support at university – 41%
Teaching quality – 41%
University's reputation among academics – 37%
Student Experience – 23%
University's research – 23%
University's reputation among employers – 23%
The location of the university – 18%
Social life – 10%
Diversity of students and staffs – 6%
So, you see the reasons due to which Indians choose to study abroad vary greatly from person to person. For example, previously, a student looking to study abroad for easy work – after graduation opportunities are more likely to choose the U.S, whereas a student willing to study abroad due to relatively smooth admission criteria is more likely to opt to study in the U.K or Australia.
But now as COVID -19 continues to affect the world, students have reevaluated their choices and are turning their attention to countries such as New Zealand, Germany, and even Ireland. Before COVID the most popular study abroad destinations for Indian students are the U.S, the U.K, Australia, Canada, and Singapore. Behind this phenomenon, there is a huge number of reasons, including ease of admission, job prospects, etc.
Meanwhile, the quality of studies and the number of opportunities within India have also grown. Accordingly, the question of whether to study abroad vs study in India has become confusing in the minds of youth across the nation. The decision to study abroad vs study in India is a major one that will influence not only your educational qualifications but also your career path.
So before you choose to study abroad vs study in India, here are a few factors to consider while making the choice to study abroad vs study in India.
It is valuable to understand the difference between Indian and foreign education especially if you are aspiring to study abroad. Based on the education provided in nations like the US, UK, Germany, etc. Here is a comparison between Indian education and foreign education to guide you:
| | | |
| --- | --- | --- |
| | Education System of India | Education System abroad |
| Focus on skill-building | Education System in India is focused purely on theoretical knowledge. | Abroad the education system is centered on developing the practical skills of a student and making him job-ready. |
| Option to change subject | Students cannot change their major subjects in the middle of courses. e.g. If you are a student of a Chemistry major then you can't opt for various subjects like Economics or Languages in the middle of your course. | Most of the universities in European colleges and US-based colleges allow students the option to change subjects and don't limit them to just one subject. |
| Flexibility | This is a concept that looks quite futuristic for India. | During study abroad, you not only have several courses but the options of "dual major", "minor" and "free electives" too. That is studies in more than one subject. Of course, you need to select cautiously. |
| Global outlook | Unlike abroad, you are not supposed to get a chance to meet students of other countries but you will get a chance to meet students of different states of India and understand their culture. | When you study abroad; your exposure to a new lifestyle and culture will undeniably amaze you. In a foreign land as a student; the first few days may cause you to feel nostalgic and lonely, but after this initial phase everything rest assured you will transform into an independent and responsible individual. Living in a student residence hall fosters gives you a chance to meet students from other countries, a sense of community-living and learn about their culture and lifestyle. This is when friendship connections are formed, which last a lifetime. |
| Educational Approach | In Indian educational institutes, curriculum focus is more on theoretical education and relies on the research that has been conducted in the past. | On the other hand, the curriculum of foreign universities follows a more practical approach in education and encourages fresh research instead of what has already been discovered. |
| Curriculum | Based on the latest and approved research studies modifications are implemented quite late in the curriculum of Indian universities. | While, Universities in the US and some other developed countries update their curriculum every few years, hence offering more advanced education. |
| Research Opportunities | The number of research assistants in India is less in comparison to abroad | It is no secret that the research opportunities available in countries like the USA and the rank of the UK way advance of the facilities and funding offered in India. This one is the primary reason for the movement of Indian students abroad. Most students finish their research and stay on as faculty members. Some students return to India and find relevant jobs or take up teaching assignments. |
| Exposure | To attract students, India has not yet been able to internationalize education from different countries to choose courses offered by Indian Universities. | Foreign Universities have a combined group of students coming from different countries. Therefore a student gets better exposure. |
| Research Initiatives | Regardless of the regular help offered by the government, there are limited research funds, therefore, research initiatives are also less. | In foreign universities research is funded by some of the biggest organizations of the world, such as Microsoft, Google. Hence research initiatives offered there are better. |
| The Ranking | The ranking of India falls way short. With the type of possibly breaking up here, we should be the brain-hub of the world. Right? We are the brain-drain hub, rather. We all love a foreign brand here. There is no wonder that most of the world-famous Indian success stories are written abroad. | On the other hand, a study in abroad understands your potential and helps you to reach your dream. |
| Course Options | To the students, Indian universities and colleges provide limited courses to choose. | Whereas, International universities provide multiple courses and specializations to students. |
| Unavailability of courses | In India there are several courses in which you didn't get many options like Filmmaking. There are options restricted to a handful of options or diplomas only on the other hand to study abroad you can pursue Bachelor degree on the same. | Another reason why Indian students choose to study abroad is that in India the course they wish to study is not offered at the undergraduate level, at least not to the same extent and structure as it is present abroad. |
| Career Opportunities | In India, the job opportunities provided by Indian Universities are limited to top educational institutes. A Student who has done their graduation or master's from below rating college or university not even get a chance of campus placement or another job opportunity. | An MBA from a reputed institution like Harvard Business School or the Kellogg School of Management is a great benefit when compared to an MBA from a smaller Indian institution. For students, international Universities provide excellent job opportunities. The preference of employers is to hire candidates who have finished a degree abroad with relevant academic scores and work-experience; over a student who has completed the same degree and has similar work experience in India. |
| Tuition Fees | Pursuing education from India is affordable only to government colleges where seats are limited and unwillingly rest of the students take admission to private colleges where the fees bar raises to the sky. | Pursuing education from a Foreign country is always expensive as the cost of food, living, travel, etc get added to the overall expenditure. But some countries that provide affordable education to Indian students such as Norway, Germany, Switzerland, Denmark, Belgium, Italy, Spain, Poland, and Estonia. |
| Return of Investment (ROI) | Indian Universities ROI is conditional and relies upon the college you are going to join. | Foreign university' ROI is good. The study cost might be extravagant but study abroad gives a kick start to a student's career. |
| Quality of Education | Prestigious Indian institutions like the IITs and IIMs are offering excellent courses that also have scope for doctoral research. Try to attempt as many exams as possible and acknowledge higher education opportunities in India as well. A number of these institutions also offer merit scholarships. | Studying abroad and staying away from your family is a very substantial decision that you need to make. If you are dedicated to accomplishing your educational goals, get admission to a course and institution of your choice, and save funding; go along take a leap of faith and accomplish your study abroad dreams! |
| Scholarships | Indian Universities have limited scholarships and most of the time students are not aware or lack of information about private and government scholarships. | Foreign Universities provide numerous scholarships to international students. Farther that, students can also take part in work-study programs. |
| The Social Benefits | Now slowly and gradually, the Indian government has started some social benefits but they vary from one state to another and from college and university too. | The government of developed countries provides a lot of social advantages to students like free libraries, free health care, student discounts on restaurants, travel, shopping, etc. |
Quickly we will give a glance at Advantages of studying in India than abroad are as follows–
Language is no barrier
Living on a budget
Always connected
Public Transportation
Lip-smacking world cuisine
Zero Visa hassles
Student Support by student association and international relation cell
And now it's a turn of advantages of studying abroad are mention below –
Enhance your language skills
Experience a different style of teaching
Impress employers
Enhance your network
Learn about new cultures and perspectives
Develop your confidence
See the world
Discover career opportunities abroad
Higher Education Institutions (Universities and Colleges) in India
| | | |
| --- | --- | --- |
| Type of Institution | Number | E.g. |
| Central Universities (Public) | 44 | University of Delhi |
| State Universities (Public) | 306 | University of Mumbai |
| State Universities (Private) | 154 | Amity University |
| Deemed Universities (Public or Private) | 129 | Tata Inst. of Social Sc. |
| Inst. of National Importance (Public) | 67 | Indian Inst. of Tech. (IIT) |
| Total Degree-granting Institutions | 700 | |
| Affiliated Colleges (Public or Private) | 35,539 | |
Top Colleges and Universities Globally

One of the more important decisions to make while choosing your future career path is deciding the university or college that you wish to enroll in, to pursue a course of your choice. There are a few of the colleges and Universities for Higher Education in various countries globally given below.
Name of College

Country/Destination

University of Illinois

Birbeck University of London

Illinois, Chicago

London, England

Dublin City University

Dublin, Ireland

Berlin School of Business

Berlin, Germany

Vinnitsa National Medical University

Vinnytsia, Ukraine

Kazakh National Medical University

Almaty, Kazakhstan

University of Central Florida

Orlando, Florida

Coventry University

Coventry, England

Maynooth University

Maynooth, England

Arden University

Coventry, England

Asian Medical Institute

Kant, Kyrgystan

AMA University of Medicine

Manila, Philipines
Summing Up
It goes without saying that education in India vs abroad comes with its set of pros and cons of study abroad vs study in India. This decision mainly depends on the field of study you opt for, your finances, and what you want to do in the future. Make a wise choice.