Topic We Cover: Best Football Academies in India
1. TATA FOOTBALL ACADEMY (TFA)
2. ALL INDIA FOOTBALL FEDERATION
3. BHAICHUNG BHUTIA FOOTBALL SCHOOLS
4. INDIAN TIGERS FOOTBALL ACADEMY
5. DSK SHIVAJIANS ACADEMY
6. PREMIER INDIAN FOOTBALL ACADEMY (PIFA)
7. PARIS SAINT-GERMAN ACADEMY INDIA
8. BOCA JUNIORS FOOTBALL SCHOOL INDIA
"Bend it like Beckham" or "making a long shot that proves to be winning goal like Ronaldo", this is the dream of most of the footballers. Football is not so popular in India, but it is becoming a popular game among youth. Their interest is growing and today's young generation is also playing football together with other popular sports like Hockey, Cricket, etc. If you imagine yourself to be a footballer in future, then here is a list of best football academies in India.
Indian youth is known to have obsession with cricket, but football is not far off these days. With leagues like Indian Super League and I-League, football has spread its leg in Indian sports and more and more students and youths are showing keen interest in this game and want to become known footballers by playing for India. Development of football in India is a result of signing of MoU (Memorandum of Understanding) between FIFA (Federation International de Football Association) and AIFF (Association of Indian Football).
For all the football lovers and those who want to develop a career in this sport, here we provide you a list of best football academies in India.
1. TATA FOOTBALL ACADEMY (TFA)
Tata Football Academy's (TFA) works on the principle, 'CATCH THEM YOUNG' and give the children the best training with modern techniques, strategies, physical and psychological conditions. The Academy is spread over an area of 25000 square feet and is internationally equipped.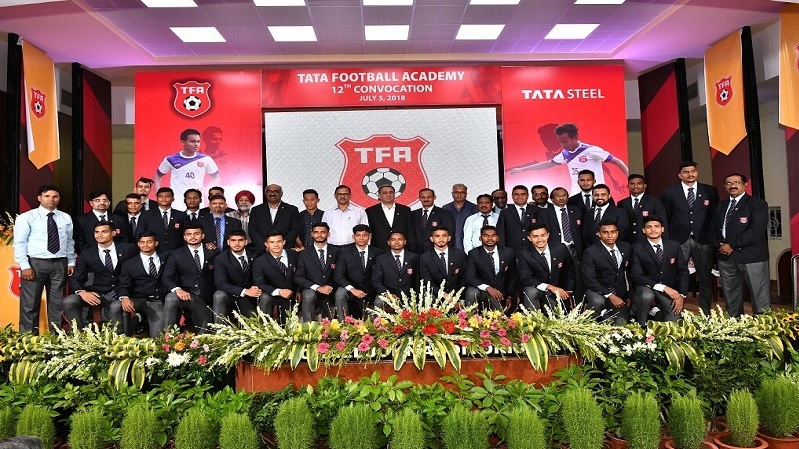 Jamsetji Nusserwanji Tata had lot of admiration and commitment towards sports and with this in mind, the steel giant guided his son, Sir Dorab Tata, to develop and promote various sports such as football, hockey, etc. Therefore to fulfill his father's wish, JRD Tata founded Tata Football Academy (TFA).The candidates are trained under the mentorship of former Indian captain Mr. Vijay Kumar. Other coaches include Mr. Akshay Das and Mr. Amey Kolekar.
The Academy provides intensive training, opportunities for all-round developmental, together with facilities for formal education and vocational training. The academy offers a fully residential programme to its students give students all round growth and development while teaching important lessons about life. Facilities which are provided in this programme include boarding facilities, playing kits, and clothing for winters and summers, medical care, insurance scheme, education and much more.
The academy has given many good players who have represented India internationally also like Subroto Paul, Raju Gaikwad, Alok Das, Jeje Lalpekhlua.
2. ALL INDIA FOOTBALL FEDERATION
All India Football Federation, AIFF was established in 1937. FIFA gave affiliation to AIFF in the year 1948. AIFF administers the functioning of the India National football team and it also oversees the I-League, India's premier domestic football club competition.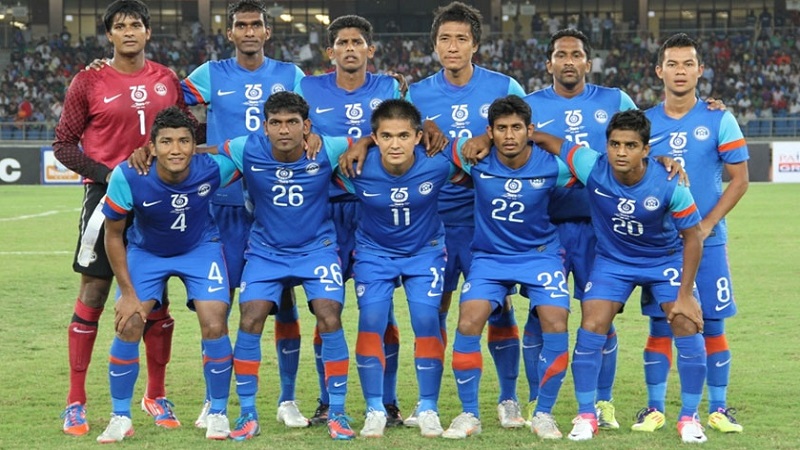 AIFF has various regional academies spread in different parts of India. The main aim of the academy is to give best training and equipment to those talented students who want to take up football as a career. The academy not only foster their talent but also helps them reach a whole new level. The motto of AIFF is to produce international level players so that they can represent India in the world. The academy shows the correct pathway to the players aged between 12 to 18 years so that they can have a bright future.
Academies which are run by AIFF are as follows:
Mumbai Regional Academy
Mumbai Regional Academy was founded in the year 2013, and is based at Fr. Agnel Technical Educational Complex, Vashi, Navi Mumbai. It is result of bi-lateral efforts of AIFF and Fr. Agnel Charities. For getting admission to this academy candidate should be below 16 years of age.
The infrastructure of academy has artificial football surface, gym, swimming pool. Accommodation facilities are also provided to the students.
Kolkata Regional Academy
This school of soccer was founded in year 2012 and is a joint venture between AIFF and Pailan group. In this venture Palian group takes care of infrastructure and accommodation for students and AIFF facilitates technical expertise, training, equipments and coaches to the students.
Boys under age 15 can be admitted to this academy. Infrastructure includes football grounds, swimming pool, gym and accommodation facilities.
Goa Regional Academy
Goa Regional Academy came into existence in the year 2014. It is situated at AIFF training centre, Goa. Boys below the age of 14 can also take admission.
Boys are provided proper schooling in this academy and genral subjects including English are also taught together with football.
3. BHAICHUNG BHUTIA FOOTBALL SCHOOLS
An initiative by the longest serving football captain of the Indian football team Mr. Baichung Bhutia, BBFS has around 72 centres all over India spread in cities like Delhi and NCR, Mumbai, Bangalore, Dehradun, Chandigarh ,etc. The academy was established in the year 2010 with the motive to train and nurture young talented individuals by providing them with in-house training and development programs by qualified Indian Players and coaches in discourse with resident European coaches.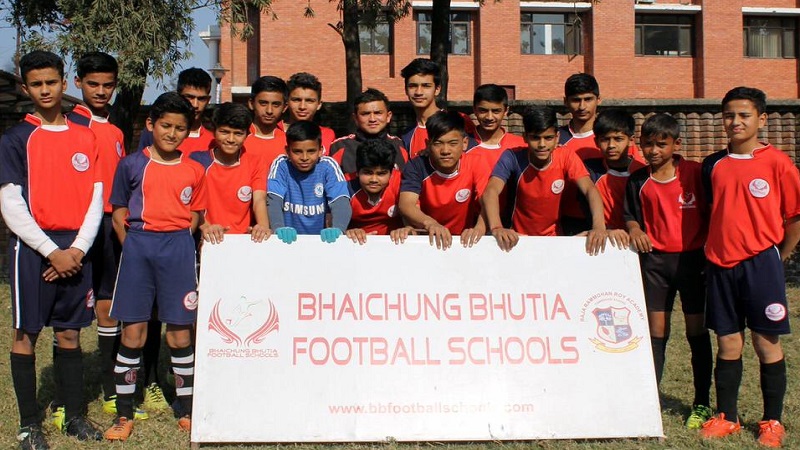 The coaches of the academy have been guided and trained by Mr. Steive Grieve, Scottish football coach. Also guidance from Mr. Baichung Bhutia affects positively in development. The academy has many Portuguese coaches who manage the campaigns and programs of the academy.
BBFS focuses on complete overall development of its students through its regular training centres and advanced training centres. Emphasis is on the complete personality development by providing technical skills, nutrition lessons and fitness classes.
The regular course provided by BBFS consists of intensive training sessions 3 days a week that aim to provide overall development of football skills through methodological and high-quality training sessions at various training centres. Same methods and quality is followed at all the schools of BBFS and students can choose the centre which is best suitable to him.
Get Updated Review ( Voice Based Alumni Feeback)
4. INDIAN TIGERS FOOTBALL ACADEMY
Indian Tiger Football Academy was established in the year 2008 in Mumbai by Chelsea players: Sherley Singh, David Lee and Gareth Hall to guides and mentor ambitious gifted individuals in this game. ITFA works jointly with Team Tours Direct International a UK based sports organisation who promotes sports festivals and tournaments and under this collaboration. ITFA have endeavoured into various international sporting events and talent hunt.
The academy has many national and international coaches who are highly experienced. Lachman Singh and Bernard Pereira are the Indian coaches at the academy. International Coaches at the academy are Michael Gilkes, Colin Pates, David Lee, Gareth Hall and Keith Dublin.
ITFA provides with three year around courses 1) Junior Tiger Course, 2) Tiger Course, 3) Parent and Child Tiger Course
Junior Tiger Course is modelled to induce primary knowledge and football skills in young athletes from age 4. The classes for this course are conducted on weekend by Chelsea trained, former Indian players.
Tiger Course is designed for young adults who want to improvise their basic football skills. For someone who wants regular physical activity or want to be in good shape can also join this course. This course also is conducted at the weekends.
The Parent and Child Tiger course is formulated with the idea that the parents can spend some quality time with their children or pass their own skills and share their passion with them. In today's busy working environment parents don't get quality time to spend with their children and through this program they can do so. This course uses football as a means for urban parents to get in touch with and build stronger bonds with their children.
Apart from these courses, the academy also conducts various camps and school programmes.
5. DSK SHIVAJIANS ACADEMY
DSK Shivajians is one of the best academies of football in India. It was founded in the year 1987 at Pune by Ashok Vanjari, Manoj Walvekar, Emanuel Jeevan, Moreshwar Dhumal, Vijay Deshmukh and Frank Norman.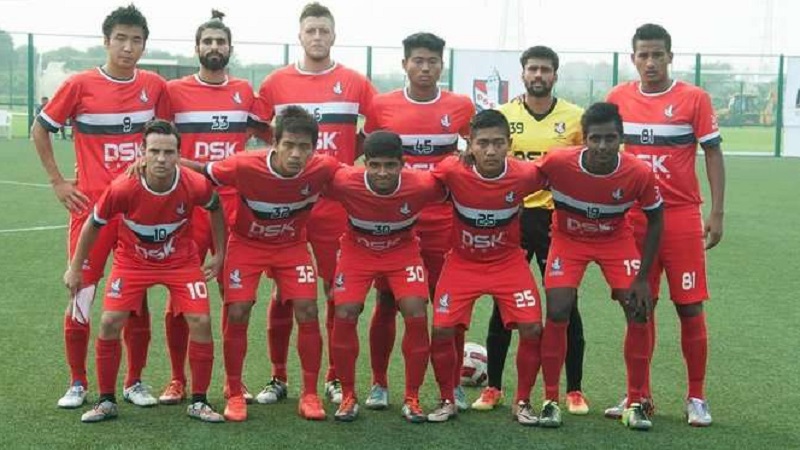 Through the latest and new techniques and state-of-art training facilities, the academy provides an excellent opportunity to its students to develop their skills and talents together with the guidance of the highly experienced coaches. The students of the academy get exposure to the world class events such as I-League and other international events. Students are also provided with accommodation so that over all guidance can be given to them.
It is well recognized for its Youth Development Policy and is one of the first professional football clubs of India to have collaboration with a famous international football club i.e Liverpool FC. These both clubs run the academy together and aim in providing the beat training to its students through world class infrastructure and facilities.
To take admissions to the academy, interested candidates have to submit a form available on the official website of DSK Shivajians Football Academy. Aspirants have to go through an intense screening programme for getting entrance to the academy.
6. PREMIER INDIAN FOOTBALL ACADEMY (PIFA)
After the absence of India from FIFA World Cup, 2002, Nirvan Shah and Anjali Shah, prominent figures in football world, established the Premier Indian Football Academy to promote football in India.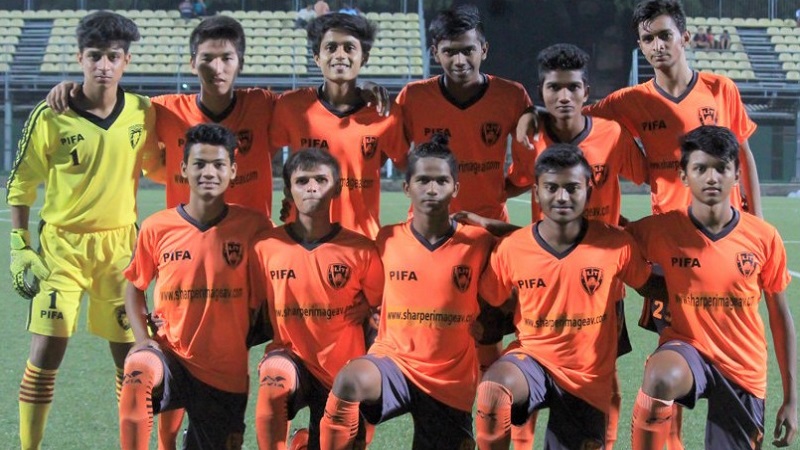 PIFA is affiliated with the Mumbai District Football Association (MDFA), Western India Football Association (WIFA), All India Football Federation (AIFF) and Ministry of State for Sports and Youth Development (MoS SYD). The academy has triumphantly supported young athletes so that they can play for their state, country and abroad also. PIFA has also ties with globally eminent youth academy schools such as AC Milan Team Camp, Cruzeiro EC, Madrid Fundacion, Coaching Connexions and Rangers Soccer School.
PIFA offers substantial exposure to its players and has organised various camps around the world in famous cities like Manchester, Rome, Madrid, London, Liverpool, Barcelona. The academy offers the following courses:
3-5 years – PIFA Toddlers
5-12 years – PIFA Beginners
8-14 years- PIFA Advance
12-18 years – PIFA Elite
Holistic approach of training the students is followed here and the experts of the academy take care about everything of the students like their fitness, nutrition, psychology, etc. It is one of the best football academies of India and has produced many national and state level players in last few years.
7. PARIS SAINT-GERMAN ACADEMY INDIA
Paris Saint- Germain Football Club came into existence in 1970 after the merger of Paris Football Club and Stade Saint-Germain. It is considered as a symbol of Paris Saint- germain's contribution towards education and development of youth.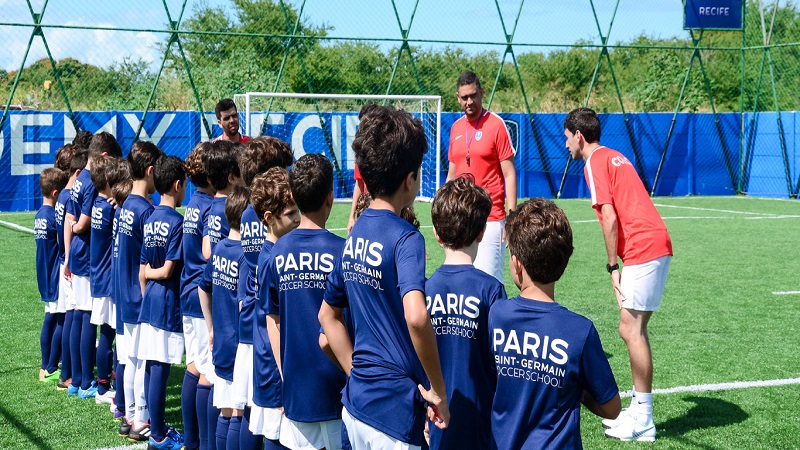 Paris Saint-Germain Academy came to India in 2005 and has established a good name for it. The academy is located at three different places in Gurugram with world class facilities and top-tier coaches to impart best training to the young athletes and to nurture their talents and shape their future.
Interested candidates have to apply through a registration form available on the website. The classes are held on both weekdays and weekends at different timings
8. BOCA JUNIORS FOOTBALLL SCHOOL INDIA
Based in La BOCA neighbourhood of Buenos Aires, Club Atlético Boca Juniors is an Argentine professional sports club that was founded on April 3rd, 1905. Since then BOCA has played in Argentine Primers Division, becoming one of the most successful team of Argentina wining a number of titles to this date.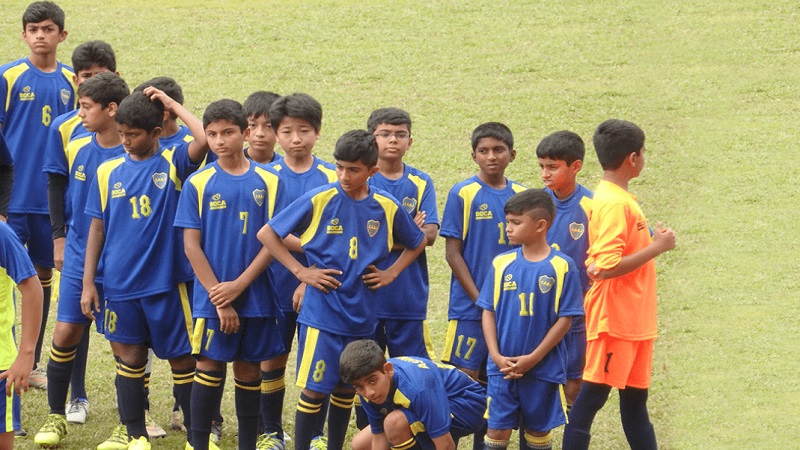 BOCA Juniors Football School India is the only official school in India from Club Atletico Boca Juniors. It aims to provide with professional level training equipment, trainers, apparels, and supplements to students at their school. BJFSI trains its youth players with the spirit of good sportsmanship, honesty, integrity, fairplay, confidence, truthful values.
BJFSI offers 6 different types of courses to its students which also includes an international training trip to Argentina with excellent training and support by the trainers which will nurture the individual and gradually make him a world class player. The academy is at present governed according to the guidelines of BOCA Juniors Argentina. It is one of the best academies of football and is located at Bangalore and Mumbai in India.
Football in not a very popular sport in India, but still it has slowly started to take shape in the country. Things have changed drastically since last decade and now more and more football lovers are either taking it as career or hobby. And hence the necessity for football academies have aroused. The above list gives you information about the best soccer schools of India. Aspirants can take up the best academy according to the suitability as the academy will not only shape up the football skills but also increase the scope of success of the player in future.