Topic We Cover: Top 10 Must-Visit Place for Students in Vacation
1. Kashmir – For its bewitching natural beauty'
2. Leh-Ladakh – For its unmatched trekking options
3. Delhi – For its unimaginable, unbelievable history and past
4. Agra – For its exceptional Mughal brilliance
5. Varanasi – For its divine and sacred essence
6. Jaislamer – For its Rajputana magnificence and plethora of desert activities
7. Rann of Kutch – For its pastoral village life experience
8. Aurangabad – For its captivating 'Ajanta & Ellora' caves
9. Sunderbans – For its mysterious wilderness
10. Sikkim – For its heart-stopping natural vistas
Choice of Top 10 must visit place for students in vacation in our country India seem to be infinite; from picturesque destinations to historically and culturally soaked sites in which students can work and learn about the past events, from cities overcrowded and bustling with chaos and confusion sites to places offering laid-back and relaxed stays which is essential for students after hectic study schedule.
India is a canvas of beauty and colors. Initiating from unique culture to international styled destinations, India is a land for everyone. India has abundant spots for backpackers, just like students. But at the same time, India has also vacation fit for the kings like travellers. India is riddled with luxury trains, boutique hotels, heritage spots and much more. It is all about how you are planning to spend your time and India is an amoeba, which would transform into a personalized paradise, just per requirement. There are several Best Destinations to Visit in India.
Amidst this wide list of destinations, there is always a dilemma of choosing a destination that is really worth a visit.
Well! Relieving from this dilemma, here is a list of top 10 destinations that make it to the list of top 10 must-visit places for students in vacations or we can say 'Must-Visit' destinations in India for all travellers. Let's now, find out the reasons as to why this is so.
1) Kashmir – For its bewitching natural beauty'
One of the most beyond the belief places in India, Kashmir is known for its captivating beauty and is also famous as the 'Heaven on Earth'. With its astonishing fruit orchards, Picturesque lakes, abundant green gardens teeming with vibrant flowers, verdant meadows surrounded with thick woods of pines and deodars, and enthralling valleys enclosed with ice-capped peaks of Himalayan and Pir-Panjal ranges – Kashmir seems to have directly made its way out from a picture postcard.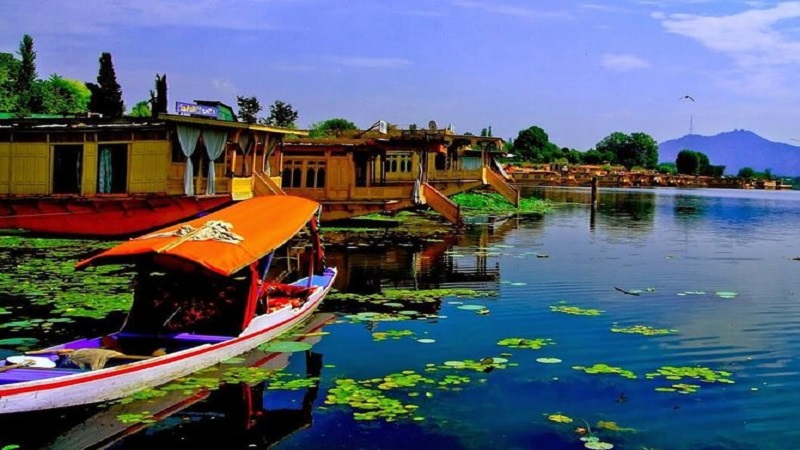 From relishing a heavenly 'Shikara boat ride' on the pristine 'Dal Lake' to strolling through the beautifully manicured 'Mughal Gardens'. Kashmir has every bit of beauty like soaking in the flawless pastoral beauty of 'Betaab' and 'Aru' valleys, paying your homage to 'Amarnath ji' standing amidst the celestial natural beauty of the tiny hamlet of 'Chandanwari', admiring the moment of plucking a fresh walnut at one the 'Walnut Orchards', braving the strong currents of River Sind during white water rafting in 'Sonmarg' to rejoicing in the adventure of world's highest Gondola ride at Gulmarg – the magic of Kashmir with its astonishing vistas is sure to enchant your heart and soul forever.
Kashmir is prove to be one of the top 10 must-visit places for students in vacations, it's an advice for students to make sure to buy some of the historic Kashmiri handicrafts and handlooms items and do must try out few of the state's world famous 'Wazwan' delicacies before returning from a conspicuous holiday in Kashmir.
2) Leh-Ladakh – For its unmatched trekking options
Leh-Ladakh is one of the 'must-visit' destinations in India for people looking for peace and tranquility away from the chaotic and busy city lives and nature lovers. This land is the house of splendid snow-capped mountains, placid and tranquil high-altitude glacial lakes, enchanting valleys and archaic at the same time colourful Buddhist monasteries, some of the world's highest mountain passes and alpine scenic trekking trails.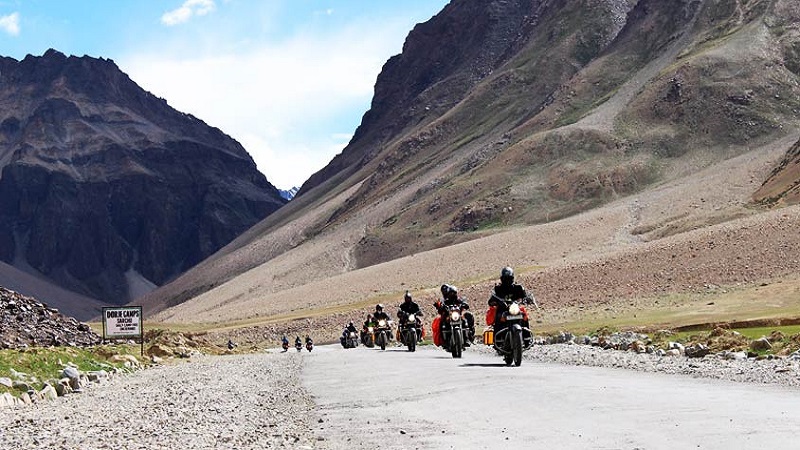 Leh-Ladakh is also a dream destination for intrepid travellers and adventure freaks across India and different corners of the world due to which it is among top 10 must visit place for students in vacations. Be it the feeling of extreme spirituality and sanctity listening to the chants and hymns of lamas in the 'Hemis Monastery', the serenity of 'Pangong Lake' offering a beyond the word sense of peace and isolation, an enduring adventurous experience of trekking on the frozen 'Zanskar River', the fun of a unique sand-dune safari sitting on the back of Bactrian camel discovering the rugged landscapes of 'Nubra Valley' or the buzz of spotting a snow leopard in the thick of the 'Hemis National Park'.
Leh-Ladakh has in its store, something for its every tourist. Being part of the colourful 'Hemis Festival' is something which must definitely be on the itineraries of every tourist to the mystic land of Leh-Ladakh.
3) Delhi – For its unimaginable, unbelievable history and past
Delhi, the busy and bustling capital of India makes for one of the perfect travel destinations in India. A city of ancestry monuments, brimming bazaars and appetizing street food admonishing you of its prosperous past from the Mughal era to a city that is today, high-end malls, more sophisticated and modern with its boulevards, shopping complexes and luxury restaurants & hotels; Delhi is for sure, a true combination of age old cultures and present day's modernization.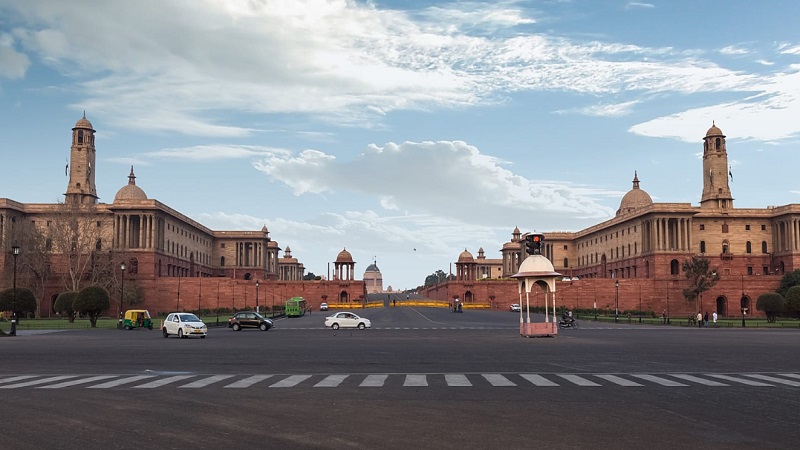 Be it a excursion through the narrow lanes of 'Chandni Chowk' appreciating on its mouth-watering chaats, a real shopping fun in the streets of 'Sarojini Nagar' or more mysterious 'Delhi Haat', a heritage walk through the awe-inspiring Mughal architectural masterpieces of 'Qutub Minar' and 'Humayun's Tomb', a visit to the 700 years old 'Hazrat Nizamuddin Dargah', a lovely experience of relishing on some mouth-watering cuisine sitting at a lake side café in the posh 'Hauz Khas Village', a noteworthy time at the lively 'Kingdom of Dreams' enjoying a musical Bollywood night, or a picnic time at the epochal 'India Gate'; the list of 'must-do things' in Delhi has no end.
One of the top 10 must visit place for students in vacations, a trip to Delhi should certainly be on the travel list for all inquisitive travellers, information seekers and epicure seeking out for a holiday vacations in India.
4) Agra – For its exceptional Mughal brilliance
A city immersed in a splendid Mughal charm, Agra needs no introduction. Home to the eternal symbol of love, the iconic 'Taj Mahal', Agra finds one of the top most places on the world heritage map. Having to its accolade of being the only city in the world gleaming with three unbelievable world heritage sites, Agra definitely makes it to the list of popular Indian travel destinations.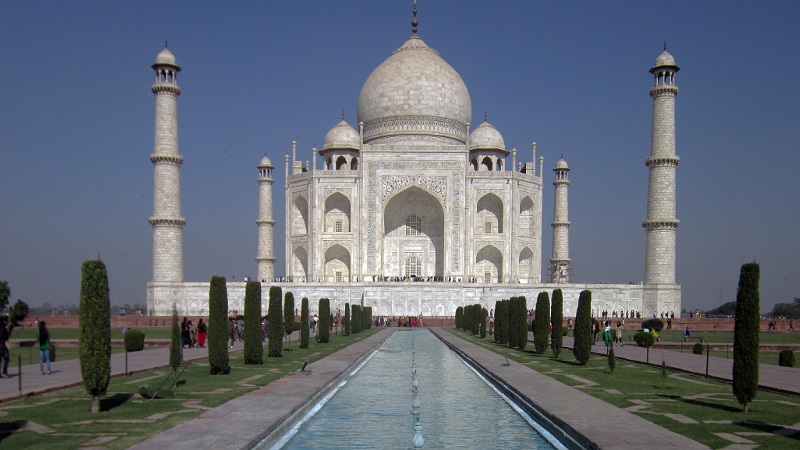 With its three valued gems, the influential Taj Mahal, magnificent and gargantuan Agra Fort and splendid Fatehpur Sikri; the city lures thousands of tourists including history-buffs and art lovers from all across India and the globe. From delighting on the city's classic and authentic Mughlai flavours, and shopping in the crowded and narrow streets markets brimming with marble handicrafts decorated with fine inlay carvings and fine leather item.
Not this much, Students who are interested in period drama and theatre can also watching the epic of the eternal love between Shah Jahan and his beloved, Noor Jahan at the 'Kalakriti Cultural & Convention Center' to drenching your spirits in the captivating fiesta of the 'Taj Mahotsav', there is much more to do in the archaic city of Agra than just exploring its monuments.
For a more nearby and daring face off with this cultural city, get on an off the beaten path journey and explore the narrow alleyways of the old city, ancient temples or visit the renowned poet, Mirza Ghalib's birthplace.
5) Varanasi – For its divine and sacred essence
India is a land of cultures, religions and spirituality, therefore, an exploration of an Indian remains deficient without a excursion to the sacred city of Varanasi. Also acknowledged as the city of 'Moksha', the place holds a great devout importance for Hindus. Situated on the banks of divine river Ganga, the city is believed to be more than 5000 years old.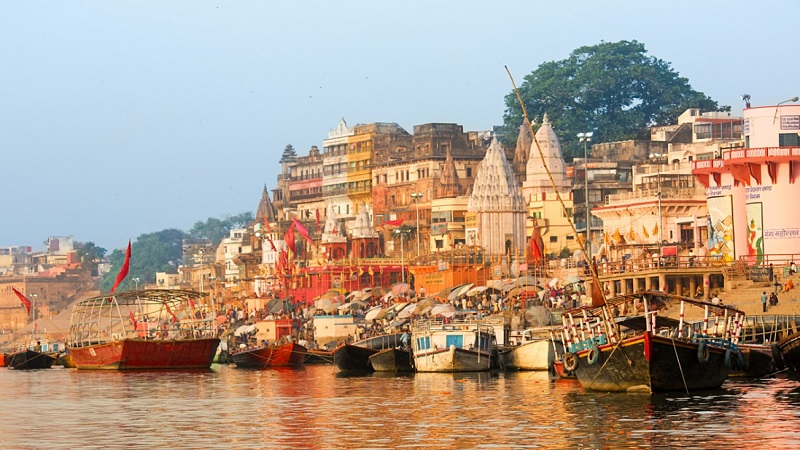 Bustling with delightful archaic temples and holy Ghats crowded with people performing various rituals and prayers, Varanasi makes for an ultimate spiritual travel destinations India.
From paying devotion and allegiance to Lord Shiva in the famous 'Kashi Vishwanath Temple', taking a dip in holy waters of river Ganga aquiting your sins, rejoicing in the spiritual aura of the divine Ganga Aarti during evenings on the 'Dasaswamedha Ghat', taking a walk along the Ghats watching life flow by, exploring the chaotic and colourful streets abundant with life to eat actually on its lip-smacking 'Benaras ki Chaat' or indulging in a unique shopping experience of musical instruments and world-renowned 'Benarasi Silk Sarees'; Varanasi is indeed an incredible place to visit in India and among the top 10 must-visit place for students in vacations.
Get Updated Review ( Voice Based Alumni Feeback)
6) Jaislamer – For its Rajputana magnificence and plethora of desert activities
Jaisalmer in Rajasthan is a alluring city known for its affluent cultural legacy and tales of bravery and gallantry of the great Rajput rulers, the city is also renowned as the 'Land of Golden Sand'. A mysterious city set between boundless stretches of golden Thar Desert, Jaisalmer spells a magnetic pull at travellers sitting in different corners of the world.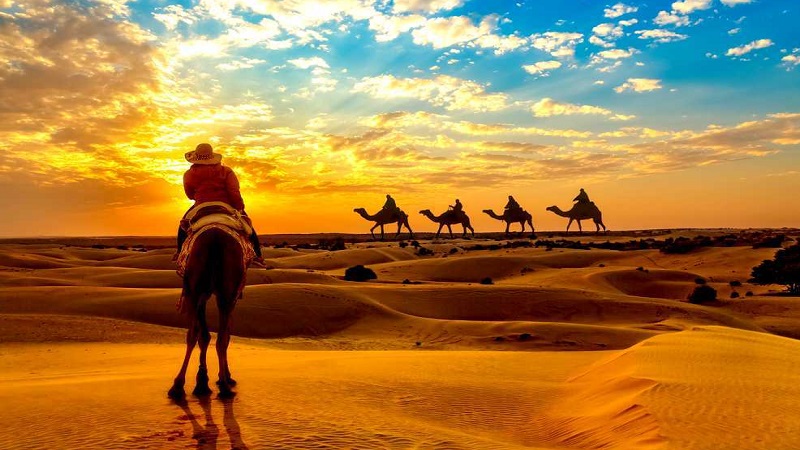 Be it the grandeur of the 'Sonar Quila' or the 'Jaisalmer Fort' radiant in its full glory, 'Nathmal Ji ki Haveli', the magical charisma of the archaic 'Salim Ji ki Haveli',and enchanting view of 'Patwon-ki-Haveli' reminding us of the royal brilliance of former wealthy Rajput merchants, an captivating experience of 'Sand Dune Bashing', a rustic enchantment of a 'Camel Safari' exploring infinite stretches of golden sand or an unforgettable culinary experience of authentic Rajasthani cuisine; Jaisalmer influence its every visitor with an far-reaching range of cultural offerings.
The annual 'Jaisalmer Desert Festival' is a visual treat to eyes and it makes much sense to plan for a holiday trip to Jaisalmer during this festival. Cultural musical performances, Folk dances, campfires under open starlit sky, local haats selling exquisite jewellery, enthralling camel shows, and handicrafts; exuberance and vivaciousness of this gala event can be seen at every corner of the city. One of the most colourful and dynamic places, Jaisalmer, for sure is one of the top 10 Must-visit place for students in vacations in India.
7) Rann of Kutch – For its pastoral village life experience
A gargantuan stretch of white salt that is submerged under water for four months in a year, the great Rann of Kutch in Gujarat is an incredible place to visit in India. With its astounding allure, the world's one of the enormous salt desert is assemble by an interminable number of tourists every year, especially during the famous 'Rann Utsav' when the white canvas gets painted into various hues and shades. Camel safaris, Live folk music and dance performances, a rustic stay and a mouth-watering, Kutch cuisine makes this experience an unforgettable one for every visitor.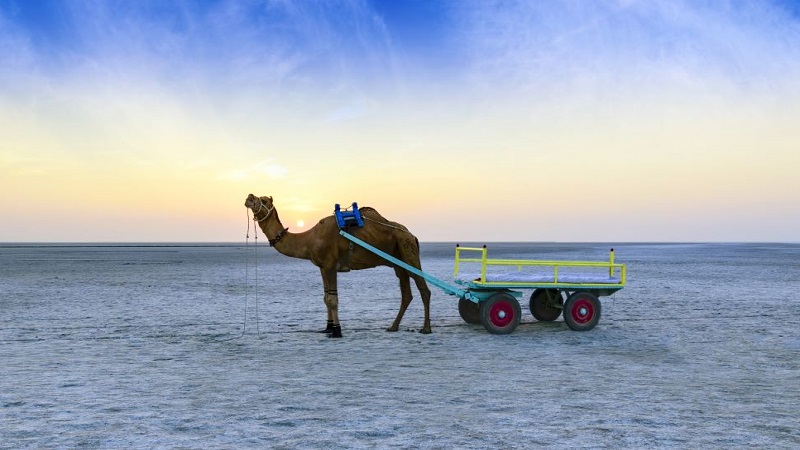 Rann of Kutch is among the Top 10 must-visit place for students in Vacations, from walking along ample stretches of white getting a glance of salt making process, watching colourful migratory birds in the Chhari Dhand Bird Sanctuary, getting mesmerizing glance of the infinite expanse of the Rann from 'Kala Dungar' to seeing the craftsperson creating magic with their hands making admirable embroidery pieces; a tour to Rann of Kutch is absolutely an eye-opener. What adds to the enchantment of this significant trip is a stay in traditional 'Bhungas' or cylindrical shaped huts with conical roofs in the fascinating 'Hodka Village' nearby.
Providing you a feel of a rural village life, these huts are exquisitely embellished with traditional mirror work patterns and dainty lattice work. During night, enjoy a bonfire and watch a folk dance performance under the moonlit sky appreciating on the delicious and lip-smacking home-made Kutch delicacies.
8) Aurangabad – For its captivating 'Ajanta & Ellora' caves
Dotted with plethora of archaic monuments, Aurangabad is a archival city located in Maharashtra. A city governed by various regimes in the past, today boasts of its rich ancestry with its architectural marvels admonishing the stories of its reigning dynasties. Popular for its dazzling paintings of Buddhist caves of Ajanta and Ellora, a world heritage site, Aurangabad is visited by many national and international tourists throughout the year for many other reasons too and due to its archaic tales it is perfect for students to visit in vacations.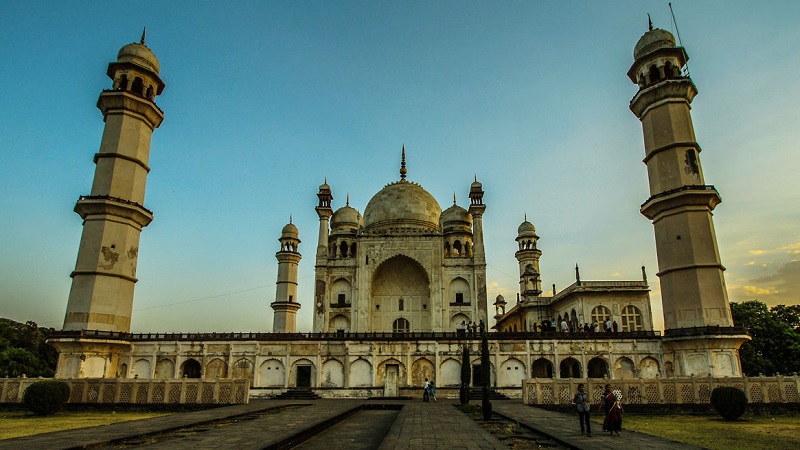 The glorious 'Bibi ka Maqbara' reflecting the architecture of emblematic 'Taj' and houses the tomb of Aurangzeb's wife, Begum Rabia captivate many art lovers, historians, and architects. The defended city's rich and beguiling gates like 'Rangeen Darwaza' and 'Kala Darwaza' trimmed with sophisticated carvings provide you a sneak peek into the artistic skills of the artisans and craftsmen of the ancient era.
The city's one of its kind cultural fiesta of 'Ellora Ajanta Festival' manifesting the talent of number of musicians and dancers across the globe in the backdrop of lighted 1400 years old caves adds to the enchantment of this historic city and provides one more reason to art lovers for a visit to Aurangabad.
When in Aurangabad, do not give a miss to the lifetime opportunity of adding to your wardrobe, a traditional and admirable collection of fine hand-woven Himroo and Paithani silk, an admirable speciality of Aurangabad.
9) Sunderbans – For its mysterious wilderness
Situated on the mouth of the mighty Brahmaputra and river Ganges, Sunderbans is one of the most famous offbeat places to visit in India. Home to the world's largest mangrove forests, inhabited with the man-eating royal Bengal tigers, the forests are also home to extensive species of other wild animals, reptiles and birds. Inducing a baffling fervour, Sunderbans has always attract adventure buffs, nature lovers and bird watchers from across the globe, students are also include in the list of visitors.
Tracking down a barbaric beast, standing on the deck of your boat navigating through the dense mangroves overwhelmed in a sheer tranquility that is only occasionally broken by the whispering of bushes, chirping of birds, and squeaking of lizards; the adventure is definitely one of the most exciting and enthralling experiences you can have at Sunderbans.
Besides the spine-chilling adventurous journey, a trip to Sunderbans is among the top 10 must-visited place for students in vacations. It also offers you an incomparable scenic and bird watching experience that is ineffable in words. No need to say, a visit to this world heritage site, for sure makes for an unforgettable holiday excursion. As reminiscence to this baffling world, brown rice and fresh forest honey makes for a perfect buy.
10) Sikkim – For its heart-stopping natural vistas
One of the most breathtakingly allure places in India, Sikkim is a gleaming gem of the North-East Himalayas. Sikkim is one of the best destinations in India to spend a serene, tranquil, and laid back holiday amidst extreme peace and solitude. With its enchanting snow-capped mountains, bizarre small villages, immaculate lakes and vibrant Buddhist monasteries.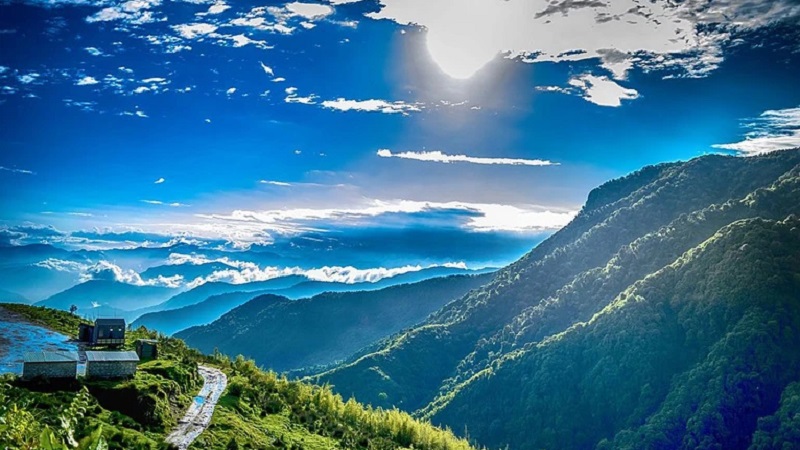 Abundant with some of the world's best scenic trekking trails and rivers perfect for nourishing in real thrill of white water rafting, this little North-Eastern state also makes for a perfect adventure destination in India for rafters, trekkers, mountaineers and rock climbers. Be it the breath-taking scenes of the rhododendron carpets as you trek to the mesmerizing 'Yumthang Valley', the surreal experience of reaching the 'Gurudongmar' and 'Cholamu' lakes or an euphoria of confront the strong currents of River Teesta as you navigate through twist and turns of the torrential river during the white water rafting adventure; Sikkim never ceases to hypnotise you with its serene magic of nature.
This quaint state of India is also a ideal place to go for some meditation sessions at one of the numerous old monasteries, nourish in a electrifying fun of hand-gliding or paragliding, experience a unique 'Yak Safari', satiate your taste buds with delicious Sikkimese delicacies, shop till your heart's desire purchasing incredible Sikkimese handcrafts, thangka paintings and mural items or be part of one of the state's fascinating festivals.
Apart from above mentioned places there are few more places which are also must-visited place for students in vacations list is given below:
11) Meghalaya – For its spell binding man-made artistic splendours.
12) Kerala – For its backwaters and much more
13) Hampi – For its brilliantly carved monuments
14) Mysore – For its rich culture
15) Andaman & Nicobar – For its pristine beauty and array of water sports
Above list just gives you a short glimpse at the reasons as to why these destinations should be on the list of every traveller. If you want more reasons, like attractions and things to do at above listed destinations, keep going through our blogs.