Topic We Cover: DSIM vs Digital Vidya
1. DSIM vs Digital Vidya
Institute's Reputation, Course & Certification
Quality of Training Provided and Level of Trainers
Classrooms / Mode of study
After Course Support
Management
Placement/ Job Opportunities
After revolution of Information Technology & BPO of late 90's or early year 2000, today Digital Marketing is the pace growing industry in India. There are so many companies had really developed using Digital Marketing in last few years including Amazon, Flipkart, Snapdeal, and many more.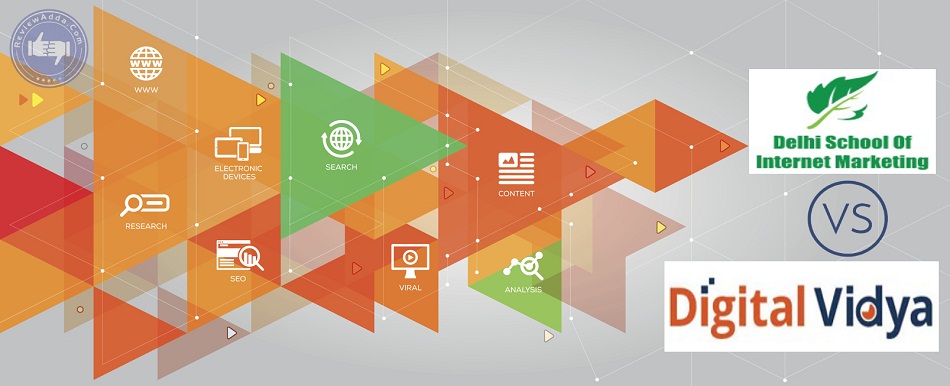 Since the demand for Digital Marketing is increasing, so many industry players have jumped into this race to prove them better. Many entrepreneurs, business owners & professionals are exploring this medium to meet their business objectives. Hence, there is a rapid growth in the demand of Digital Marketers and supply has drastically gone down. Though there are over 500 people attending digital marketing education from top Digital Marketing Training Institutes in India still there is a huge gap between the qualities of digital marketers.
So, are you looking to opt for a Course in Digital Marketing? Looking for the best institute that offers a course that will actually add to your market value?
If yes, then you don't need to brood over it any longer as I have sorted this for you.
Below is a comprehensive comparison between the two Top Digital Marketing Institutes – Digital Vidya and DSIM, so that you can easily choose an institute that suffices your needs.
Digital Marketing is all the rage. This is the reason why companies are seeking for professionals or rather Digital Marketers who possess requisite skills to take their marketing campaign to the next level.
It is deriving as a great career opportunity as companies are even ready to pay a hefty sum to the adept digital marketers.
Boasting of a lucrative career, the Field of Digital Marketing is attracting a plethora of students as well as working professionals. If you are also one of them, then you might have done a lot of research both offline and online to find the most credible and valuable institute to pursue a Course in Digital Marketing.
After discussing your seniors, peers, relatives and even browsing online, you might have again and again heard two names Digital Vidya and DSIM. The common question that haunts most of the aspirants like you is – which one is better?
Here, you come across the two Digital Marketing Courses Training Institutes in India, based on my experience companies are more happy to hire candidates completed their digital marketing courses from these Digital Marketing Training Institutes.
DSIM vs Digital Vidya
DSIM (Delhi School of Internet Marketing)

Digital Vidya

Initiated in 2011, DSIM has trained more than 13,000 professionals in over 390 batches with a trainee rating of 8.6/10.

Digital School bof Internet Marketing is also India's first and only premier Google partner training institute.

Established in 2009, Digital Vidya is a company built exclusively for digital marketing and data analytics training.

Having trained over 20000 professionals from more than 10000 brands in more than 1200 training sessions, it's appropriate to say that Digital Vidya is Asia's leading Digital Marketing & Data Analytics training company.

About the Founder:

The founder of DSIM is Kunal Choudhary. He has 8 years experience in this field and has worked with top brands like snapdeal, myntra, flipkart, fashionandyou, jabong to name a few.

The CEO and Co-founder of Digital Vidya is Pradeep Chopra. A passionate digital marketer, he has been in digital marketing industry for over 17 years now and has personally trained over 1500 professionals including CXOs' across ASIA. He is also one of the most sought after speakers in digital marketing and entrepreneurship.

Lead Instructors:

To date, DSIM has three full-time trainers and one guest trainer.The key profiles of DSIM include an affiliate marketing expert - Kunal Choudhary, and a search engine marketing expert - Sahil Vohra.

To date, Digital Vidya has 38 lead trainers and 8 guest trainers each of them being an expert in their respective field. Key trainers include an award winning viral video marketer - Aashish Chopra, and co-founder of Digital Vidya - Kapil Nakra.

Course Details:

The advanced digital marketing course of DSIM is ideal for all professionals, entrepreneurs & job seekers in India.

It covers 17 modules of marketing costing Rs. 56,450 + 15.00% S.T. wherein you learn almost everything you'd require to become an expert in this field. Also at last of the program, you will have 9 certifications to add in your resume including their very own Industry recognized DSIM Certificate.

In selected cities of India, DSIM offer offline training, whereas their online instructor-led training is available for worldwide to access. The assistance of 100% placement to their trainees offered by DSIM.

DSIM or Delhi School of Internet marketing was founded by Mr Kunal Choudhary, he is an expert in digital marketing advertisement business. DSIM offers 3 months of weekends & weekday courses in Digital Marketing. They offer courses through classroom learning and online as well. Their course covers 15 major modules of Digital Marketing. DSIM course is more focused towards "how to make money online via Google Adsense". DSIM course is also an expensive course in India as it cost between INR 48,000-50000.

Delhi School of Internet Marketing is official agency partner of Google. Through their 3 months course, they provide complete hands-on learning in Digital Marketing. Their most of the trainers are in the house and all of them holds good practical understanding of digital marketing.

Those who are keen for offline classes in Delhi NCR DSIM is one of the good options.

As of now, Digital Vidya offer 9 certification courses in both weekday and weekend batches. If you're a fresher or someone looking for a career change, you should take up their flagship 6 months certified digital marketing master (CDMM) course which will cost you Rs. 49,900 + service tax.

If you're looking to specialize in a specific field, they also offer:

Facebook marketing certification course @ Rs. 14,900 + GST
SEO certification course @ Rs. 11,900 + GST
SEM certification course @ Rs. 11,900 + GST
Social Media marketing certification course @ Rs. 11,900 + GST
Inbound marketing certification course @ Rs. 11,900 + GST
Email marketing certification course @ Rs. 11,900 + GST
Growth hacking certification course @ NA
Web analytics certification course @ Rs. 11,900 + GST
Mobile app marketing certification course @ Rs. 17,900 + GST

All these courses are online, research-based internship; instructor led & come with lifetime access support and come with Govt. of India certification.

They also provide placement assistance to all the professionals who clear the certification.
From the students' point of view, I'll be analyzing the two institutes based on six major verticals. I compiled this information by contacting the alumni and by going through reviews of both the institutes on the web. So, let's get started!
Get Updated Review ( Voice Based Alumni Feeback)
1. Institute's Reputation, Course & Certification
Digital Vidya is a first institute that exclusively offers Digital Marketing Training. Its Alexa Ranking is 1991. The institute offers a government certified course called Certified Digital Marketing Master (CDMM). Digital Vidya is Asia's most respected digital marketing education company. They are into an online live instructor-led online course, whether you are searching for digital marketing course in Delhi, Digital Marketing Courses in Mumbai, Digital Marketing course in Bangalore, Digital Marketing Course in Chennai, Digital Marketing Course in Pune, SEO course in Hyderabad, you can go ahead and do digital vidya course.
They are training partner of Google, India which stands for their authenticity and credibility. The CDMM course includes modules on SEO, E-mail Marketing, SEM, Web Analytics, social media marketing and other areas like mobile marketing.
The duration of the course is 6 months. Apart from this, the institute offers eight other courses in digital marketing. Digital Vidya course is an expensive course in India, their standard course fee is INR 49,900 + applicable taxes. Digital Vidya trainers are their business roots. All trainers are trained by Google Singapore to train Google partners in India. Digital Vidya is an exclusive partner with Vskills (Govt. of India) and Google partners.
Coming to the Delhi School of Internet Marketing (DSIM), it is another top-class institute that offers digital marketing training. Its Alexa ranking is 2792.
DSIM offers Advanced Digital Marketing Training Program (ADMTI) and it has also partnered with Google, India. There are more than 3000+ google agency partners in India and Delhi School of Internet Marketing (DSIM)is one of them.
The duration of the course is 3 months. There are altogether 17 modules in this course including Google Ad words, SEO, SEM, Google Analytics, Affiliate marketing, and Lead Generation.
2. Quality of Training Provided and Level of Trainers
If we are talking about course content then in that case, DSIM offers much more than Digital Vidya. But, they just teach the basics and the teaching is more focused on theoretical style. The influential and impressive part of DSIM is just to draw attention of the candidates. As in general, only 60-70% of the course is covered. On the contrary, the modules offered by Digital Vidya have ample of information and entail deep knowledge of the domain. Apart from theory, the prominence is laid on practical learning, case-studies, and weekly homework.
Digital Vidya offered a dedicated trainer for courses for each module. The trainers are highly experienced and knowledgeable. They are always available to respond to the queries, and the level of training imparted to the trainees is quite high. Though the trainers of DSIM are also very knowledgeable, skilled and domain expert, the training gets impacted due to improper infrastructure.
3. Classrooms / Mode of study
The DSIM has an edge over Digital Vidya in this vertical as it offers both online and in-class training. So, the candidates can choose the mode of study according to their comfort. The advantage of classroom training is that the students can directly clear their doubts and have direct interaction with the trainer.
Digital Vidya classrooms are conducted only through webinars. Their classes are well-structured and students are notified of upcoming classes via e-mails of we are talking about punctuality then you must know that the classes provided by Digital Vidya start right on time and not even a single classroom is missed.
4. After Course Support
Once you enrolled with the pioneer Digital Vidya, you'll always get invitations to the value-added webinars offered by Digital Vidya, that too for free. The registered candidates will also receive blogs on weekly basis on their email which will keep them aware of the trends and news in the field of digital marketing. All these increase your domain-centric knowledge.
As far as the concern of DSIM, it also brings informative blogs to their enrolled candidates regularly that can increase to the information of any digital marketer. But, DSIM does not inform its alumni either about the webinars or about the blogs. They'll have to browse to the website to check these out.
5. Management
The entire management of Digital Vidya is focused on providing a healthy ambiance to all the students. Everyone ranging from relationship managers to the admin staff is affable and understanding.
They make sure that the trainees receive ample of knowledge and develop requisite skills. To do a course from Digital Vidya you'll get your total value for money.
As far as I heard and read about DSIM, the staff of the institute is not so heedful. The institute has an improper infrastructure. You may even find 60 students in a single batch which makes it difficult both for the trainers and for the trainees.
6. Placement/ Job Opportunities
Digital Vidya Placement Department is very much active. They keep on sending information pertaining to the recruitment drive to the alumni as well as to its students from time to time.
They also provide Proper Career Guidance which bolsters the value and credibility of the course. The rate of placement of the institute and track record is also pretty impressive.
On the other side, students have reported that DSIM just makes heaps of promises but fulfils none. Their Placement cell is not very active and in fact, seldom do they bother about the alumni.
So, this was a detailed review and comparison between both the institutes. Conclusively, it is completely your choice to pick the right institute for you.
But, as per my advice, Digital Vidya is better than DSIM. Choose Digital Vidya if you really want to pursue a genuine Digital Marketing Course that enhances your knowledge as well as skills and offers a lucrative career ahead.