Tracking and managing the information of each customer isn't so simple; for this you need to turn to the CRMs for effective marketing processes.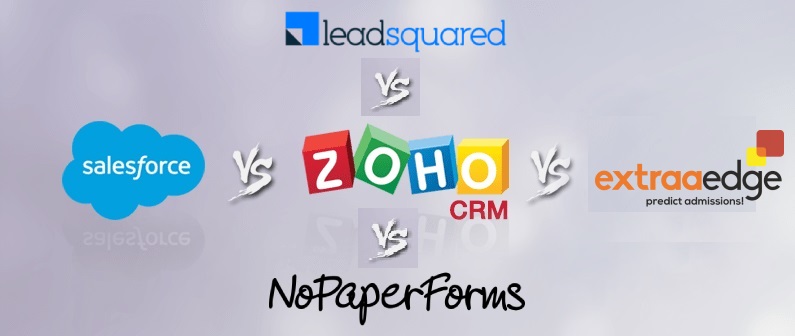 There are thousands of CRM tools available in the market sue to which choosing the best between them needs proper research and planning to suit your business size, strategy, and process.
In this comparison article, we'll dive into five popular CRMs: Leadsquared vs Nopaperforms vs Extraaedge vs Zoho vs Salesforce.
According to Emailmonday, On average, 51% of companies are currently using marketing automation. Around 58% of B2B companies planning to adopt the technology.
Marketing automation is all about streamlining, automating, and measuring sales and marketing efforts. It is a platform that stores customer data appropriately, develops opportunities for upselling and cross-selling, tracks buyer behavior, and analyses campaign success. Studies report that adopting marketing automation results in a 14.5% rise in productivity.
At A Glance: Leadsquared vs Nopaperforms vs Extraaedge vs Zoho vs Salesforce
If you're confused in choosing the best CRM software among Leadsquared vs Nopaperforms vs Extraaedge vs Zoho vs Salesforce, then you are at the right place.
To find out which CRM solution offers you more benefits and features that also at affordable prices, you can compare the details here in this write-up. Moreover, you can also check which one provides more tools. Besides this, also check other factors of the software like intuitiveness, flexibility, scalability, and pricing plans.
We will try here to learn you about all the popular CRM Software solutions that you can find on the market, but among them, these five caught our special attention: Leadsquared vs Nopaperforms vs Extraaedge vs Zoho vs Salesforce.
Here are some points in which we will compare all the five CRM solutions.
Overview
Features
Plans & Pricing
Benefits
Mobile CRM Capabilities
When to choose?
1. Overview
LeadSquared
LeadSquared is a complete marketing automation platform that helps companies capture leads through the web. It also provides Customer Relationship Management (CRM), it tracks, manages, and engages leads till they convert.
Specifically, it was developed for small to medium-sized businesses (SMBs). But, now it boasts top clients like CloudNine Hospitals, Practo, Deltin Group, and MaxBhupa among many others.
The USP of LeadSquares is that it completes the gap between sales and marketing teams by offering marketing automation and CRM solutions via a single platform, that too at economical prices.
Initially, LeadSquared started as a marketing automation tool but gradually, this platform has become extensive. As the people who work from the backend of the LeadSquared, they initiated add-on features to make the complete platform smarter and more efficient.
LeadSquared is prominent for its optimum quality services, it provides the support that raises their closure and improves the overall efficiency. Thus, they can manage their pipelines with ease. Hence, they have several popular customers including Happiest Minds, Omaxe, Byjus, HCL Technologies, Zoomcar, Coldwell Banker, Vidyanext, Bharti AXA, UTI Asset Management, and NIIT to only name a few.
No paper forms
NoPaperForms is India's largest and most state-of-the-art SaaS-based Enrolment Automation Platform. It caters to the best and biggest academic institutions by automating their marketing and admission processes from inquiry to enrolment.
The Lead Management System of NoPaperForms unites all your leads and attributes them to various sources to remove these problems. It further gives you the power to improve the quality of leads, how to verify them, prioritize engagement, and also handle it all on the go with the NoPaperForms Mobile app. A state-of-the-art platform brings with it an even more advanced user manager for you to develop and manage login credentials for each user.
Extraaedge
ExtraaEdge is an extensive admission and marketing software that comes with a CRM feature. It is customized to the education field. Its tools can revamp an institution around as it can full-fledged counselors with tools that are known to sales and marketers agents only. This software is perfect for schools that actively zone in on the raise of admission through marketing projects and campaigns. With the help of ExtraaEdge, school admission can be handled easily handles anytime and anywhere with a mobile app.
Primarily, ExtraaEdge has tools for marketing automation, analytics, and admissions management. Its progressive analytics function has incorporated learning models that make it easy for counselors to gauge student admissions data through strong analysis of past and current data.
Along with this, ExtraaEdge comes with robust marketing tools that allow for drip marketing and even provide for chatbots. Through its management tools, all steps involved in the admission process can be meticulously taken care of and monitored in one swooping view. It comes with API integrations and can work with third-party apps like WhatsApp. Its pricing is available by quote.
Zoho
Zoho is one of the most successful, award-winning, omnichannel cloud-based Customer Relationship Management (CRM) software providers. This platform helps global businesses to take control of their business processes to build lasting customer relationships. It is one of the trustworthy tech firms known for its commonly used web applications. The list includes invoice applications, project management, wikis, databases, note-taking, spreadsheets, reports, and word handling.
This web-based platform can be personalized to suit all types and sizes of industries. Zoho CRM offers integration with over 40 Zoho products and extends its capacity with over 300 third-party app extensions, including Salesforce, G Suite, Office 365, and other popular apps.
Zoho reports help in the advanced CRM Analytics module that allows users to sync and integrate their Zoho CRM data to gain better insights. Users can create custom dashboards and reports on metrics such as revenue, lead generation, deals, and more.
As we are all aware of the CRM solution, one size doesn't appropriate for all businesses. Hence, Zoho CRM lets businesses easily customize the interface to meet the specific needs of their organization.
Salesforce
Salesforce is one of the top customer relationship management (CRM) platforms globally. It helps in sales, marketing, commerce, service, and IT teams work as one from anywhere to make customers happy everywhere. It unites marketing, service, sales, commerce, and IT teams from anywhere with Customer 360. One integrated CRM platform that powers our entire suite of connected apps.
It is used to engage customers with relevant, empathetic digital marketing from anywhere.
2. What are the Features Provided by Leadsquared vs Nopaperforms vs Extraaedge vs Zoho vs Salesforce?
Leadsquared
It helps in capturing Leads across all sources in an automated and accelerated manner.
Managing, grouping, and scoring leads
Creating customized email campaigns
Highly responsive landing pages
Nopaperforms
Fee Management
Candidate Management
Self Service Portal
Forms Management
Assessment Management
K-12
Application Management
Scoring
Colleges / Universities
Evaluation Management
Extraaedge
Predicting Enrolments
Marketing Recommendations
Lead Opportunity Scoring
Admission Insights
Drip Marketing
Automation
Predictive Chat Bot
Live Chat
Bulk Email and SMS
Click-to-Call
Call Recording
Single Page CRM
Mobile CRM
Customized Application
Payment Gateway
Lead Integration APIs
Zoho
All-in-one HR platform
Fully integrated and scalable
Great onboarding features
Do-it-yourself with the self-service portal
Automated employee notifications
Robust learning management system
Salesforce
Account and Contact Management
Opportunity Management
Salesforce Engage
Sales Collaboration
Sales Performance Management
Lead Management
Salesforce Mobile App
Workflow and Approvals
File Sync and Share
Sales Forecasting
Reports and Dashboards
Email Integration
Territory Management
Partner Management
3. Plans & Pricing
Leadsquared
Basic

10,000 CONTACTS

Standard

All in Basic + 50,000 CONTACTS

Enterprise

All in Standard + 200,000 CONTACTS

25,000

per month Billed Annually

Responsive Landing Pages

75,000

per month

BILLED ANNUALLY

150,000

per month

BILLED ANNUALLY

Web Forms

CRM Integration

Contact Center Integration

Google ReCaptcha in Forms

Lead Management

Custom Web Events

Facebook Lead Ad Connector

Lead Distribution

Split Testing

Google Adwords Connector

Sales Tasks

Developer Support

Website Integration

Sales Signals

Custom Reports

Website Widgets

Sales Automation

Dedicated Account Manager

Responsive Email Campaigns

Escalations

SMS Campaigns

Forms and Processes

Ad Retargeting

Lead Scoring

Conversation Tracking

Engagement Scoring

Engagement Tracking

Customizations

List Segmentation

Account Management

Email Tracking

Advanced Reports

Multi-channel Engagement

Ad Retargeting

Email Personalization

Webinar Connector

Marketing Automation

Permission Templates

Visual Workflow Builder

Dedicated IP

Prospect Journey Tracking

Multiple Domain Support

Email Campaign Reports

Webhooks

Lead Source Attribution

LAPPS

Marketing Automation Reports

API Framework
Nopaperforms
The pricing of Nopaperforms will be available on the request only.
Extraaedge
ExtraaEdge pricing is not available for Free trial plan and for Quote based plan, it is based on Contact vendor
Zoho
Standard

Professional

Enterprise

? 720

User/Month

? 1200

User/Month

? 2100

User/Month

Sales forecasting

Includes everything in Standard +

Includes everything in Professional +

Reports and dashboards

Email integration

Territory management

Document library

Social CRM

Custom applications

Roles and profiles

Google AdWords integration

Custom buttons

Mass email

Workflow automation

Workflow approval processes

Call center connectors

Inventory management

Page layouts
Salesforce
Sales Essentials Edition

Professional Edition

Enterprise Edition

Unlimited Edition

$25.00

Per Month

$75

/user/month*

$150

/user/month*

$300

/user/month*

Out-of-the-box CRM for up to 10 users

Complete CRM for any size team

Deeply customizable CRM for your business

Unlimited CRM power and support

Automatic data capture

Account and contact management

Get all Professional features PLUS:

Get all Enterprise features PLUS:

Lead Management

Opportunity tracking

Workflow automation

Unlimited cutomizations

Opportunity Management

Lead management

Enterprise territory management

Unlimited custom apps

Customizable Sales Process

Task and event tracking

Profiles and page layouts

Multiple sandboxes

Salesforce Mobile App

Customizable reports and dashboards

Custom app development

Additional data storage

Configurable Reports and Dashboards

Mobile access and administration

Integration via web service API

24/7 toll-free support

Seamless collaboration

Chatter — company social network

Salesforce Identity

Access to 100+ admin services

Smart mobile apps

Outlook Side Panel and sync

Salesforce Private AppExchange

Sales data

Case Management

Role permissions

Report history tracking

Sales Cloud Engage

Account and Contact Management

Case management

Approval automation

Task Management, Activity Feed

Campaigns

Sales data

Chatter

Quotes and orders

Sales Cloud Engage

Lightning App Builder

Collaborative forecasts

AppExchange

Mass email

Unlimited Custom Applications

Sales Data

Sales Cloud Engage
4. Benefits
Leadsquared
Reduce overall lead leakage
More intelligent and efficient lead prioritization
Automating various sales and marketing processes
Providing detailed sales and marketing analytics
Better integration with multiple business tools
Comes with its own developer platform. This allows users to build a custom business logic that works for them in the best way possible
Nopaperforms
Scattered to streamlined
it is holistic and covers all the stages of admissions on a single platform.
Extraaedge
Following are the benefits of our admissions and marketing automation software for any education Setup:
Optimize the efficiency of the counseling team
Accelerate admissions with marketing & admissions automation
Track end-to-end marketing and admissions activities
One-Click Calls To Leads
Improved Productivity
Notification Alerts About Meetings On Mobile
Better Communication & Insight
Capture Missed Calls & SMS Leads Automatically
Easy Upload Of Documents
Access To Daily Tasks On Mobile
Zoho
Benefits of Using Zoho CRM
If you are handling business and focus on maintaining customer relations, Zoho CRM will get you everything you need to improve your organizational infrastructure and productivity. Zoho CRM has an enormous list of benefits:
Simple and Easy to Use
Pain-Free Migration from Spreadsheets and Other CRMs
Integration with Third-Party Applications
Omnichannel Communication
Automation of Tasks to Save Time and Costs
Reports, Insights and Analytics
Conversational AI to Power your Sales Team
Transparent and Affordable Pricing
End-to-End Customer Engagement
Contextual Communication
Effortless Team Management
Managed Database
Task Assignment
Workflow Automation
Time and Cost Saving
Setting operational Strategies
Better Mobility & Functionality
Salesforce
Want to know the benefits of Salesforce? Read this comprehensive list as we list down 10 benefits of Salesforce's CRM.
Communicate using automation tools
Utilizing data analytics tools
Following customer activity
Syncing data from various applications
Assisting customers through chat
Using an omnichannel feature
Consistent engagement with current customers
View your audience in one place
You can build apps
Gather insights to understand your business better
5. Mobile CRM Capabilities
The secret behind the successful enterprises is Mobile CRM. Basically, Mobile CRM capability is not just mobility, it is much more than that. It incorporate all the convenience of a desktop CRM along with the use of smartphones and other WiFi-enabled devices. It's a great way at synchronizing jobs, tasks, events, client data, and other records within the organization, anywhere and anytime.
Leadsquared
The mobile CRM automation function LeadSquared is the best feature of this mobile CRM. It's an easy user-friendly tool to monitor, track, and distribute leads. The key features of this mobile CRM include automated day plans and reminders, document verification in real-time, and fake location check-in detections. Another significant feature of this CRM is, you can access business data even when you're offline or have poor Internet connection.
You'll need a registered LeadSquared account to sign-in into the app. The app is now available in English, Hindi, and Vietnamese.
Nopaperforms
Nopaperforms allows you to monitoring the health of your admission at a glance, maximizing the counsellors' productivity, optimizing the admission marketing ROIs, or ultimately, enhancing the enrolments by improving response times and engagement. The NoPaperForms Mobile App allows you to do all of this anytime, at your fingertips.
Supervise overall performance with admin dashboard
Optimize spends and ROI with campaign dashboard
Integrate with cloud telephony partners
Increase efficiency with field force location tracking
Manage queries from anywhere, anytime with the query management
system
Choose to do more with custom setting
Extraaedge
This mobile CRM software to enable work from home counselors, record & manage outbound calling, never miss any follow-ups & close communications faster via WhatsApp
The popular features of this mobile CRM are -
Click-to-call
Field Tracker
Missed call lead capture
Zoho
Time is everything especially when we are talking about business. If the response of your sales team is not active or they can;t respond quickly then you could be left with an unhappy customer or missing out on a deal. With Zoho's mobile CRM apps, your sales team can actively keep in touch with their leads on the move, log and access essential prospect information, keep track of their KPIs, and make data-driven decisions on the move.
Close more deals wherever you are
Make data-driven decisions on the go
Intelligent route planning to boost your sales
Convert business cards into CRM contacts
Salesforce
Salesforce's mobile CRM is a user-friendly tool for on-the-go tasks that need access to information, such as contact info, background or sales reports. You can manage records even when you're offline and allows access to Salesforce data and your entire business during emergency situations.
It includes all apps, which makes building custom mobile apps faster and easier with no coding required.
To login to the mobile CRM app, you'll need Salesforce sign-in credentials.
6. When to choose?
When to choose Leadsquared CRM
Leadsquared CRM is required when there is a need to manage prospects, marketing campaigns, prospect segments, lists, product launch, marketing plans, newsletters, marketing budgets, etc. This CRM can be used in several industries like education, banks, training centers and automobile.
When to choose Nopaperforms CRM
Nopaperforms can be used when customer wants to increase the operational efficiency of their teams and wants to scale the admissions. Due to its 360° central command centre for applications, it is opted my many clients. It is also used by clients because it is the most comprehensive admission managemenst software suite that peermits you to boost performances
When to choose Extraaedge CRM
If you want to maintain a relationship with their leads which are typically the prospective students & alumni will benefit more by using an education CRM system. Then you need to choose Extraedge CRM. Few substantial features of this CRM is that it is user-friendly and can be adapt by customers easily. It makes quick implementation and it is very affordable.
When to choose Zoho CRM
Zoho CRM is a great choice for small businesses that are looking for an economical all-in-one solution. Generally, with their plans zoho being substantially cheaper than other competitors of the industry.
The free-forever tier is perfect for very small businesses, as well as those wanting to give it a thorough test run. Not only for small businesses, Zoho is also more suitable for companies that don't have a dedicated IT department, since it's easier to deploy and maintain.
When to choose Salesforce
Salesforce is usually the better choice for larger businesses and smaller ones which anticipate substantial growth over the next few years.
While it's a lot more expensive to implement and support than many other platforms, it's one of the most versatile of all. Support is widely available too. However, it might be overkill for smaller companies that only have a small team size and don't require a highly advanced and complex system.