Topic We Cover: How Should Students Dress Up for College in India
1. Overview
2. FOR BOYS
WEARING CLEAN AND PROPERLY IRONED CLOTHES
AVOID BODY ODOUR
COMFORTABLE DENIMS
SHIRTS
CAREFUL ABOUT COLORS
SHOES
AVOID GEL IN HAIRS
ACCESSORIES
REATIN THE ORIGINALITY
3. FOR GIRLS
BE SIMPLE
COLORFUL
AVOID TOO MUCH MAKE UP
ALWAYS WEAR COMFORTABLE CLOTHES
ACCESSORIES
SHOES
SELECT THE LOGOS CAREFULLY
NO PAJAMAS TO THE COLLEGE
WEAR YOUR CONFIDENCE
Getting up and seeing you in the same school uniform every day was something which was very monotonous. And the happy news is that this pattern is not followed in the colleges.
Once the students enter the college life, one thing that comes along is the independence to dress up according to the latest trends, fashions, and wish. But the dressing sense shall be decent and acceptable in the educational surroundings. You cannot just wear anything that you feel like and walk up to the classroom. Students shall be aware of how to dress up for Colleges in India. And if students are confused about how to dress up for the colleges then this article will help you out.
Mostly, Indian colleges don't follow dress codes, still exceptions are there. And so for colleges who don't have any uniform system, students can wear anything which looks comfortable, suitable, smart, and trendy. For girls dresses can vary from jeans, t-shirts, casual shirts, skirts, half pants, to tank tops, plazzos, suits, etc. For boys it can be jeans, trousers, shirts, t-shirts, etc. whatever clothes makes them comfortable.
College days are such where you always are lack of money. Pockets are mostly empty and at the same time you want to make yourself look good and stylish. So students are always in search of such clothes which are a brew of less cost and style. Also your wardrobe may be full of clothes but still you fight with the same question every morning which is "what to wear to the college"?
Dear students let us discuss what can you can wear or how can you dress up to the college, which will make you look modish and fashionable.
FOR BOYS
Guys are no less than girls when it comes to fashion. Boys always try to update their wardrobes according to different occasions and situations and trends. And after all those years of wearing the same school uniform every boy wants to look good and dress up in the best manner. After all college is a place where you not only study but also create such memories which last the whole life. And you would surely want to look the best in those pictures.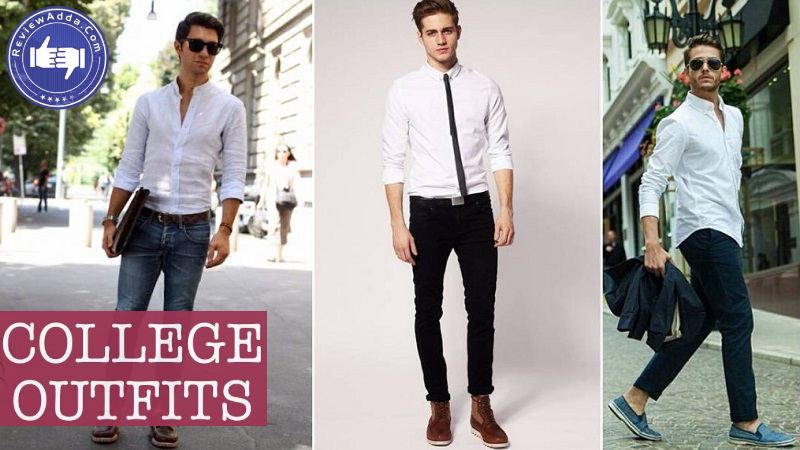 The perfect type of clothing makes look a guy adorable and enhances his confidence. The dresses which boys shall carry shall be such which makes him feel comfortable and make him look good as well. College boy's wardrobe must have a collection of few basic t-shirts, some in fashion collar shirts, blue denims, versatile sneakers, sweat shirts, hoodies, trousers, jacket preferably a leather one. Accessories must include smart sunglasses, tie, belts, etc.
College time is a transition period for young boys and while grooming into men boys shall always consider the below mentioned factors while going to college.
WEARING CLEAN AND PROPERLY IRONED CLOTHES
This may sound very basic and obvious but, men generally don't pay attention to this. The first impression lasts forever and so young college boys shall pay attention that they are wearing clean and well-ironed clothes. You may be wearing a branded shirt but until and unless it is clean and presentable, it is not worthy. You can only flaunt your brand if it is neat and tidy.
AVOID BODY ODOUR
The second most important thing that boys shall always remember is their body fragrance. Avoid body odour. However good you dress up, maybe like a hunk but if you do not smell good then all is useless. Fellow mates and friends all pay attention to your body smell and if you smell bad then your friends also maintain a distance from you. Also, this will reduce your self-confidence. You should invest in good perfumes and deodorants.
COMFORTABLE DENIMS
Every college-goer boy shall have a pair of comfortable and well-fitted denims. A pair of jeans teamed up with nicely ironed shirt or even a t-shirt can make you look completely awesome and perfect. But avoid funky or cut off jeans, they look as a fashion disaster when going to college. Instead, select casual jeans which can be airy and well fitted and are great for the college look.
SHIRTS
After selecting perfect denims for yourself the next shall be casual shirts which can be carried on everywhere like to college lectures, college hangouts and seminars. Select your shirt according to your size and be careful that it is not too tight for your body. It should be well toned as per the body structure. Crisp and collared shirts look trendy with jeans and they make you look perfect over all. Be careful while picking up the colours. Boys can go with colours like black, blue, white, cream, etc. or even with check shirts.
CAREFUL ABOUT COLORS
Choosing a proper colour is must. Boys should have correct information about what colours shall suit them and their personality and then select the dresses appropriately. Men should select clothes according to their skin colour, their body tone and personality. Some colour tones look extremely good on boys, whereas there are some which don't look graceful. Boys can go with colours such a cream, white, shades of green and blue, beige, black, etc. and avoid colours such as pink, orange, yellow.
SHOES
A good pair of shoes makes your college look complete. You should keep your leather shoes aside and opt for a good pair of sneakers or a nice pair of canvas shoes which will complement your dress to give you the best casual college look. Also a pair of good shoes will provide you comfort to run around the college campus for various activities. You will be relaxed and comfortable all day round. Students can also choose sandals if they are searching some airy options.
AVOID GEL IN HAIRS
Putting gel in hairs is out of trend these days and so it shall be avoided. You can keep your hairs in the natural look and get a smart hairstyle done for yourself. If you want to make you hairs look a less messy then use may use a bit of wax or related products. But retaining the original hairs look will be the best.
ACCESSORIES
Boys can always add on to their look by wearing various accessories. But remember to look decent and stylish at the same time. You may wear sleek watches, bracelets, caps, ear studs, smart neck-pieces, tie pins, cufflinks, etc. The accessories are easily available in markets and that too at low cost and will definitely make you look smarter.
REATIN THE ORIGINALITY
Fashion changes every day and so boys, remember not to follow it blindly without considering whether it will be correct or not. Always try to be the person you are and keep your originality. It is ok to follow the latest fashion trends and being updated as per the present trends but you need to check what will be suitable for you and your personality.
Get Updated Review ( Voice Based Alumni Feeback)
FOR GIRLS
Girls shall also follow some rules when they are dressing up for the college. What shall be the dressing sense also depends upon the college you go. Whether it has a dress code, whether it is co-ed or not? Girls shall always try to wear neat, clean, and properly ironed dresses. Clean dresses make you look hygienic, attractive, and neat. Also girls shall make their hair in a tidy way. Messy look shall be avoided.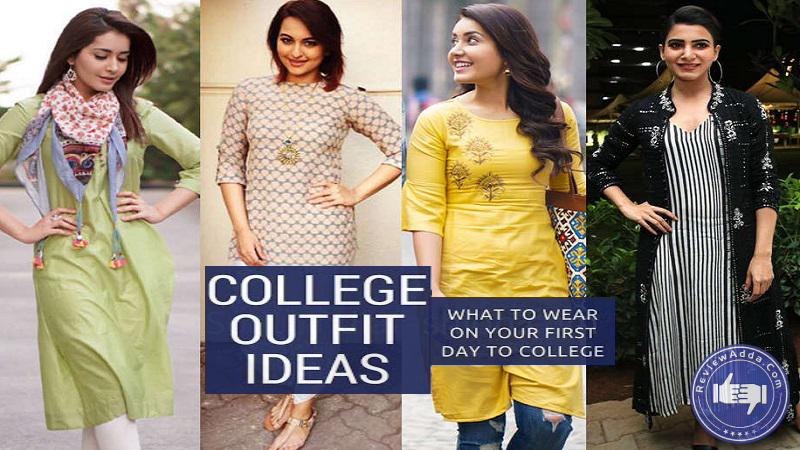 Too much showing of the skin is also a bad option at the college. Yes, of course, you have liberty to wear whatever you want, but stuff like low cut tops or skirts that are too short, shall not be carried to college. These may sound very stylish but the try and play safe at college. Be simple, stylish, trendy, and yourself.
Let's discuss what shall be kept in mind by the girls when they dress up for colleges in India.
BE SIMPLE
Retaining your simplicity is the best way to look good. More the simple you look more beautiful you look and at the same time you will look more comfortable and confident. Avoid shimmers, wear something that is simple and according to the season. Like in summers you can wear summer-friendly colours, floral prints, cotton clothes, crop tops, etc. which are pretty in trend. Similarly, for winters you shall wear bright colours and dresses accordingly.
COLORFUL
College is the best place where girls can flaunt their love for colours. It is the most appropriate place to be colourful. Don't stick to few colours, instead try new and different colours. It will make you look colourful, jazzy and attractive every day. Also you should wear different types of dresses like on one day you can wear skirts, on another day you can wear denims and t-shirts and on some other day you may wear salwar suits and so on.
AVOID TOO MUCH MAKE UP
Wearing too much of make-up will make you look odd one out in the college. You may also be teased around if you make such a mistake. No one is interested in seeing too much make-up studded girls around. So girls, avoid dark and loud make-up during college days. You may carry eye-liner and light lip shade that may suit to your outfits. You can also do a very slight and long-lasting make-up that may put people in doubt of whether you are carrying it or not.
ALWAYS WEAR COMFORTABLE CLOTHES
Always remember to wear such clothes in which you feel comfortable. Don't end up wearing anything that will make you uncomfortable. Following fashion trends is good but it shall suit you as well. You have to be in the college for the whole day and so wearing something that irritates you is not a good option. Wearing dresses that suits your personality and provides you comfort also increases your confidence.
ACCESSORIES
Accessories are very important for girls. These add on to the looks. You have all the independence to wear funky earrings, bangles, and bracelets, anklets, hair bands, high heels, watches, shades, etc. You may decorate your nails and go for hair colours. A cool and trendy handbag will make you look super cool and perfect for the college look.
SHOES
Dresses shall be accompanied by a proper pair of shoes and sandals. Shoes shall be simple and comfortable and shall not bother you. If you wear heels, make sure that they don't become the reason for your discomfort as you will have to be with them throughout the day. Remember to wear clean shoes and sneakers, and also keep in mind that your sandals shall not be broken. Also please don't wear bathroom slippers to the college.
SELECT THE LOGOS CAREFULLY
Some T-shirts have logos and graphics printed on them. So when you choose a T-shirt for yourself to wear at college, make sure that you don't wear which have something offensive written on it. Also avoid T-shirts with double meaning logos and one liners.
NO PAJAMAS TO THE COLLEGE
Until or unless you are a part of dance or sports clubs, restrict your pajamas and yoga pants to home. Wearing them to the college is a bad idea as it might create a picture in the mind of other students and teachers that you are a lethargic person. Also they don't look good at a place like college.
WEAR YOUR CONFIDENCE
Girls, last but not the least don't forget to wear your confidence. Confidence is something that is going to help you in winning the race. Some days you may not be looking much beautiful, or up to the mark but if you will be confident then, everything will be perfect.
The above are the basics for boys and girls who want a perfect look for college. So, when students are gearing up for their looks at college the above piece of advice would be of great help and support.
Follow the above tips and look the best!!