It's the matter of every parent and student who want to pursue higher studies like engineering, medical, civil services, etc but baffled between coaching vs self study i.e whether to join coaching classes or do self study. In such situations mostly parents' decides to join their kids in coaching class. This is the situation of almost every Indian family and in this dilemma of coaching vs self study the no. of students and parents who believe in self-study is decreasing regularly and exponentially increasing in case of coaching classes.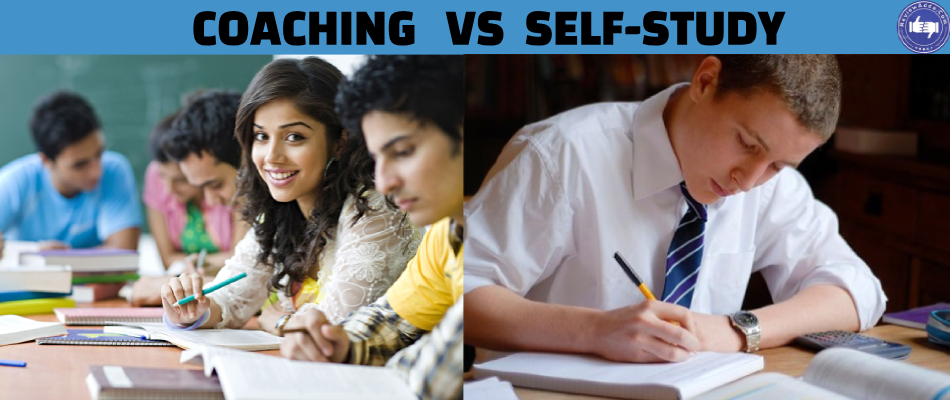 Among coaching vs self study, there are several types of coaching classes. Some offer extra coaching of academic subjects. Some institutes offer tuition for specific subjects like Accountancy, Science, Commerce, etc. Some other institutes offer coaching for entrance examinations like JEE and competitive exams like GMAT, CAT, XAT, etc.
Qualifying IIT JEE Exam is a dream of many students, but it's a fact that not everyone is fortunate enough to accomplish their goals. So the major question is How to crack JEE. As per the report published by IIT Delhi, is the outliers seem to be on the rise. In 2013, 52% of candidates who preferred self study over coaching in comparison between coaching vs self study have cleared JEE (Advanced) for IIT preparation compared to 48% who had opted for coaching institutes.
Between coaching vs self study, according to the JEE officials, Guwahati zone has the highest percentage of students who preferred self-study for JEE with 61.4% opting for it. Madras has only 39.4% of students relying on self-study for JEE preparation.
Before we go through the comparison between coaching vs self study, let's have a look at the region-wise breakup of those who preferred coaching vs self study for JEE preparation.
| | | |
| --- | --- | --- |
| Zone/Region | Self Study % | Coaching Institutes % |
| All India | 52% | 48% |
| | 61.4% | 38.6% |
| | 54.8% | 45.2% |
| | 55.1% | 44.9% |
| Bombay | 52.6% | 47.4% |
| | 47.1% | 52.9% |
| | 39.4% | 60.6% |
Probably this introduction gives a fair idea with the help of statistics about coaching vs self study, let be clear that in coaching vs self study classes are not the main deciding factors as far as success in the professional examination is concerned. This article on coaching vs self study will deal with the advantages and disadvantages of both coaching vs self study institutes so that you can choose one among the two and the best-suited. Here, we present the comparison between coaching vs self study.
COACHING VS SELF STUDY CLASSES
COACHING CLASSES
Well! Coaching is not a bad idea in fact sometime certain subjects required technicalities.
Coaching classes keep you update of the syllabus changes or any other essential information that may be not doable with self-study. And with this con, most of the students keep lagging behind.
One of the biggest benefits of coaching is the interplay or networking with a colossal group of people, which can give you an edge over others in this competitive academic environment.
One best fact about the coaching classes is you need not to worry about your time table your study plan because coaching classes prepare and plan everything for you. You need to do only one thing just concentrate on your study.
For proper preparation for examinations proper revisions and practice will be must and which will more convenient through coaching classes.
As comparison to coaching vs self study, coaching will give you a safe side as the classes are time-bound and render good conceptual clarity along with ample study material.
The other benefit of coaching classes in comparison to coaching vs self study that here, you will always be competing with your peers. It will push you to do your best.
What's more you want to know about coaching classes? You can get more clarity about entrance exam.
Every aspiring candidate needs to know one thing very clearly that coaching classes come with a huge price tag, which can cause a pressure on parents financially. Once you submit the amount, you have to cope up with the teaching style of the faculty whether you ok with it or not, then there could be serious problems.
SELF STUDY
Between coaching vs self study, self study has its own advantages only If you have sufficient time and a determination to crack the JEE advanced or any other top medical entrance examination in the first attempt, then you can opt for self study. But don't forget that self study is a necessary component of coaching classes too as they can't be successful without the input of self study.
Between coaching vs self study, the best thing about self-study is it gives the cozy and comfortable environment of your home. You can opt any time or place as per your choice.
Another beneficial factor about self study is it is cost-effective. In coaching vs self study, Coaching classes are very expensive and can cause a dent in your pocket.
Going to regular coaching classes might take away all your time and energy. That's why, self study saves your travelling time.
In comparison between coaching vs self study, self study removes your dependency on coaching classes, and you can complete your syllabus with full responsibility.
If you are opt for self study then you can take advantage from internet to find out what type of questions are asked in tests.
Between coaching vs self study, self study has one more advantage that it reduces the level of pressure and stress.
A Word of Caution
Before opt for self study, first of all you need to remember to concentrate on your studies. This process of self study requires time, and a lot of R&D to succeed. Between coaching vs self study, self study needs a lot of planning and discipline. On the other hand, coaching classes provide in-depth study material and a list of frequently-asked questions. But when you are studying alone, you will not have access to such things.
Overall, before taking any decision each student should consider the above factors. Aspiring candidates must give mock tests and solve as many questions as you can. So that you'll get a fair idea about your strengths and weaknesses are.
However, the most trustworthy source of help is no one, but you!
Coaching Classes
Pros
Direction
The most important point of how a coaching institute helps you in preparing for one of the influential exams of country i.e. IIT JEE is that it gives you a direction to prepare. Coaching institutes have well-designed curriculum for such important examinations. Now, as there is a time-bounded course structure, you can be assured of timely completion of the syllabus along with regular tests and quizzes, both on a national and local basis.
A Sound Competitive Environment
In comparison between coaching vs self study, another benefit of coaching is that you get to know more about the people around you, their strengths, weaknesses, and their approach towards studies. Yes, all these things are equally important, would you like to know why, well, if you taken it with a positive attitude then it give you better perspective. It will help you to improve yourself by noticing others' strengths and weaknesses, coming out of your comfort zone, pushing your limits and achieving much more than you anticipated.
Teacher Access
Lastly, the factor which a JEE self-study student would probably lack is one-to-one interactions with teachers. This is beneficial for timely resolution of doubts and gaining insights about one's progress, strengths, etc. Coaching institutes have a proper system where one can get both academic and non-academic–answered doubts.
Cons
False Sense of Security
One of the major disadvantages of joining a coaching institute is that it may give you a wrong sense of safety that you will clear the exam at ease just because you are enrolled in so-and-so institute.
This is utterly false. A coaching institute just acts as a catalyst, thereby lowering the activation energy (the amount of hard work required) needed to reach your desired destination. Unless and until you put up the required hard-work that's expected out of a serious JEE aspirant, the coaching institute is just good for nothing.
Pace
The second point is that it is quite possible that you will not be able to keep up with the pace at which things are being taught at the institute. Or even if you can, you may not be able to perform to the extent you wish due to any factor: be it poor examination temperament or something else.
Limitations Of Going To Coaching Classes
Physical exhaustion: Students spend about half their day in school. They coming back home tired and then go to the tuition classes make them more exhausted. School and then coaching classes squeeze all the energy of student. They left with time only for dinner and sleep. This is very common among all the students who going to coaching classes.
Extra Fees: To afford coaching classes is almost impossible for lower middle class, middle class and people above poverty line as they charged very expensive on hourly basis.
Unwanted pressure: Coaching classes creates unwanted pressure on students because parents push their kids towards tuition classes thinking that it is the only way due to which their kid becomes topper of the class. But they forget that only one kid can become a topper. This brings too much pressure on the kids.
Students lose their childhood: In the race of chasing marks and grades, children lose their precious childhood days.
This might lead you to a condition where you feel like quitting preparation for the JEE. The excess peer-pressure can overwhelm you. So it is very essential not to lose confidence at this stage. Almost every aspiring candidate goes through this tough phase in their preparation where they feel like quitting, but quitting is never the answer. You can do this!
Get Updated Review ( Voice Based Alumni Feeback)
So, we've discussed what a coaching institute "promises to provide" and how much they actually do provide. (Please keep in mind when looking at statistics provided by these coaching institutes, these statistics must be interpreted. The results they show are 90% students' hard-work coupled with 10% of their valuable support.) But now, let's look at why self-studying for the JEE is a very good option and its importance shouldn't be undermined.
Self-Study
Pros
You Are Your Own Master
In comparison between coaching vs self study, in self study you are your own boss, you are free to study at your own style and speed. You are free to spend as much time as you want to a particular subject or topic. Unlike coaching, in self study you are free to proceed for your preparation at exactly your own pace. You can speed through the concepts that you already know, and slow down for concepts that you are struggling with.
No Unnecessary Peer Pressure.
Between coaching vs self study, self study does not create any unnecessary pressure on kids. For instance, students can either not feel the pressure at all, or take it as an unnecessary burden–both of which are harmful. You, as a self-studying student, are free from this pressure!
Time Management
The prime factor which support students in self-study for the JEE is that to attend regular schools at 10+2 level. I don't criticize this system as it greatly helps in developing discipline in students. However, this hardly leaves them with any time to attend coaching classes or manage time between school and coaching effectively. The best option can be self-studying–as it saves a lot of time. Time that is otherwise wasted in just commuting from one place to another instead of studying.
Advantages Of Self-Study
Children do not depend on external help. They can solve their queries by seeking help from school teachers and parents or referring to books.
No peer pressure, students are relaxed.
Their analytical skills, reasoning and social skills are good.
Students get more time to spend with their friends and family, and be a part of a healthy society.
Cons
Doubts
Lack of proper doubt removal is the major drawback of self-studying is. You need to put some extra effort to get your doubts cleared up. However, with the advent of a lot of learning resources online and some very good correspondence courses, there is hardly any issue which can't be fixed online.
No Competition
You won't get the feel of classroom competition when you self-study, but here is where Test Series comes into the picture. They are a set of scientifically designed test papers. Their purpose is to give you the required proper exposure to the exam pattern, thereby helping to develop a sound examination temperament.
There will be instances where you will feel demotivated with no one to guide you. But this is the beauty of JEE self-study. In the long run, in college and even after that, you have to do things alone–there will be hardly anyone to support you.
Summing It Up
So after going through all the major points of coaching vs self-study, it will be clear that success on entrance exam is independent of what mode of preparation you adopt. Getting a high JEE rank boils down to how much effort you put into your studies. Pick up any renowned study material or some standard books meant for the JEE and try to read, understand, and solve the questions on your own.
Other side, coaching gives an opportunity to polish yourself as much as possible. It helps to work smart, keep learning, and improve your pace.
Cheers and all the Best!